The HND-14,'Carlino' showcases Hyundai Motor's vision for compact urban mobility
Unique fashion-led design also provides lifestyle versatility
Innovative 'plug and play' platform introduces the future of car customization
Hyundai Motor India, the country's second largest manufacturer and the largest passenger car exporter, today unveiled its vision for the future of urban mobility with the world showcase of the HND-14,'Carlino' at the 2016 Auto Expo in New Delhi, India. The compact utility vehicle concept presents a multi-functional solution for the next generation of car buyers.
The HND-14, 'Carlino'  is the latest in a succession of concepts from the Hyundai Design Center in Namyang, South Korea, illustrating the company's future design direction. As a continuation of Hyundai Motor's conceptual studies, the HND-14, 'Carlino' sets its own trend, with a fashionable and unique design that gives customers a glimpse of Hyundai Motor's vision for future urban mobility.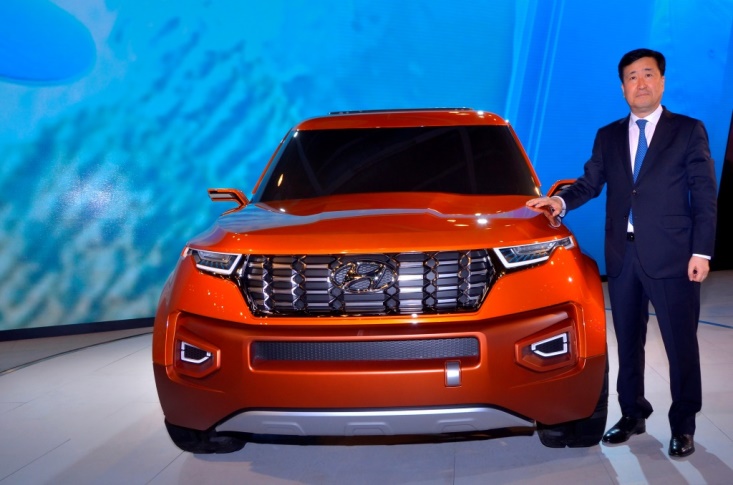 The concept car is a unique proposition, breaking conventions and making an urban statement with its unique design and stylish exterior. At less than four meters in length, its compact proportions exude a cool, modern and simple finish that presents the ideal first car to the next generation of style-focused motorists. Its multi-functional nature makes it the perfect utility vehicle for a variety of lifestyles, diverse enough to be comfortable off-road or on the highway.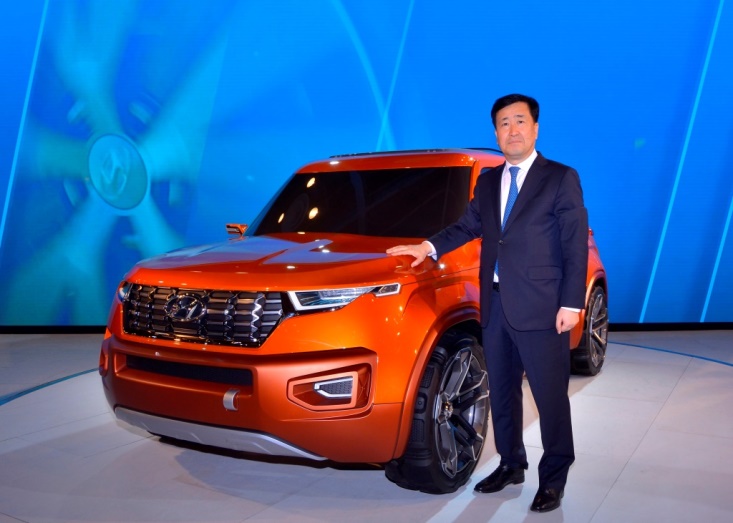 Representing an evolution of Hyundai's design philosophy, the HND-14, 'Carlino's' exterior appeal starts with its unique lamp design, setting the tone for its fashionable and sporty features. Its individuality is expressed further with the subtle use of colours and graphics, reflecting its ability to suit a variety of lifestyles.
Like its exterior, the HND-14, 'Carlino' interior provides flexibility in its design, merging fashion, function and the latest technologies. The innovative 'plug and play' platform will appeal to the varied lifestyle demands of buyers and the option to completely customize in-car technology options will suit those coming to the market for the first time.
Available features include interchangeable audio, visual and navigation units. Each item can be swapped in or out, giving greater choice for users to specify components to suit their needs.
Other integrated features bring added convenience and safety for drivers, with a push start button providing ease of use, in addition to electric folding side mirrors. The HND-14, 'Carlino' promises to keep occupants safe in all environments, with six air bags and Hill Start Assist Control providing additional driver support.
The HND-14, 'Carlino's' versatility is perfectly encapsulated by its unique wheels enhancing the utilitarian appeal and elevating the SUV's profile, they also contribute to safety with a number of features that offer versatility and adventure, with the wide shoulder block design maximizing mud traction.
Another unique feature is the 3D honeycomb blocks, designed to provide near-silent running on highways. Combined with the other innovative design elements, this feature contributes to unrivalled handling performance on all terrains, to ensure the HND-14, 'Carlino' is as versatile as it looks.