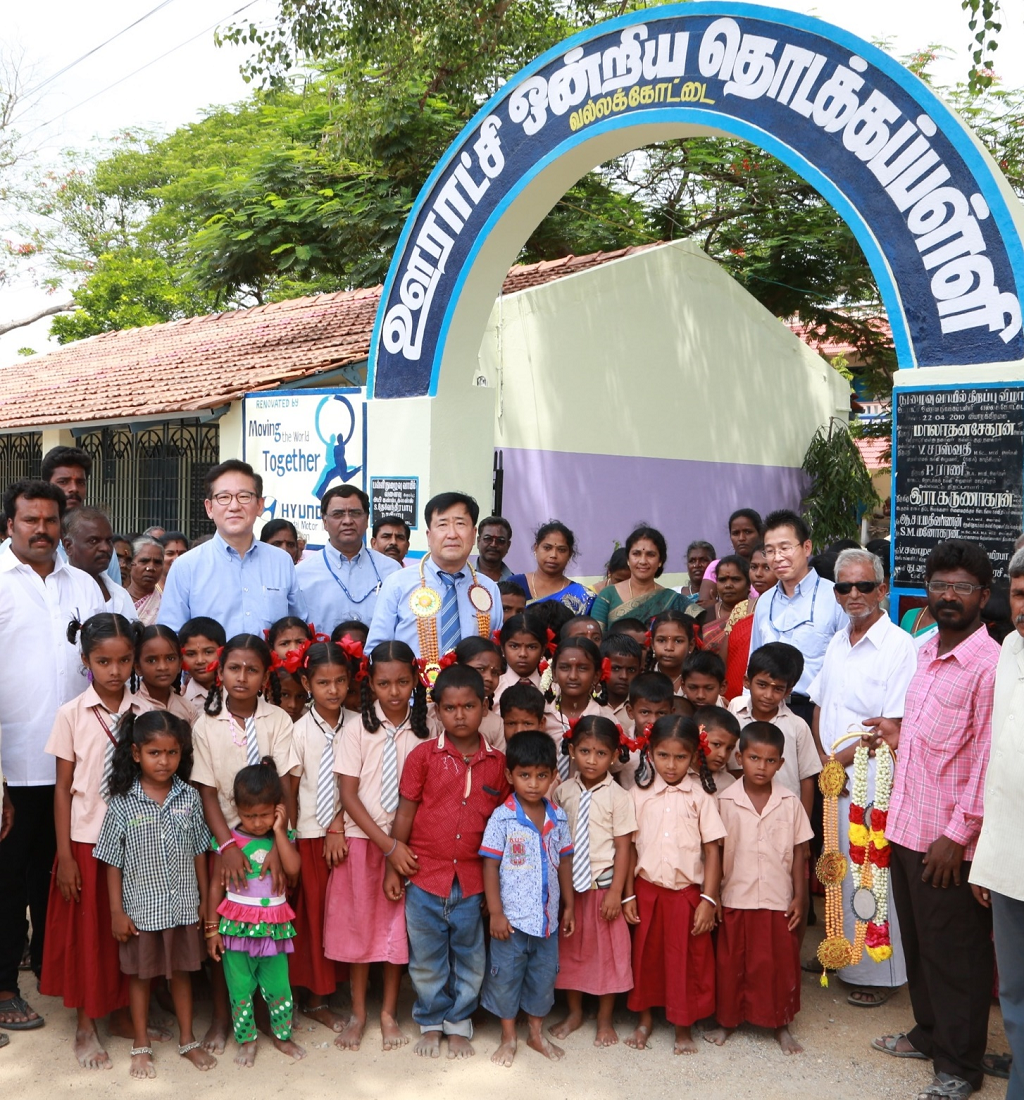 Invests over 80 lakh rupees
Other upgradation projects on the anvil
Hyundai Motor India Foundation (HMIF), the Corporate Social Responsibility arm of Hyundai Motor India Limited, today dedicated the various public infrastructure facilities as part of their second "Dream Village" project in Vallakottai, Kancheepuram district. The renovated VAO office, Panchayat Building, Health Centre, Sanitary Complex, PDS shop and the village pond were re-dedicated by Mr. YK Koo, Managing Director, Hyundai Motor India Limited.
Speaking on the occasion, Mr. YK Koo said that "We do not believe in charity, we are focused on facilitating change. The Dream village project has been designed on the pillars of sustenance and empowerment and I am really happy to see the transformation of both the amenities and its residents. Our skill training programs have given hope of economic independence to the community. There is a marked change in their confidence levels, which I hope only grows.  We have rolled out plans of developing more such villages in the immediate future".
Vallakottai in Kanchipuram district has over 2,500 residents and HMIF, have invested over Rs. 80lakh on various developmental activities since November 2015. With revamping and upgrading the existing facilities being the focus, HMIF trained residents in skills such as driving, EDP, embroidery and tailoring, catering, papad making, dairy farming etc.,  and took up  community activities like village main pond rejuvenation, building sanitation complex, etc. In addition, the villagers were provided complete assistance to set up commercially viable projects in dairy farming, catering service and papad making, making 40 families economically independent. Various camps were also held to promote health & hygiene related practices to school children and the community impacting over 1000 individuals.
HMIF's first Dream Village project in Mevaloorkuppam, also in Kancheepuram district, was successfully completed with a total investment of Rs.95 Lakhs. Apart from sanitation and upgradation of village facilities, especially schools, the villagers here were trained in income generating projects like pickle and candle making, tailoring, driving etc.  This aside, HMIF has upgraded sanitation and civic facilities in over 64 villages in the Kancheepuram – Sriperumbudur block.
Since 2006, HMIF has undertaken a variety of sustainable projects, whose impact is now being felt. At least 195 schools and 90,000 students have benefitted with the benches and desks and almost 750 families now have clean sanitation facilities. HMIF has revamped sanitation facilities in over 48 village schools with 50 more on the anvil. The "Go green" project has rejuvenated 171 hectares of arid lands till date in Kancheepuram, Thiruvallur and Vellore districts and have provided 240 marginalized farmers a sustainable livelihood, preventing their migration to cities for menial jobs.
About Hyundai Motor India Foundation  
HMIF was formed in the year 2006 with the purpose of 'giving back' to society and to initiate Corporate Social Responsibility (CSR) activities in the areas of health care, educational and vocational training, environment, road safety, art, science, technology, etc. HMIF gets its direct funding from HMIL's earnings as it contributes Rs.100 for every car sold in the Indian market to enable HMIF to carry out its social activities. To date HMIF has invested over Rupees thirty three crores in various CSR projects since its inception in April 2006.