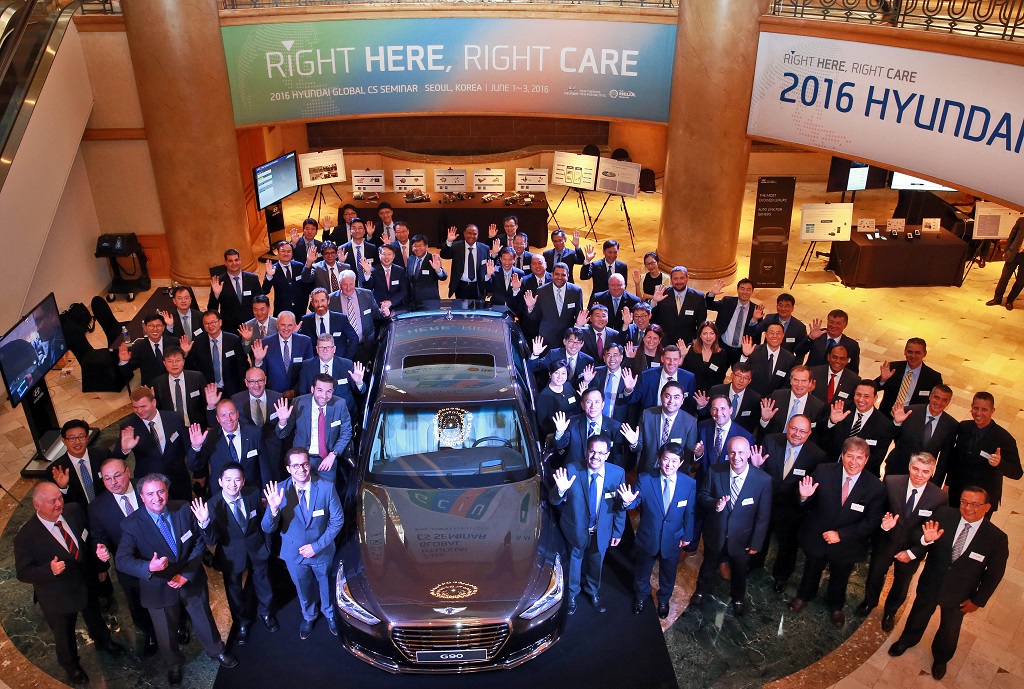 Hyundai Motor reaffirms focus on customer service differentiation with 60 service network delegates from 42 countries
Identifying customer needs in advance is key to delivering smart service programs
Hyundai Motor has reaffirmed its commitment to enhancing customer satisfaction by holding its '2016 Global Customer Satisfaction Seminar' earlier this week at the Ritz-Carlton Hotel in Seoul, Korea, with 60 service representatives from 42 countries in attendance.
The training event was defined by the four main keywords of 'Green', 'Connected', 'Interactive', and 'Unique', reflecting the most important trends in the global automotive industry. The seminar set the future direction for service network representatives from around the world, with the focus on swiftly identifying customer needs to provide unique, differentiated services that prioritize customer satisfaction.
During the seminar, delegates participated in various programs dealing with innovative customer satisfaction strategies for all areas of the business, including the eco-friendly car market, future automotive market trends and connected car service strategies. To provide service benchmarking, attendees also shared customer experience best practices from each country and discussed strategies to differentiate services for the Genesis brand.
Speaking about the seminar, Kang-Rae Lee, Vice President at Hyundai Motor Company, said, "Satisfying our customers through service is vitally important in the fast-changing environment of the global automotive markets. We are committed to providing differentiated services through various programs that will sustain our growth and attain the highest levels of customer satisfaction. We will continue to deliver both qualitative and quantitative initiatives through digital services, enhanced facilities at customer touch points, Digital Before Service and home-to-home services that provide support beyond our customers' expectations."
The planned Digital Before Service program will deliver car maintenance services without time and space restrictions by using a digital vehicle diagnosis device. To strengthen global customer service even further Hyundai Motor is developing its digital service program to include an 'Owner's Manual' that utilizes augmented reality technologies. The 'Workshop Automation System' allows a customer to monitor the service process using a smart device, a first in the automobile industry.
Alongside these ground-breaking initiatives, Hyundai Motor will continue to empower staff to offer high-quality service through its global service education centers, cyber maintenance education system, remote service personnel education, and competitions to recognize outstanding maintenance personnel.