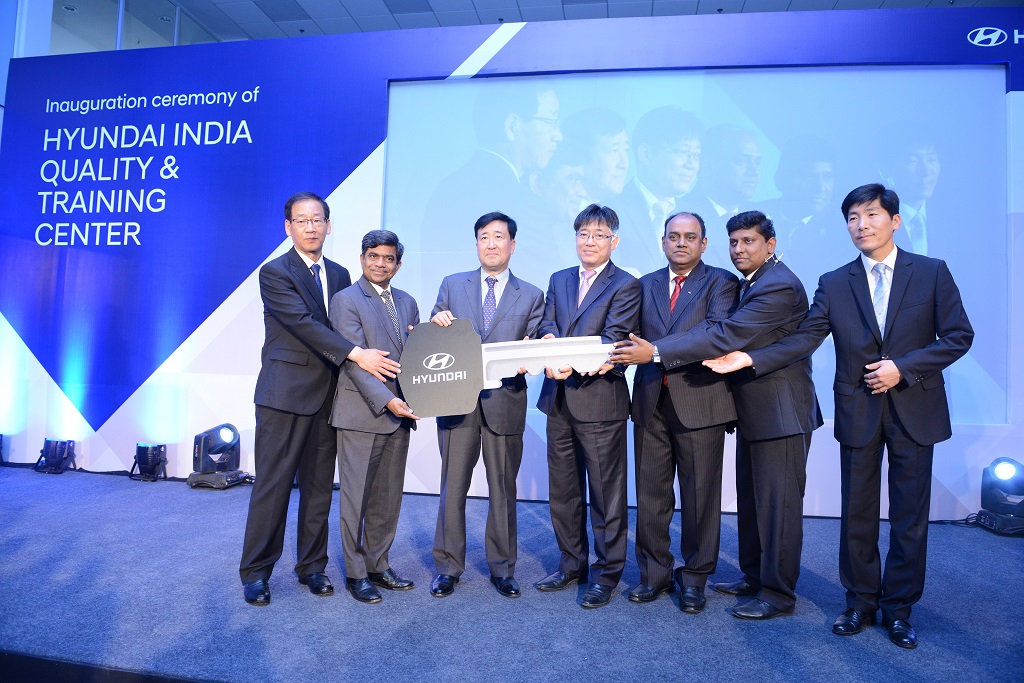 India Quality Centre (INQC) is one of the 5 Hyundai Quality Centers Worldwide
Strengthens Hyundai's commitment to the Indian market
Center focuses on finest quality for 'Zero Defect' vehicles
Inaugurates 6th Training Centre for Skill Development and Unmatched Service Experience
Chennai, April 28, 2017: Hyundai Motor India Ltd (HMIL), the country's second largest car manufacturer and the largest passenger car exporter, today announced the inauguration of its Global Quality and Training Centre in India, Faridabad (Haryana). India Quality Centre (INQC) is one of the 5 Hyundai Quality Centres Worldwide.
Speaking at the inauguration of INQC facility, Mr. Y K Koo, MD and CEO, HMIL said,
"We are glad to inaugurate the Global Quality & Training Centre in India. Hyundai is a customer centric company and focuses on customer delight through quality products and services. With the opening of India Quality Centre (INQC), Hyundai Motor further aims to reinforce its commitment to unmatched quality with focus on 'Zero Defect' vehicles. In our constant endeavor to become the Lifetime partner for our customers, we will continue to focus on delivering top level of vehicle safety and bring innovative mobility solutions based on human-centric, eco-friendly technologies and services."
INQC is established to improve the product quality by deeply understanding needs of the customers. The centre primarily focuses on 'Top Level Safety Quality' through proactive communicating and understanding the customer feedbacks to eliminate potential risks. The centre will also significantly monitor aspects including vehicle durability, unexpected safety issues, system and vehicles bench marking.
The new INQC brings in equipments at par with world-class diagnostic R&D tools for examination of Vehicle Communication and Complete Engine Diagnosis. The centre also studies new cars from their pilot stage till its launch in the market. The pilot stage cars, at each development stage are checked for both, Static & Dynamic tests to ensure high quality products.
Hyundai is Life time partner of its customers and has strong focus on customer satisfaction through unmatched service experience with over 1,250 Service points. The new facility at INQC also has the World-class Training Center along with first of its own Body & Paint Training Centre. The new Service Training Centre will ensure overall skill development of entire  service  profile  of  dealership  manpower  to  provide  unmatched  customer  Service experience while the Body & Paint Training Centre will ensure the best quality finish of the car.
Hyundai has 6 Training centers across India and plans to train more than 15,000 dealer manpower in Calendar Year 2017 and additionally plans to inaugurate two new Training centers at Guwahati and Ahmedabad by end of the year. Furthermore, to support the Skill
India initiative Hyundai Motor India has already started tie-ups with minimum 1 ITI in every state and is associating with Polytechnic colleges across India for employment generation thus contributing to the automobile sector for skilled manpower.
About HMIL
Hyundai Motor India Limited (HMIL) is a wholly owned subsidiary of Hyundai Motor Company (HMC). HMIL is the largest passenger car exporter and the second largest car manufacturer in India. It currently has ten car models across segments – Eon, Grand i10, Elite i20, i20 Active, Xcent, Verna, Creta, Elantra, Tucson and Santa Fe. HMIL's fully integrated state-of-the-art manufacturing plant near Chennai boasts advanced production, quality and testing capabilities.
HMIL forms a critical part of HMC's global export hub. It currently exports to around 87 countries across Africa, Middle East, Latin America, Australia and the Asia Pacific. HMIL has been India's number one exporter for the last 10 years consecutively. To support its growth and expansion plans, HMIL currently has 477 dealers and more than 1,230 service points across India. In its commitment to provide customers with cutting-edge global technology, Hyundai has a modern multi-million dollar R&D facility in Hyderabad. The R&D center endeavours to be a center of excellence in automobile engineering.