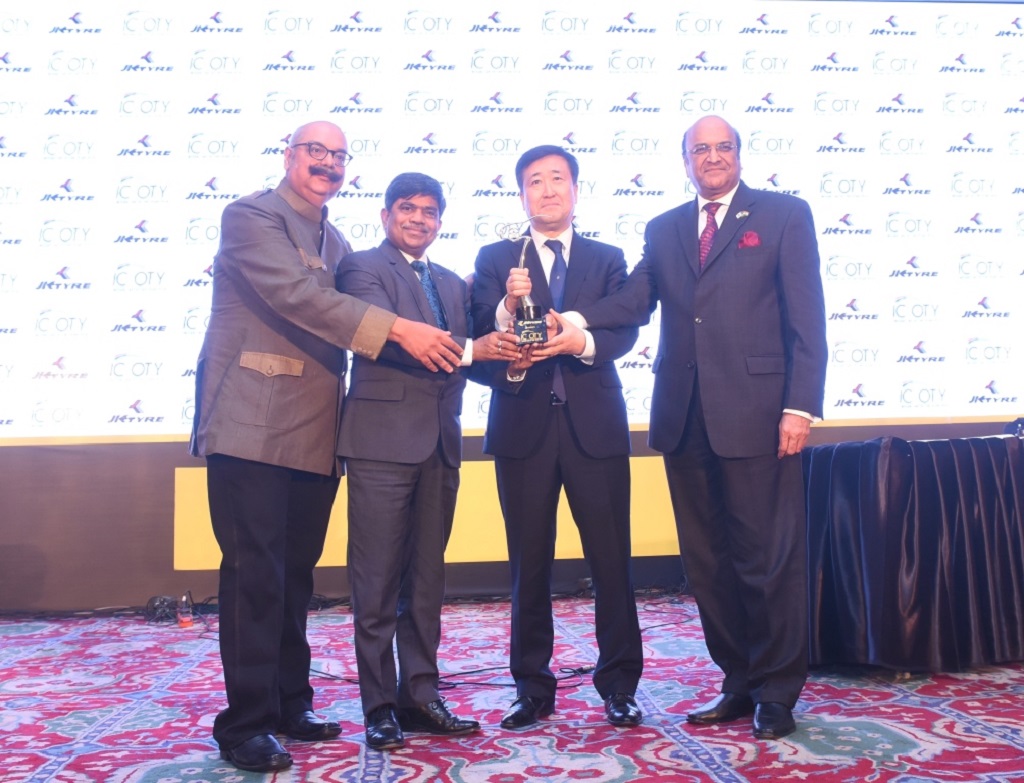 Only Manufacturer to Win Three Successive ICOTY Awards
Achieves milestone as the only manufacturer to win 4 ICOTY's in 9 years
A true expression of Hyundai Brand Acceptance Globally
Hyundai Motor India Ltd, the country's second largest car manufacturer and the largest passenger car exporter has won the most coveted Indian Car of the Year 2016 (ICOTY) award for the CRETA. As the most loved and trusted car manufacturer in India, Hyundai Motor India wins 3 ICOTY's successively for its products: CRETA, Elite i20 and Grand i10 as ICOTY 2016, 2015 and 2014 respectively.
Hyundai is a New Age brand and under the Modern Premium brand direction, CRETA has redefined the SUV segment. CRETA has received over 74,000 bookings and 400,000 enquiries and 16,271 orders globally. With emphasis on safety, bold design, dynamic performance and high quality makes the CRETA a 'Perfect SUV'.
The ICOTY award is adjudged by a diverse group of 14 jurors of all the prominent automotive publications in the country: Yogendra Pratap (Auto Today), Rahul Ghosh (Auto Today), Dhruv Behl (Auto X), Ishan Raghava  (Auto X), Rohin Nagrani (Motoring World), Aspi Bhathena (Car India), Aninda Sarda (Car India), Bertrand D'souza (Overdrive), Bob Rupani (Overdrive),  Girish Karkera (BBC Top Gear), Sirish Chandran (Evo India), Ouseph Chacko (Evo India), Muralidhar Swaminathan (The Hindu Business Line) and Pablo Chaterji (Man's World). In all nine very prestigious publications were represented on the ICOTY 2016 Jury with Bob Rupani being the Chairman of the Jury.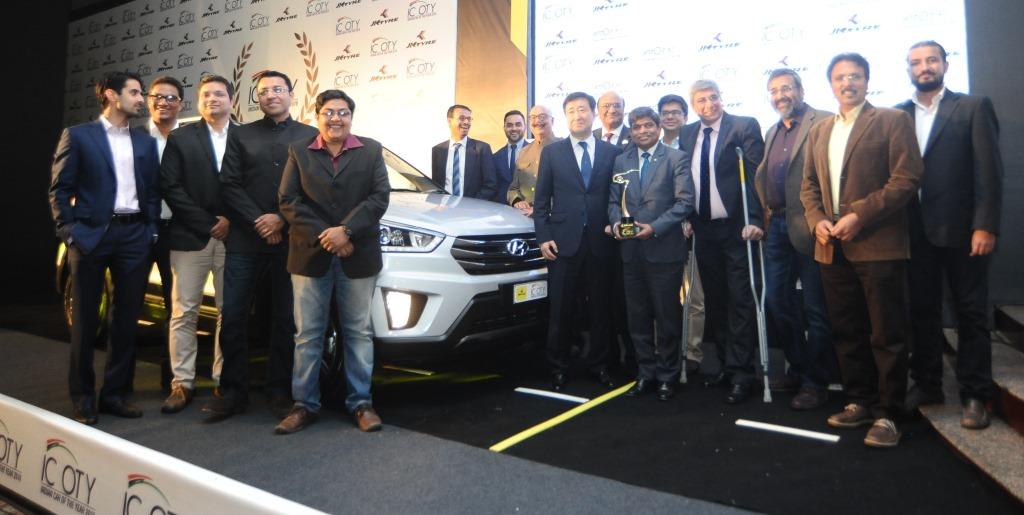 Commenting on the occasion, Mr. Y K Koo, MD & CEO, HMIL said, "We are honoured to win the most prestigious automotive award – 'Indian Car of the Year 2016' for our make in India, made for the world product- the Perfect SUV- Hyundai CRETA. The CRETA is a true expression of 'New Age' Hyundai setting new benchmarks in the industry. Winning the third successive ICOTY award symbolizes the trust and faith of customers in the Hyundai brand. We thank all our customers, partners, media and jurors who have chosen CRETA as the Indian Car of the Year 2016 and made Hyundai the most loved and trusted car manufacturer. With innovation at its core, Hyundai is committed to make global quality products with cutting edge technologies and fortify the Hyundai brand, caring for our customers in India and global markets."
Congratulating the winners, Dr. Raghupati Singhania, Chairman & Managing Director, JK Tyre & Industries Limited said, "The automobile and auto-ancillary sector in India is growing at a fast pace. The consumer is ever-discerning and automakers seek to outperform each other. In such a competitive environment, JK Tyre and ICOTY & IMOTY Awards endeavour to recognise those who break the clutter with their innovation and deep understanding of the Indian consumer. Congratulations to Hyundai Creta for sailing through the rigorous judging process and emerging victorious."
Congratulating the winning car CRETA, Mr. Bob Rupani, Founder Member ICOTY & Chairman of the Jury, Indian Car of the Year 2016 said, "The ICOTY has clearly become the most credible and coveted auto award in India and is known for its honest and non- partisan voting by highly experienced jury members. I congratulate Hyundai for winning this award for the third time in a row. Scoring a hat-trick at ICOTY is an admirable achievement and by no means an easy feat. It shows that Hyundai is consistently making award winning products of very high standards."
The Hyundai CRETA launched in July as the Perfect SUV is a trendsetter in the Indian market. CRETA heralded a new chapter in Hyundai's success story across the world showcasing HMIL's success of 'Make in India' manufacturing initiative. Designed with profound confidence, grandeur and highest levels of refinement, CRETA is the most loved car of the year.
About HMIL
Hyundai Motor India Limited (HMIL) is a wholly owned subsidiary of Hyundai Motor Company (HMC). HMIL is the largest passenger car exporter and the second largest car manufacturer in India. It currently has ten car models across segments – Eon, i10, Grand i10, Elite i20, Active i20, Xcent, Verna, Creta, Elantra and Santa Fe. HMIL's fully integrated state-of-the-art manufacturing plant near Chennai boasts advanced production, quality and testing capabilities.
HMIL forms a critical part of HMC's global export hub. It currently exports to around 92 countries across Africa, Middle East, Latin America, Australia and the Asia Pacific. HMIL has been India's number one exporter for the last 10 years consecutively. To support its growth and expansion plans, HMIL currently has 437 dealers and more than 1,100 service points across India. In its commitment to provide customers with cutting-edge global technology, Hyundai has a modern multi-million dollar R&D facility in Hyderabad. The R&D center endeavours to be a center of excellence in automobile engineering.
About ICOTY 2016
The Indian Car of the Year (ICOTY) 2016 was announced at a glittering and glamorous ceremony in Delhi on December 18, 2015. This was the 11th edition of the ICOTY, which has emerged as the most credible and coveted award and is now the 'Oscar' of Indian automotive awards. This award is an expert and independent judgement of the best new car and the award has been getting increasingly prominent with each passing year. This specialist jury consisting of fourteen senior Indian automotive journalists is the best from the industry and together they have over 200 years of car evaluation experience. The jury is known for their analytical skills and competence in evaluating and testing cars, as a part of their profession. The highly experienced jury members are responsible for selecting a single decisive winner and the voting process has been designed to be very fair and unbiased and tamper proof. The cars are judged on various parameters such as price, fuel efficiency, styling, comfort, safety, features, performance, practicality, technical innovation, value for money and above all suitability for Indian consumers and driving conditions