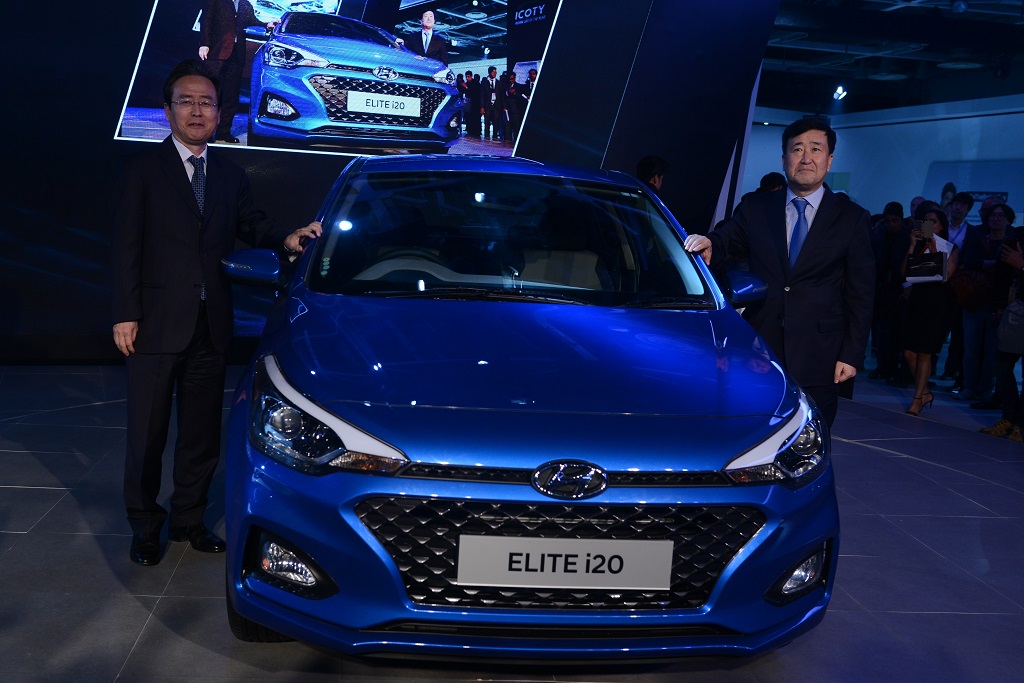 Showcases Global EV 'IONIQ'  at Auto Expo 2018
ELITE i20 – Super Performer Brand with over 400,000 Happy Customers worldwide
Best-in-Segment 17.77 cm Touchscreen Infotainment System and Audio Video Navigation with IPS Display and Capacitive Touch
Uncompromised Safety with Best-in-Segment 6-Airbags, ABS and Dual Airbags as Standard
First-in-Segment Dual Tone Exterior Color Option
Auto Expo 2018 Theme: 'Experience Hyundai' to showcase Newer and 'Futuristic Innovations'.
Hyundai Pavilion: 8 zones to showcase Technology, Digitization, Motorsports and CSR
New Delhi, February 7, 2018: Hyundai Motor India Limited (HMIL), the country's second largest manufacturer of passenger cars and the largest exporter since inception, today launched its Super Performer Iconic Premium Compact – 'The New 2018 ELITE i20' that embodies Hyundai's Modern Premium offering for the global customers. Hyundai also unveiled its Global EV, IONIQ – a symbol of Hyundai's commitment to future of mobility at Auto Expo 2018
Under the theme 'Experience Hyundai´, Hyundai showcased a number of exciting cars and technologies at its pavilion at the Auto Expo 2018, giving visitors a glimpse of the company's newest and futuristic innovations.
Commenting on launch of The New 2018 ELITE i20 at Auto Expo 2018, Mr. Y K Koo, Managing Director and CEO, Hyundai Motor India Ltd. said, "The ELITE i20 has been a global success, with over 400,000 Happy Customers since its launch in 2014. The New 2018 ELITE i20 is a product of our continuous R&D efforts to bring out a Premium, Sporty & Stylish Design equipped with Hi-Tech & Convenience Features offering Uncompromised Safety along with Advanced Dynamics. The New 2018 ELITE i20 is aesthetically designed with premium interiors and modern looks that make it truly appealing."
The design of The New 2018 ELITE i20 follows an evolved Premium look, Sporty styling and a robust rear stance based on Hyundai Motor's advanced design philosophy. The Modern design of The New ELITE i20 flows naturally from front to the rear reflecting beauty in motion inspired from power and elegance of nature.
Bold and Premium Styling – The Premium Cascade Design High Gloss Front Grille gives sporty and bold stance to the New 2018 ELITE i20, Projector Headlamps with LED DRL, Positioning and Cornering Lamps, Front Air Curtains, Uniquely Designed Stylish Tail Lamps and R16 Diamond-cut Alloy Wheels together make a blend of intrinsic and intuitive beauty creating accord between a sporty front and bold rear completing the Premium Compact design. The New 2018 ELITE i20 comes with First-in-segment Dual Tone exteriors with Red and Orange interior colour packs to further boost sporty styling of the New 2018 ELITE i20.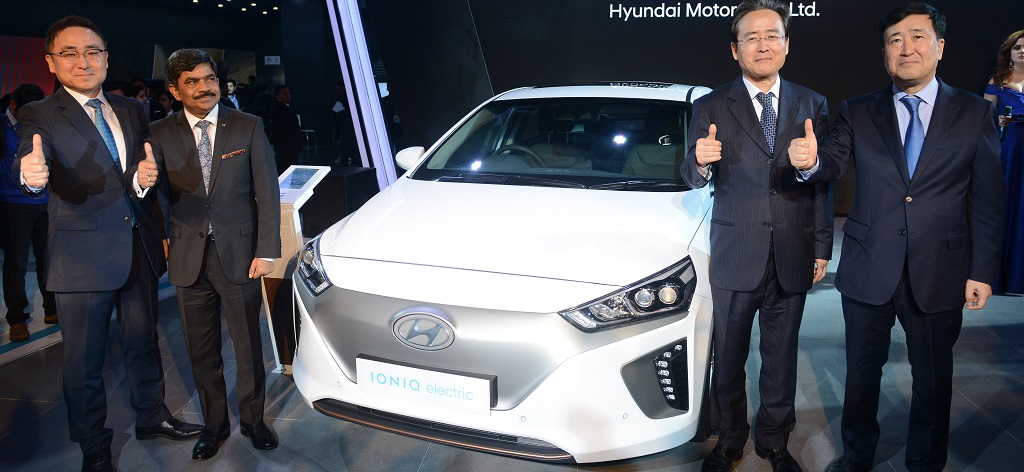 Key Styling Features:
Premium Cascade Design High Gloss Front Grille (New)
Projector Headlamps with LED DRL, Positioning and Cornering Lamps (Best in Segment)
Stylish 16" Diamond Cut Alloy Wheels (New)
Dual Tone Exterior Colour (First in Segment)
Air Curtain (New)
Dual Tone Rear Bumper (New)
DRL (Near Fog Lamps) (New)
Tail gate Design (New)
Rear Lamp Design (New)
Glossy C Pillar
Hi-Tech & Convenience Features – The New 2018 ELITE i20 features Best in segment 17.77 cm Touchscreen Infotainment System and Audio Video Navigation with IPS (In Plane Switching) Display for wide viewing angle and smart phone connectivity, Apple CarPlay, AndroidAuto & Mirror Link, it also offers DRM Arkamys Sound Mood and Navigation for technology savvy customers.
The Human Connected Technology – Hyundai Auto Link – The New 2018 ELITE i20 offers a dynamic new way to stay connected with your car for vehicle health check, Driving information, Road side assistance, Driving History, Eco Driving and Vehicle Health history check with click of button.
Key Hi-tech Features:
17.77 cm AVN with IPS Display (Best in Segment)
Smart Phone Connectivity & Arkamys Premium Sound (Best in Segment)
FATC with Cluster Ionizer (Best in Segment)
Rear Armrest w/ Cup holder (First in Segment)
Sliding Front Armrest (Best in Segment)
Rear AC Vents
USB Charger (Best in Segment)
Uncompromised Safety – New 2018 ELITE i20 takes safety to a whole new level with class-leading features to ensure customers safety. The New 2018 ELITE i20 equipped with 6-Airbags with front dual, side and curtain airbags, Antilock Braking System, Speed Sensing Auto Door Lock, Impact Sensing Auto Door, Unlock and Reverse Parking camera with Dynamic Guidelines for uncompromised safety.
Key Safety Features:
6 Airbags (Frontal & Side Protection) (Best in Segment)
ABS & Dual Airbags – Standard
ISOFIX
Speed Sensing Auto Door Lock – Standard
Impact Sensing Auto Door Unlock
Reverse Parking camera with Dynamic Guidelines (Best in Segment)
Advanced Dynamics: The New 2018 ELITE i20 gives Choice of Efficient and Advanced Powertrains. The driver can feel the power of technology with option of two proven and performance packed engines with improved mileage up to 9%
The New 2018 ELITE i20 is a customer delight with powerful engine options of 1.4 U2 CRDi Diesel (90 PS/4,000 RPM and 22.4 KGM /1,500-2,750 RPM) that comes with 6-Speed Manual Transmission, 1.2 Kappa Dual VTVT Petrol (83 PS/6,000 RPM and 11.7 KGM /4,000RPM) powered with 5-Speed Manual Transmission.
| | | |
| --- | --- | --- |
| ELITE i20 | PETROL | DIESEL |
| ERA | 534,900 | 673,000 |
| MAGNA ERA | 599,900 | 731,000 |
| SPORT | 659,400 | 783,400 |
| ASTA* | 711,500 | 835,900 |
| ASTA(O) | 790,500 | 915,500 |
*All prices in INR.
Hyundai showcases technological advancements in Electric & Hybrid technology with Global Technological Marvel IONIQ
Through its innovative 'Mobility Vision' concept, Hyundai Motor is demonstrating its latest advances in green mobility for customers to experience and enjoy. The IONIQ Zone at Auto Expo 2018 showcases Hyundai's technological advancements in Electric & Hybrid technology.
Hyundai Motor India acknowledges the government's vision and plans to make India a Global Leader in electric vehicles by 2030 and is already working on its blueprint to move into new automotive space of eco-friendly vehicles. At Auto Expo 2018, Hyundai is showcasing its commitment to clean mobility solutions and future readiness with unrivalled global technology marvel in Electric Vehicles – Hyundai IONIQ.
Commenting on the unveiling of Hyundai's Global Electric Tech-Marvel, IONIQ at Auto Expo 2018, Mr. Y K KOO, MD & CEO, Hyundai Motor India Ltd said "The IONIQ is a significant leap forward for Hyundai Motor as it intensifies its commitment to produce highly efficient, eco-friendly vehicles. Hyundai is a caring brand and we are committed towards clean mobility solutions to make a long-term transformation that will benefit our future generations. Hyundai is future ready to deliver diverse eco-friendly cars for aspiring customers around the globe without compromising on driving dynamics and performance – a balance of attributes we call 'Green Performance' ".
The Product – IONIQ (Green Performance)
IONIQ is World's first car to offer all 3 electrified versions – Hybrid; Plug-in Hybrid & All Electric. IONIQ is based on 'Visual aero' & 'Purified High Tech' Design Concept with fastback styling & industry leading aerodynamics and recognized with Red Dot Design Award'16 & Good Design Award'16 becoming the sixth Hyundai car to receive the prestigious Award. It is a Benchmark for alternative fuel vehicles with attractive design & engaging driving Experience while delivering competitive fuel economy. IONIQ represents new possibilities for Hyundai Motor's future mobility styling, with its purified shape led by aerodynamics, and its refined, clean lines and surfaces enhancing its coupe-like silhouette. IONIQ is an epitome of greentech as it features the use of Eco-friendly materials in the interiors.
All-New IONIQ has received the maximum five-star safety rating from the independent vehicle assessment organisation Euro NCAP. The IONIQ achieved top marks in the four categories: Adult Occupant, Child Occupant, Pedestrian and Safety Assist, proving it is one of the safest cars in its segment. The IONIQ comes with a host of futuristic and advanced safety features including Autonomous Emergency Braking with pedestrian detection, Lane Departure Warning, Lane Keeping Assist and Smart Cruise Control.
As for as passive safety is concerned, it has light yet rigid body as a result of advanced design, construction methods and materials for the entire IONIQ line-up. The chassis benefits from superior rigidity for responsive handling and is extremely safe, with high impact energy absorption and minimised distortion in order to protect passengers in the event of a collision.
Future Mobility Innovation
Project IONIQ Lab
Hyundai Motor Company started the Project IONIQ Lab to explore future mobility solutions through innovation, research and academic projects. It is a part of Hyundai Motor's Project IONIQ, a long-term research and development project that predict changes in future mobility. Project IONIQ Lab gathers top academics to forecast trends of future mobility. The Hyundai's Project IONIQ Lab identifies megatrends likely to impact the car industry works to enhance the lives of its customers. It extends Hyundai's efforts to understand future mobility and influence the concept of 'Freedom in Mobility' 'Whenever and Wherever'.
Hyundai Motor is committed to advance theoretical and practical understanding, innovating to develop future mobility solutions tailored to customers' lifestyles. From a 'hyper-connected society' and 'eco-ism' to the 'decentralization of power' and 'mega-urbanization' the megatrends set out the Project IONIQ Lab's vision of the world, explaining how mobility will interact with each trend.
Through the new Project IONIQ Lab, Hyundai Motor will predict changes in future mobility and study possible scenarios; develop new types of mobility according to changes in society and people's lifestyles; and create new service models and mobility experiences to extend the role and definition of 'cars'.
Auto Expo 2018 – 'Experience Hyundai'
The Auto Expo 2018 has three core pillars at the Hyundai Pavilion 2018 Auto Expo: Design & safety, Future Technology and Digitalization to engage our visitors.
There are 8 Experience Zones with exciting and innovative products from international and domestic line up showcasing Hyundai's Global Technological Strength and Quality Excellence.
The 8 exciting zones of the Hyundai booth will treat visitors to fun activities such as simulated driving, FIFA Mind Game giving the customers a unique experience of Brainwave and Levitation Technology, Robotics dance and in the mezzanine area of the booth will welcome visitors to relax and gather.
Eco-friendly Zone
Under Eco-friendly Zone this year, Hyundai has showcased its technological advances for customers to enjoy the latest in green mobility this year with Hyundai IONIQ. IONIQ is World's first car to offer all 3 electrified versions – Hybrid, Plug-in & All Electric in-line with Government of India's vision of making India an Electric vehicle Market by 2030. The IONIQ is a significant leap forward for Hyundai Motor as it intensifies its commitment to produce highly efficient, eco-friendly vehicles. IONIQ is recognized with Red Dot Design Award'16 & Good Design Award'16.
Mobility Zone
Highlighting high performance sub-brand N which is a result of intensive testing and product development. The sub-brand N builds on Hyundai Motor's successful motorsport experiences and technology capability to drive future performance-oriented and race-track-capable models. The N capitalizes on Hyundai Motor's fast-growing strength and signifies the pace of change within the brand, matching the company's ambition to challenge perceptions by making real and emotional connections with customers.
RN 30: The Hyundai N aims for high-performance cars which allow customers to experience the pure pleasure of sports driving. The design of RN30 is based on the new i30, created to offer pure driving pleasure on the race track. It truly embodies the Hyundai N concept of a "high-performance" car that everybody can enjoy with effortlessly.
i20 WRC Coupe: The Hyundai i20 Coupe World Rally Championship car is designed and developed to meet brand new World Rally Championship technical requirements. i20 Coupe registered a total of four victories in the last season of World Rally Championship.
Robotics Zone
To showcases Hyundai's innovation and technological advancement in producing World Class Robotics Machinery and engage customers through unique entertainment activities performed by robots like synchronized Robodance on both Hindi and Korean songs symbolizing Indo-Korean Cultural Connect.
Kona Zone –
The Kona is a first global SUV targeting 'Smart Challengers' & everyone with 'Young Passion', pursuing a lifestyle that transcends generations & age in the ever changing environment.  Kona has a voluminous, aggressive body styling, complemented by a low and wide stance with advanced technology and class-leading safety features. The stylish SUV has distinctly positioned Fog lamps & Sharp LED DRLs. Kona has light and rigid body structure and suspension that delivers exceptional ride quality and secure handling. Kona achieved its first milestone in the form of 5 Star rating in EURO NCAP crash test.
Award Zone
A special award zone is created to celebrate Hyundai's milestone achievements for creating industry best Modern Premium Products and winning customers' love and trust. It showcases Hyundai's commitment towards its customer through products setting benchmarks in Indian automobile market.
Sports Zone
Hyundai has always connected with sports enthusiasts by its presence in global sporting activities like BCCI cricket championships, FIFA football championships, golf, and World Rally Championship. The rationale behind these associations is to make fans explore and 'Experience Hyundai'. At Hyundai Pavilion in Auto Expo 2018, customers' will be treated to a host of technology aided gaming including football, cricket, simulated driving and NeuroSky FIFA Mind Game.
Kids Zone
A special dedicated kid's zone with many interactive fun activities for young Hyundai customers. Hyundai co-produced TV animation 'Power Battle Watchcar' to strengthen communication with young generation via well-known characters and 'Experience Hyundai'. 'Power Battle Watchcar' based games will be conducted along with kids merchandise distribution and TV animation screenings.
Road Safety Zone
Hyundai has always been an advocate of Safe Driving. Hyundai believes the process of safety begins with the driver taking responsibility for their individual actions. All the CSR activities are conducted towards HMIL's long term commitment towards road safety under the Safe Move – Road Safety campaign. #BeTheBetterGuy campaign under the Safe Move will encourage visitors to pledge towards responsible road safety behavior and spread the message of road safety and create strong awareness within communities for a positive Behavior Change.  The pledge will be posted on the customers' Social Networking Sites through RFID.
JAI HO Zone
An exclusive and dedicated zone created to showcase the range of domestic product line-up to celebrate super performance by segment best and industry benchmark creator products.
About HMIL
Hyundai Motor India Limited (HMIL) is a wholly owned subsidiary of Hyundai Motor Company (HMC). HMIL is the second largest car manufacturer and the number one car exporter since inception in India. It currently has nine car models across segments – EON, GRAND i10, ELITE i20, ACTIVE i20, XCENT, VERNA, ELANTRA, CRETA & TUCSON. HMIL's fully integrated state-of-the-art manufacturing plant near Chennai boasts advanced production, quality and testing capabilities.
HMIL forms a critical part of HMC's global export hub. It currently exports to around 88 countries across Africa, Middle East, Latin America, Australia and Asia Pacific. To support its growth and expansion plans, HMIL currently has 491 dealers and more than 1,304 service points across India. In its commitment to provide customers with cutting-edge global technology, Hyundai has a modern multi-million dollar R&D facility in Hyderabad. The R&D centre endeavours to be a center of excellence in automobile engineering.