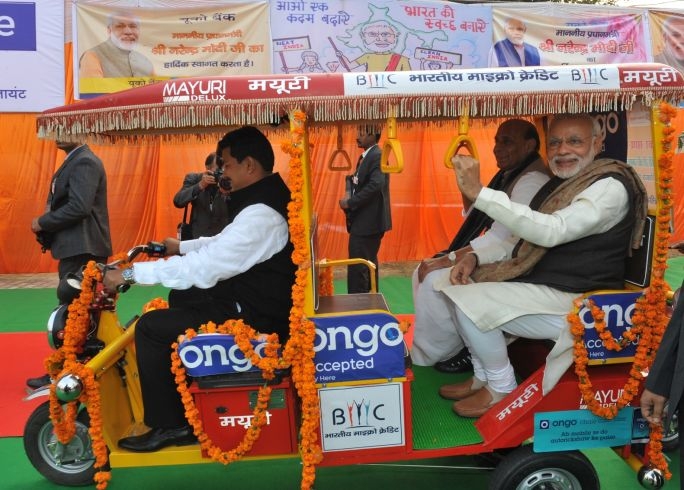 Honorable Prime Minister Shri Narendra Modi distributed 5100 E-Rickshaws at an event organised by the Bhartiya Micro Credit (BMC) programme under the Mudra Yojna Scheme in Noida today. The e-rickshaws were received by existing rickshaw owners as well as women and transgender recipients. In addition these recipients were also provided an insurance cover by the Pradhan Matri Jan Dhan Yojna, Pradhan Mantri Suraksha Yojana, Pradhan Mantri Jivan Jyoti Yojana, Atal Pension Yojana schemes and eight other significant schemes of the Narendra Modi government. Honourable Prime Minister Shri Narendra Modi also made use of the event to launch the "Start up India Stand up India" initiative at the event.
Other dignitaries present at the launch ceremony included, Shri Ram Nail, Hon'ble Governor of Uttar Pradesh, Shri Arun Jaitley, Union Finance Minister, Shri Jayant Sinha, Union Minister of State for Finance, Shri Dr Mahesh Sharma, Union Minister of State for Culture and Tourism and Civil Aviation among others.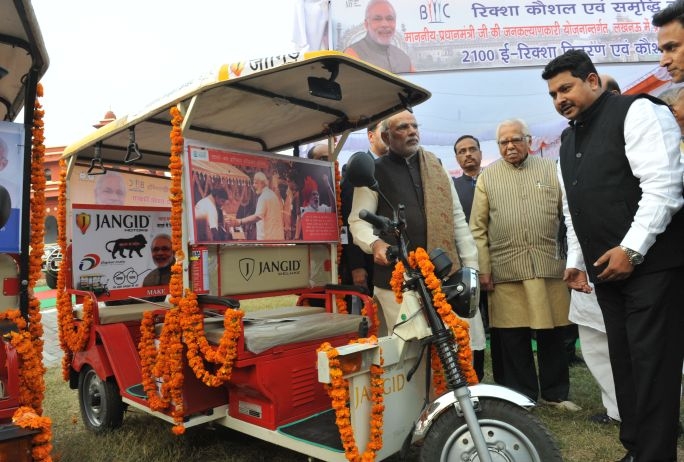 Under this program, nearly 5100 e-rickshaws are slotted for distribution in the Delhi-NCR area, including Delhi, Noida, Ghaziabad, Gurgaon and Faridabad. Customers will subsequently be able to book e-rickshaws through the Ola mobile app and make online payment via Freecharge that has been integrated into this scheme under the Digital India initiative.
Speaking on the occasion BMC's Managing Director Vijay Pandey said, "We are delighted that the Hon'ble Prime Minister and ShrI Arun Jaitley graced this occasion with their presence. Our goal is to provide 13 schemes to the beneficiaries of E-Rickshaws as well as create threefold increment in their income. We believe that the progression to E rickshaw will also help contribute towards achieving the goals of Swachh Bharat Abhiyan. BMC has successfully organised similar programmes in Lucknow, Varanasi and Surat under this initiative. Sach hua Sapna, Rickshaw hua apna!"
As part of this scheme, Bhartiya Micro Credit (BMC) will also set up charging stations (for charging the e-rickshaw batteries) for every 50 E-Rickshaws and service centres (for maintenance of e-rickshaws and batteries) will also be set up for every 250 E-Rickshaws. Under the scheme, charging and service station will also be set up, which will help the growth of  emergence of small and micro enterprises along with creating many opportunities for entrepreneurs. "This organically integrates Bhartiya Micro Credit (BMC) E-Rickshaws program into Prime Minister Shri Narendra Modi flagship 'Stand Up India' initiative, said Shantanu Gupta, Advisor to Bhartiya Micro Credit
BMC will enable existing rickshaw and hand-cart owners to graduate to owning their own e-rickshaws by accessing formal credit, bringing income stability, dignity and social benefits (including family health insurance, pension, and identity cards). Rickshaw collectives take joint responsibility for a group of loans, guaranteed by BMC, for which they can own their own vehicles through easy weekly repayments of Rs 235 per day to BMC over a period of two years as instalment. The initiative has been channelized under the PM's Mudra scheme through various banks / financial institutions such as UCO Bank, Union Bank of India, Reliance Financial Services, Indian Bank, Bhatriya Mahila Bank, IDBI and Non-Banking Financial Companies (NBFC), in partnership with Bhartiya Micro Credit.
Apart from this, insurance cover has been provided to the e-rickshaw driver, his wife and even the commuter(s) who travel on the e-rickshaw.  The e-rickshaw drivers can also avail the benefits of the Atal Pension Yojana, Pradhan Mantri Jeevan Jyoti Beema Yojna, and Surksha Beema Yojna scheme. More importantly the ownership of the e-rickshaws will be with the wives of the e-rickshaw drivers (Beti Bachao, Beti Padhao).
The training of the e-rickshaw drivers has been done under the Pradhan Mantri Kaushal Vikas Yojana. Under this scheme beneficiaries including 150 women drivers have been provided formal training under the NSDC certification process.
Bhavish Aggarwal, Co-founder and CEO, Ola said, "Economic growth, rapid urbanization and environmental concerns are driving the need for innovative mobility solutions across the country. The transportation needs of users in smaller towns and sustainable alternatives for cycle rickshaws will be solved with the introduction of Ola e-rickshaws, which are affordable, environment friendly and convenient. We believe this will improve the lives of countless beneficiaries over time impacting the livelihoods of driver entrepreneurs and taking us closer to our mission of mobility for a billion people."
Govind Rajan, COO, FreeCharge, said, "FreeCharge is committed to building a cashless India by making digital payments frictionless and easily accessible to all. We are very excited to partner with Bhartiya Micro Credit to bring E-Rickshaw drivers into India's Digital payment ecosystem. Today is a momentous day for a young company like ours and the Honourable Prime Minister has shown the way forward for unorganized and small merchants to adopt digital payments and become more successful."
The Prime Minister interacted with the e-rickshaw recipients over chai-pe-charcha. He shared their dreams with the gathering, which included an improvement in livelihoods, in terms of better education for their children to boosting incomes that would result from enhanced sales with the aid of E-Rickshaws. PM Narendra Modi was escorted to the main stage from the gate by an e-rickshaw which was driven by BMC's Managing Director Vijay Pandey. The programme culminated after the PM flagged off the rally of as many as 250e-rickshaws, which included 100 women E-Rickshaw owners.
A Swach Thali lunch was offered to all the attendees at the event. This was followed by a performance by renowned Bhojpuri singer Manoj Tiwari. The event was attended by the top 100 corporate institutions, students from Harvard School, Indian School of Business, IIM Lucknow, CERT, IIMT, Bhagavati Institute, RK JIT, ITS, Hierank D School, Sri Mangalam, Reliable Institute, Jaypee, JSS and HRIT among others. All the beneficiaries were also given radios by BMC to facilitate them to tune into Prime Minister Shri Narendra Modi's Mann ki Baat program every Sunday.