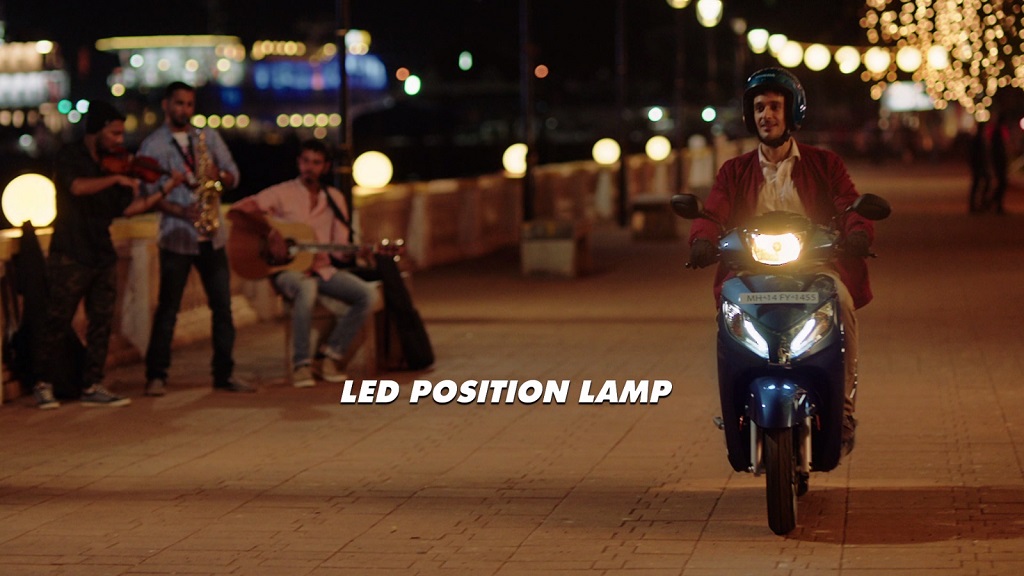 Gurugram, July 25, 2017: Honda Motorcycle & Scooter India Pvt. Ltd. has released the latest television commercial (TVC) for the exciting 'Frontastic' Activa 125 automatic scooter.
The 'Make life 1-2 ka 5!' campaign celebrates how today's young professionals maximize the excitement in their life with powerful and stylish Activa 125. Developed by Asatsu DK Fortune Pvt. Ltd (ADK), the campaign is now on air across popular TV channels and digital media.
BACKGROUND OF THE CAMPAIGN
Since its launch in 2014, Activa 125 has grown to satisfy over 7.5 lac satisfied customers in India. The new refreshed 2017 edition of Activa 125 marks the latest evolution of scooter segment. With its Frontastic up-front style, Activa 125 comes with LED position lamps – An Industry first and stylish alloy wheels. At the heart of the 125cc powerful scooter is Honda's HET BS-IV engine and the unique Combi Brake System with Equalizer technology. Bringing added convenience is the telescope suspension, mobile charging socket. No wonder, Activa 125 Makes Life 1-2 KA 5!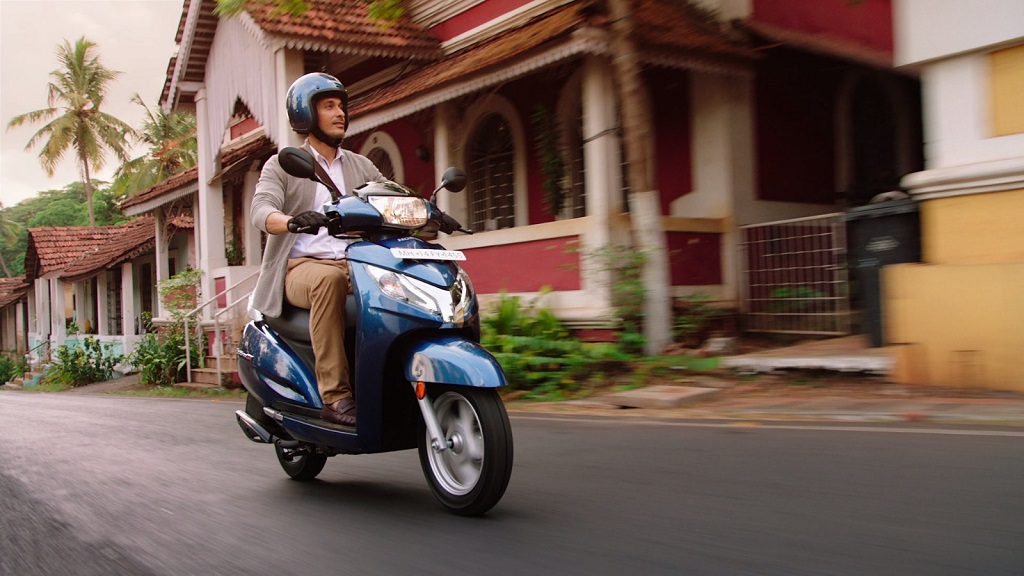 Brief driving the idea of 'MAKE LIFE 1-2 KA 5!'
The 'Make Life 1-2 ka 5!' campaign aims to connect with the target audience of young professionals and reinforce how the Frontastic Activa 125 powers them to zoom ahead in style beyond 9 to 5 mundane lifestyle.
The communication is targeted at the ambitious 30 year old corporate executives who are busy multiplying their excitement while the rest of the world is experiencing Monday blues. For the Activa 125 rider, life is full of excitement whether it is 9 to 5 mundane lifestyle at work or even beyond 5. The campaign connects with those young guns who are strong willed and don't bend to conventions. They prefer a powerful, stylish and convenient scooter for their daily ride over a motorcycle.
THE UNIQUE TREATMENT
Honda's latest TVC film connects with the urban working professional with a catch 'Monday Blues' jingle. Considering the target audience, the TVC is a slice of life of a young Indian working professional. The quirky narrative is relatable yet an inspiring take on the working professionals who want to make most of each day. The campaign treatment stands out as it subtly communicates how the Activa 125 is much more than just any scooter but the solution to make their lives go 1-2 ka 5.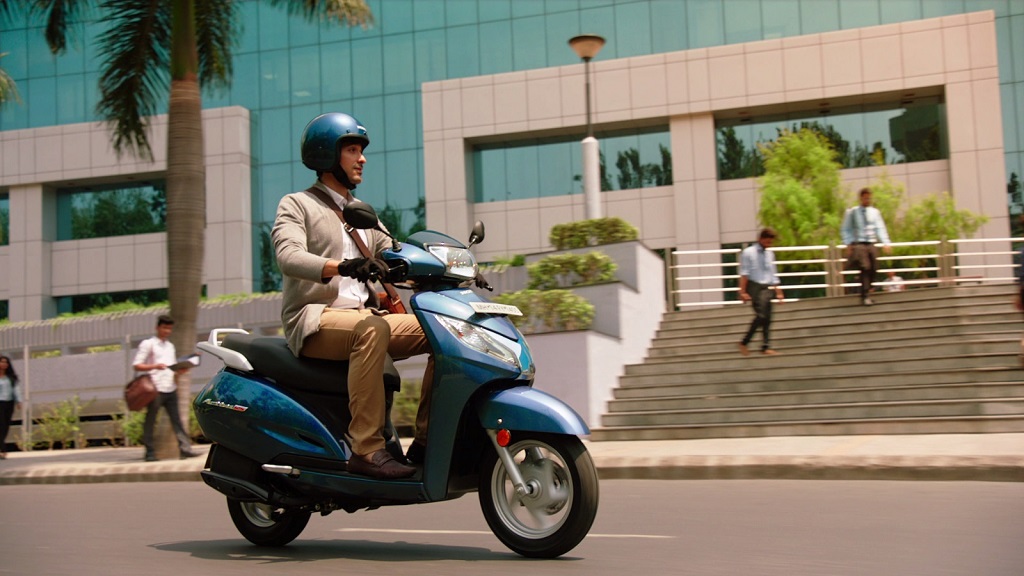 THE FILM DESCRIPTION IN BRIEF
The TVC opens with our protagonist who is ready to go to work. As he is about to self-start his Activa 125  scooter there comes along a 'cool dude' on his motorcycle with a guitar slung on his back and greets him with a sarcastic remark, '9 to 5 job huh?'. Our protagonist replies with a smile and says, 'Well I know how to make it 1-2 ka 5'.
As he rides across the city, the track kicks in with the lyrics saying, 'What a wonderful day to be riding through, while the people all around me see Monday blues. But I see colours everywhere I ride'. As he takes one corner after another, we see people going about their job in a rather mechanical manner. As he passes them by, he has a smile on his face as he is enjoying the ride to his workplace.
He then reaches his workplace, parks his Activa 125 and immediately gets into the routine. He is presenting a business module to his colleagues. As the others look on we see him enjoying the meeting and even goes on to wake up a colleague who seems to be dozing off suggesting the Monday morning blues has gotten to him. The jingle follows, 'Deadlines, meetings and conference calls – on my 1-2 Ka 5, I can take them all'.
He then moves out of the office and stops by a florist. He buys a bunch of flowers and puts them in the under seat storage space. As the clock strikes 5 in the office, he changes to an informal jacket and rides out to meet his girlfriend who is waiting for him. As he stops near her, she is a bit disappointed as he's late. But the protagonist surprises her with a bunch of flowers. She takes them with a smile and plugs in her mobile to the under seat charger in the storage space and they both ride away happily.
As they do so, we hear a voice over: 'Honda Activa 125 with 125 cc power, Frontastic Style, Added Convenience, Make life 1-2 ka 5.'
EXCERPTS FROM SPOKESPERSONS
"Honda brand is today synonymous with scooterization. When we launched Activa 125 in 2014, the key communication objective was to showcase how Indian customers could now Step Up in life with Activa 125 (which was then India's first 125cc automatic scooter). Since then, Activa 125 has grown to become India's preferred 125cc automatic scooter. The 2017 Activa 125 upgrade has once again re-energized the segment with its new LED position light (first in any scooter in India) making its front more stylish and attractive – aptly promoted with the punchline Its Frontastic. With the new 'Make Life 1-2 Ka 5' campaign, Honda is strongly communicating its 125cc advantage to the T.G i.e those ambitious young working professionals who want to make a powerful style statement on the go", said Mr. Yadvinder Singh Guleria, Senior Vice President-Sales & Marketing, Honda Motorcycle & Scooter India Pvt. Ltd.
"Today's young professionals don't want to be stereotypical. Constantly looking for newer trends, they love to make a statement with what they ride. Especially when it is a 'frontastic' stylish looking scooter-The Activa 125." said Subroto Pradhan, Managing Partner, ADK Fortune Communications Pvt. Ltd.
"Activa 125 is quite a distinctive product and thereby needed to be treated in totally different way from Activa 4G, the flagship product. Activa 125 is an attempt to make a scooter look more stylish and the rider more mature and self-assured." said Akashneel Dasgupta, ECD, ADK Fortune Communications Pvt. Ltd
Honda's Activa 125 campaign details -> "MAKE Life 1-2 Ka 5"
Creative Agency: Asatsu DK Fortune Pvt Ltd

Creative team: Akashneel Dasgupta, Tamanna Virmani, Ritesh Narang, Prasenjit Bordoloi, Akshat Chopra

Planning team: Srishti khandelwal

Account Management Team: Subroto Pradhan, Jay Majumder, Pooja Kumari

Film Director: Renato Novakovic

Singer: Akshat Chopra

Producer: Anand Wagle, Gautam Vaze

Production House: Full Circle

DOP: Volker Schellbach

Music: Aman Pant

Brand: Activa 125

Client: Honda Motorcycle and Scooter India Pvt. Ltd.

Duration: 60, 30, 20sec

Campaign breaks:

Exposure: Social media & TV
LINKS TO THE CAMPAIGN:
YouTube
https://www.youtube.com/watch?v=uQXeTtbmTxk
HD version
https://wetransfer.com/downloads/816d06f664bd7decd25e5b248ee1e20720170724123703/3a07a5e35f069f4091dcd537fe7407d420170724123703/1c48ba