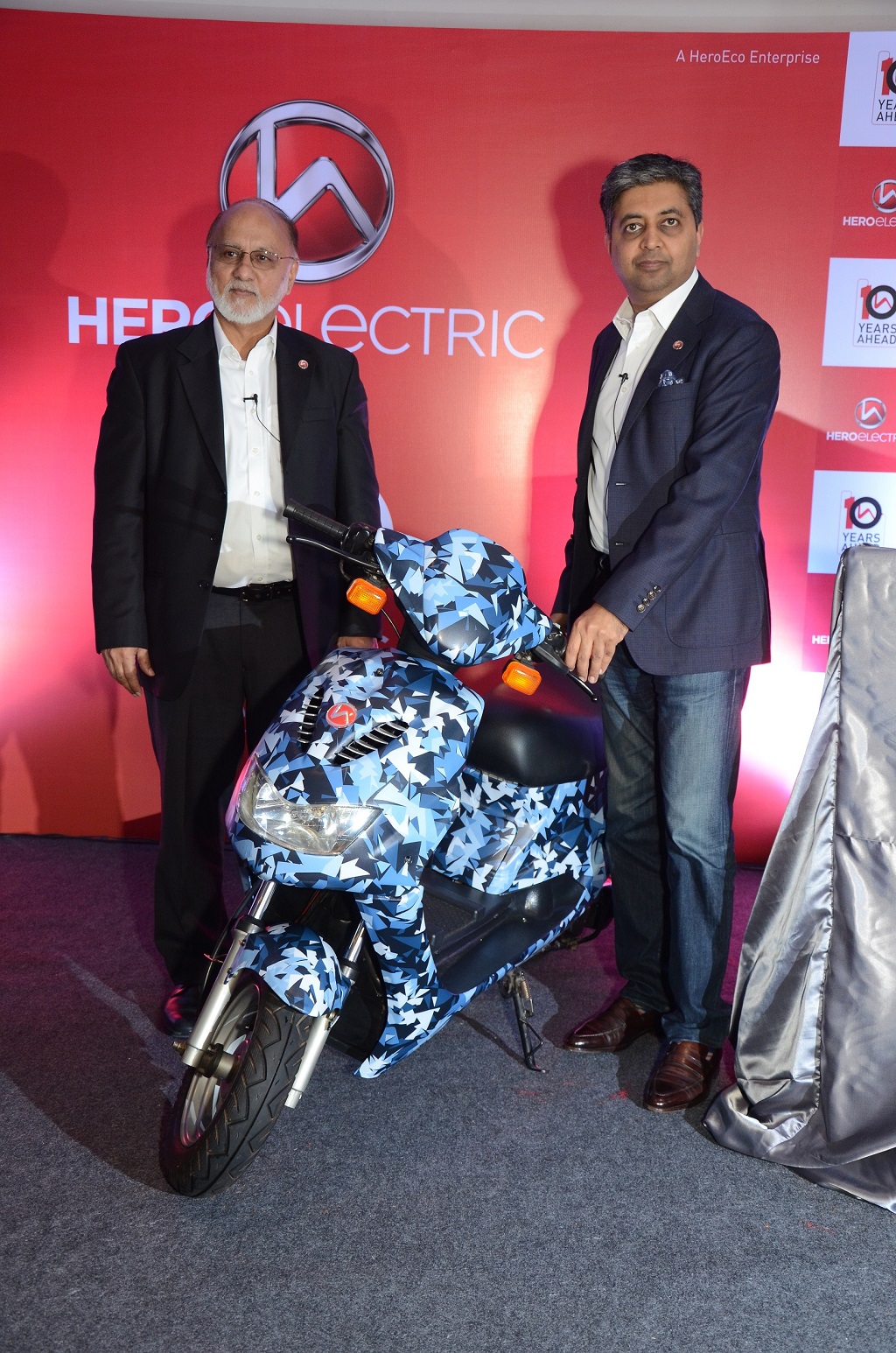 Displays three global products for the first time in India – High-speed e-bike codenamed AXLHE-20 and e-bicycles A2B Speed and Kuo Boost
Country's largest electric two-wheeler maker will display these products along with new ones at Auto Expo 2018
Plans to be launch these products in India later this year
Hero Electric completes a decade in manufacturing electric two wheelers
New Delhi, 2 February 2018: Hero Electric, the country's largest electric two-wheeler manufacturer, today unveiled three of its global products in India, ahead of Auto Expo 2018. The company plans to launch these products throughout 2018, in a phased manner.
Speaking on the occasion, Mr. Naveen Munjal, Managing Director, Hero Electric said, "We are proud to showcase our new range of electric two-wheelers, which have been especially designed for the aspirational Indian. The AXLHE-20 is a high speed e-bike that promises the perfect blend of performance and efficiency. On the other hand, A2B Speed and Kuo Boost are premium electric bicycles that cater to upwardly mobile youth who value adventure and fitness."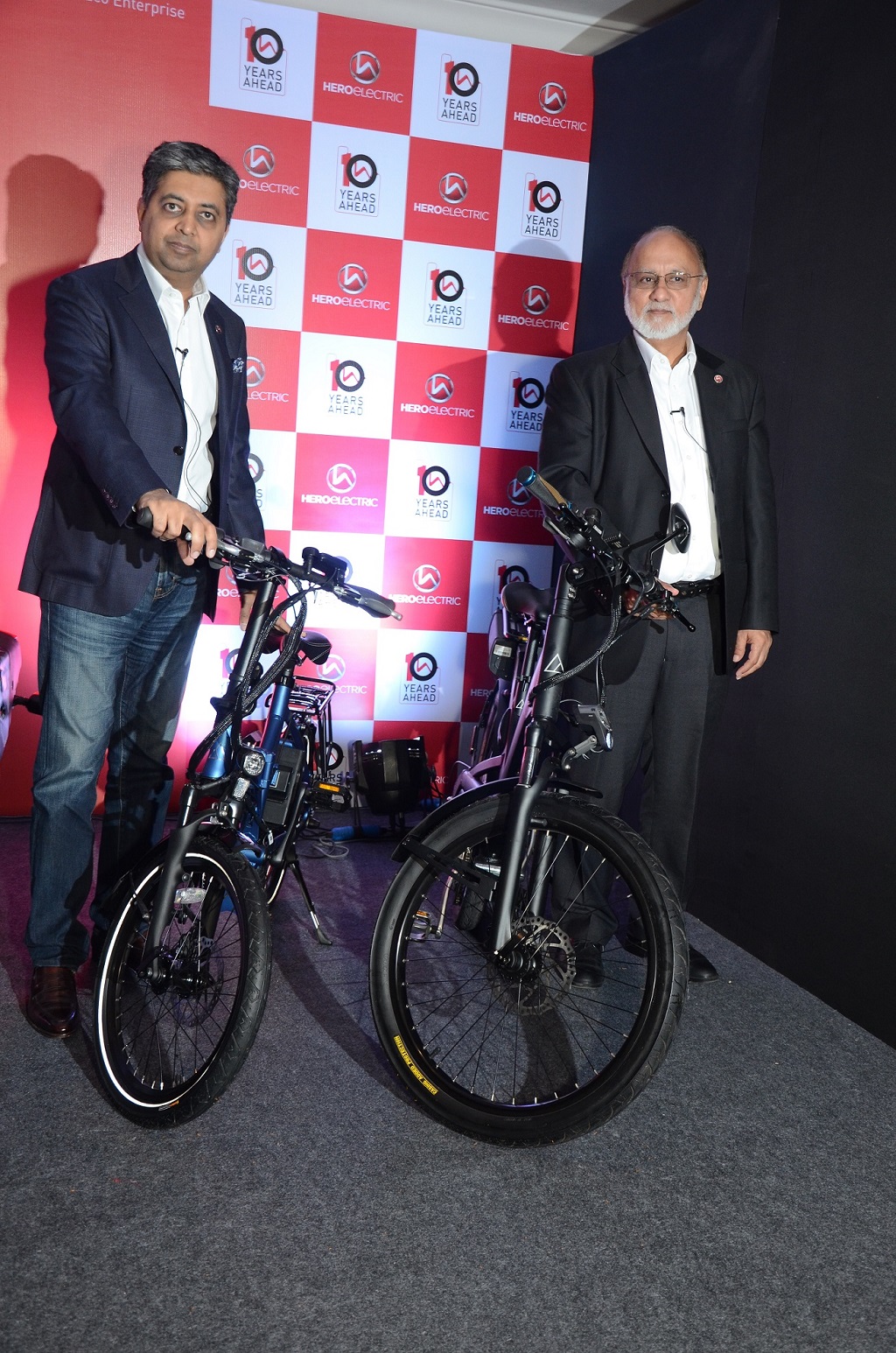 The company also launched '10 Years Ahead' campaign to mark 10 years of manufacturing electric two wheelers. Over the past decade, Hero Electric has launched 15 electric two wheelers in India. With 65% share of the country's electric two wheeler market, Hero Electric leads India's electric mobility revolution.
Commenting on the unveilings, Mr. Sohinder Gill, Chief Executive Officer, Hero Electric said, "Hero Electric has been leading India's electric mobility revolution over a decade now. Our commitment to sustainable mobility is manifested in the consistently superior products that we have launched over the years. Our new product range is an extension of this commitment."
Today, buyers are looking for products that are exciting, innovative and convenient. The AXLHE-20, A2B Speed and Kuo Boost are developed keeping in mind the needs and aspirations of such customers.
These products are part of Hero Electric's plan to double sales every year over the next five years. The company will add to its current manufacturing capacity by setting up multiple manufacturing plants in that time period.
AXLHE-20
Hero Electric's upcoming high-speed e-bike, codenamed AXLHE-20, is powered by a 4,000 Watt motor that produces peak power of 6,000 Watts. The e-bike can reach a top speed of 85 kilometres per hour and has a range of up to 110 kilometres on a single charge.
The lithium ion battery on the e-bike can get fully charged from empty in around four hours. It also features regenerative braking, improving its performance.
A2B Speed
A2B is the UK-based electric bicycle-making subsidiary of Hero Electric Vehicles Pvt Ltd. Its A2B Speed e-bicycle is powered by a 500 watt motor. The Speed's 36 volt battery lasts for 700 full charge cycles and gives the electric bicycle a range of 70 kilometres along with a top speed of 45 kilometres per hour.
A2B Speed has an aluminium frame and eight gear Shimano XT rear derailleur transmission. It comes with Tektro Dorado hydraulic disc brakes.
A2B Kuo Boost
The Kuo Boost electric bicycle is powered by a 350 watt motor and has a top speed of 32 kilometres per hour. Its lithium ion battery gives the Kuo Boost 60 kilometres of range per charge. The battery lasts up to 700 full charge cycles.
Kuo Boost has an aluminium frame and weighs 20 kilograms. It is a foldable electric bicycle and offers unparalleled portability and convenience. The bicycle has an eight-speed Shimano Derailleur gearbox to assist riders.
The Kuo Boost is renowned world over, as the most successful premium foldable electric bicycle.