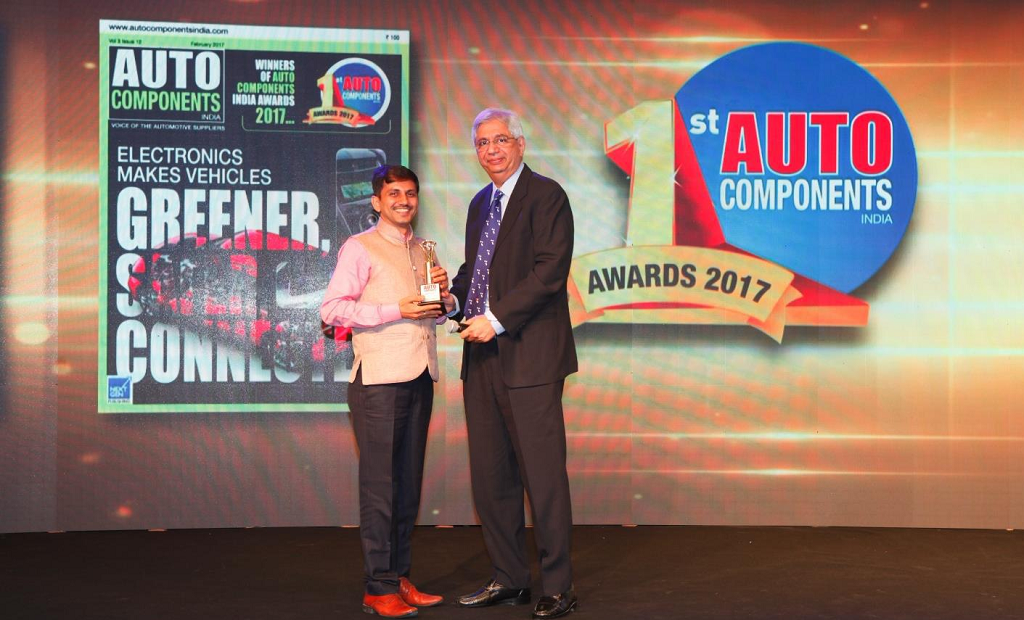 February, 2017 – HELLA India Lighting Ltd, subsidiary of one of the world's leading automotive suppliers HELLA KGaA Hueck & Co., has added yet another feather to its cap. Auto Components India presented HELLA with 'Auto Component of the Year' award, in an event marking the magazine's first-ever awards and ceremony held at ITC Grand Central, Mumbai.
Recently held award ceremony, is an outcome of a lengthy selection process made by a jury comprising experts internal and external to Auto Components magazine. HELLA scored high on parameters of Technology, Innovation, Affordability and Quick time to market to win the award.
Later in the evening after the awards ceremony, HELLA India Managing Director, Mr Ramashankar Pandey was also part of a panel discussion with leaders and experts in the auto industry to discuss "Digitisation in CVs". The discussion focused on the rising use of electronics in Indian commercial vehicles (CVs) in response to regulatory needs and customer demands, thereby putting the spotlight on technologies such as onboard diagnostics, preventive maintenance, driver assistance systems, remote monitoring, lighting systems, and more, to improve safety, efficiency and lower Total Cost of Ownership.
Speaking about the award, Mr Pandey said, "This coveted award not only underlines our excellence in brining many first Lighing Solutions to the Country but also in raising the standards of safety, reliability and Styling for the Industry at large. The award shall also go a long way in strengthening our OEM partners' confidence and our suppliers too."
About HELLA
HELLA India Lighting Ltd (HILL) brings "Technology of Tomorrow for the Life of Today" to Indian Roads.
Member of the Management Board of the HELLA Group, Germany, along with all employees of HILL, has adopted the new strategy for the company to focus all future activities around the central theme of ensuring road safety on Indian roads. In this regard, for the special OE segment, HELLA India focuses on state of the art technology products manufactured at their Derabassi plant, near Chandigarh and safety awareness campaigns through its strong independent aftermarket network.
HELLA KGaAHueck& Co., Lippstadt: HELLA is a global, family-owned company, listed on the stock exchange, with approx. 32,000 employees at 100 locations in more than 35 countries. The HELLA Group develops and manufactures lighting technology and electronic components and systems for the automotive industry and also has one of the largest retail organizations for automotive parts, accessories, diagnostics, and services within Europe. Complete vehicle modules, air-conditioning systems, and vehicle electrical systems are also produced in joint venture companies. With more than 6,000 people working in research and development, HELLA is one of the most important innovation drivers on the market. In addition, with sales of €5.8 billion in fiscal year 2014/2015, the HELLA Group is one of the top 40 automotive suppliers in the world and one of the 100 largest German industrial companies.