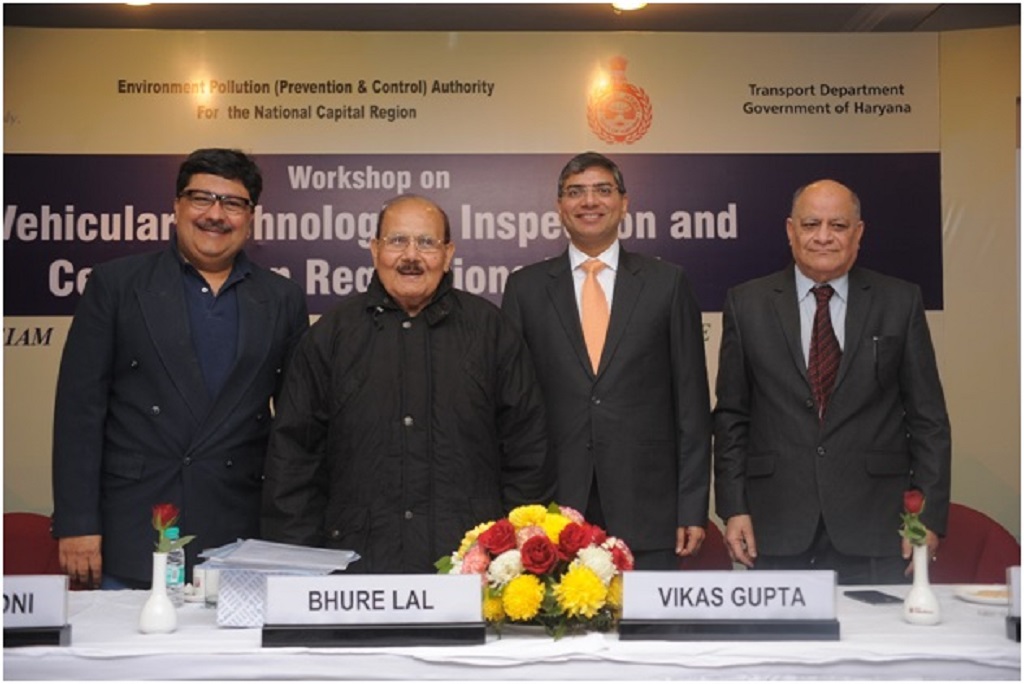 Chandigarh, 7th December, 2017: Society of Indian Automobile Manufacturers (SIAM) along with Transport Department, Government of Haryana organised an orientation programme on Vehicular Technologies and Inspection and Certification at Chandigarh under aegis of the Environment Pollution (Prevention & Control) Authority (EPCA), formed by the Hon'ble Supreme Court of India.
Mr Naveen Soni, President, SAFE and Senior Vice President, Toyota Kirloskar Motors; Mr Deepak Sawkar, Senior Vice President, Maruti Suzuki India and experts from Tata Motors shared the new technologies that have been introduced in their vehicles to make them environmentally cleaner and safer. New technologies ranging from improvement in engine and emission control systems for meeting BS VI emission regulations and introducing new features for meeting crash regulations for cars, Anti-Lock Braking Systems, speed limiting functions, Air Bags, Vehicle tracking systems, etc. will augment the road transport mobility in our country
Mr K K Gandhi, Executive Director – Technical, SIAM said "The entire Auto Industry will manufacture only BS VI emission compliant vehicles from 1st April 2020, across the country. He said commensurate availability of high quality BS VI Petrol and Diesel Fuel is a pre-requisite for such advanced technology vehicle."
Dr Vikas Gupta, IAS, Transport Commissioner, Government of Haryana informed that it is important to have regular interaction with Officials of Haryana in various parts of the State, as about 5,000 people lost their lives last year, due to road accidents in Haryana. He said, Haryana Government will set up clusters of Inspection and Certification for fitness test of Commercial vehicles. This is part of the overall Haryana Governments' initiative of "Vision Zero" for road accidents.
Chief Guest of the programme, Mr Bhure Lal, Chairman, EPCA urged the authorities should primarily look into the safety of pedestrian and cyclist and also to look into the proper infrastructure designing and improve the sensitive zones which are prone to accidents. Authorities should also leverage new technologies viz. 'On-Board Diagnostics' (OBD) systems to look at the vehicle emission control systems, before certifying the vehicle. He said, "Euro 6 technology from April 2020 would make emission performance of Diesel at par with Petrol Vehicles". He also urged transport officials of Haryana to do proper on-road inspection of vehicles to bring down the level of pollution. In the long run, we should work towards improving the efficiency of vehicles which will help in reducing global warming potential.
Society of Indian Automobile Manufacturers (SIAM) is the apex Industry body representing leading vehicle and vehicular engine manufacturers in India with an objective to 'Build the National, Responsibly'.
About SIAM
The Society of Indian Automobile Manufacturers (SIAM) is a not-for-profit apex national body representing all major vehicle and vehicular engine manufacturers in India. SIAM works towards supporting sustainable development of the Indian Automobile Industry with the vision that India emerges as the destination of choice in the world for design and manufacture of automobiles. It also works towards facilitating enhancement of the competitiveness of the Indian Automobile Industry, reducing cost of vehicles, increasing productivity and achieving global standards of quality.