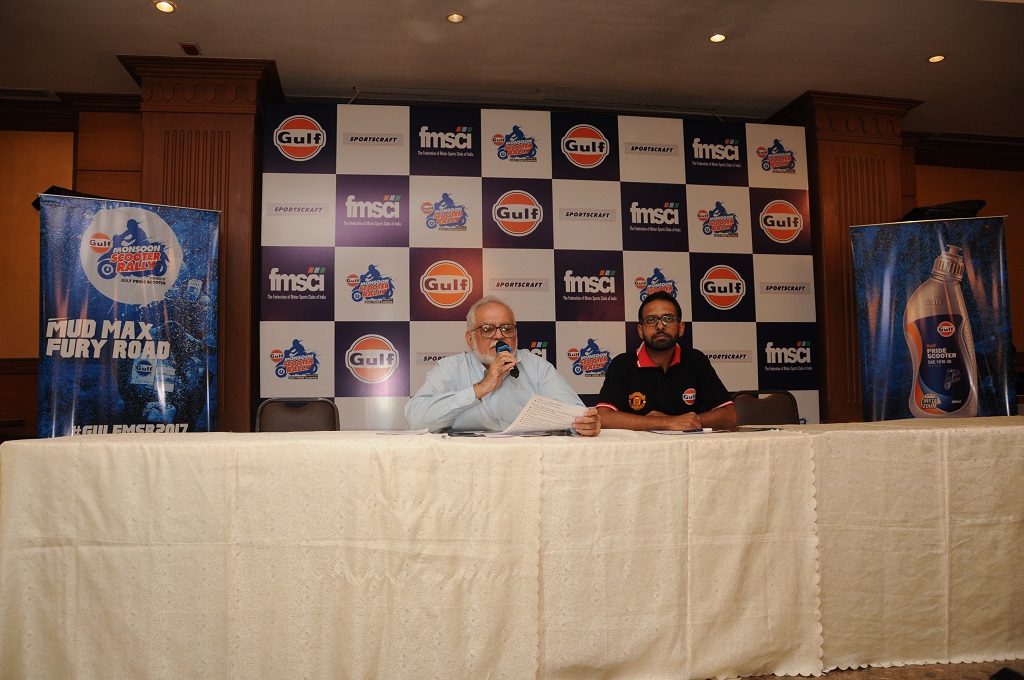 Mumbai, 16th June 2017:  The rains are back and so is Mumbai's Gulf Monsoon Scooter Rally. The 28th edition of the popular motorsport event, organized by Sportscraft in association with Gulf Oil Lubricants India Limited, will be run along the backwoods of Navi Mumbai on July 2.
Already 25 riders have confirmed participation for the off-road endurance rally. Among them are a host of former champions, including last year's winner Syed Asif Ali of Bhopal and runner-up Shamim Khan of Nashik.
Like always, a tough challenge is in store for the riders, as the course plotted by Sportscraft is a virtual marshland though the rains have just begun. Both Syed Asif Ali and Shamin Khan, who have won the event four times, will have their task cut out. In addition to the dicey course they have past champions Mumbai's Manjeet Singh Bassan, Kunal Rao, Rustom Patel and Bhopal's Mujjafar Ali to contend with.
This year, besides team entries from TVS Racing team there's a family of three that has entered. 54-year-old Shailesh Gala, who has participated in almost all the past rallies, will be in action along with his son Nikunj and daughter Priya. Syed Asif Ali from Bhopal and Rustom Patel from Mumbai will be riding from The TVS Racing team. Nidhi Shukla had a good run last year; however this year she will have tough competition from Priya Gala.
There are four first timers and it remains to be seen how they negotiate the serpentine and hilly terrain.
Mr. Shrikant Karani of Sportscraft who has seen his pet project grow and also been recorded in Limca books of records said that "the popularity of the 'Gulf Monsoon Scooter Rally' and the prestige of winning the same is so profound in the riders that every year they try and get better and more powerful scooters"
Mr. Ravi Chawla, Managing Director, Gulf Oil Lubricants India said, 'Gulf Monsoon Scooter Rally' is a unique event which holds a special place amongst the riders, making it one of the most sought after racing event in the country. It is the growing passion for endurance racing and enthusiasm of the participants which has led to an increase in new riders every year.'
The rally is open to all Indian-made scooters – two-stroke, four-stroke and gearless – and offers trophies and cash prizes. The different classes for competition are – above 80cc upto 110cc – Two stroke | Above 110cc upto 160cc – Two stroke. In Four stroke there are two groups Upto 130 cc & second from Above 130 cc – upto 160 cc
Standard entries will be accepted till June 22, 17.00 hours, while late entries close on June 27, 13.00 hours.
Special incentives are being offered to riders from Mumbai, Thane, Pune, Nashik, Aurangabad, Bhopal, Kolhapur, Jodhpur and Dehradun.
A maximum of 50 entries will be accepted. Sportscraft reserves the right to reject and increase the number of entries. Scrutiny and briefing for riders will be held on July 1 at Our Lady's Home in Parel, Mumbai. It will be followed by a ceremonial start. The main event is on July 2.
The start and finish will be at K-Star Hotel Navi Mumbai. Entry forms are available and accepted only at the SPORTSCRAFT office, Chitrakut, 3rd Floor, Siri Road, Chowpatty Bandstand, Mumbai 400 006. Tel. 022 – 23677631 or on its web site – sportscraftindia.com
RANKING
Competitors will be ranked in ascending order of penalty points incurred by them i.e. person with the least penalty points would be ranked first.
PRIZES
Overall                                                                     Prizes- In Each Class 
1st Trophy and cash award of Rs.22500/-             1st Trophy and cash award of Rs.5000
2nd Trophy and cash award of Rs.18000/-            2nd Trophy and cash award of Rs.4000
3rd Trophy and cash award of Rs.13000/-             3rd Trophy and cash award of Rs.3000
4th Trophy and cash award of Rs.8000/-
5th Trophy and cash award of Rs.5000/-                                                                                                                                                                    
(Provided there are six starters in each class)
Ladies Class – Overall
1st Trophy and cash award of Rs. 5000/-
2nd Trophy and cash award of Rs. 4000/-
3rd Trophy and cash award of Rs. 3000/-
Please note If there are Three or less then Three only one prize will be awarded.
Apart from the special Ladies class prizes. The ladies are eligible for overall and class prizes too
About Gulf Oil Lubricants India Limited
Gulf Oil Lubricants India Limited (GOLIL), part of Hinduja Group, is an established player in Indian lubricant market. It markets a wide range of automotive and industrial lubricants, greases, 2-wheeler batteries, etc. Today, the Gulf brand is present in more than 100 countries across five continents with values of 'Quality, Endurance & Passion' as its core attributes. The Gulf Oil International Group's core business is manufacturing and marketing an extensive range consisting over 400 performance lubricants and associated products for all market segments.
Safe Harbour
Certain statements in this release concerning our future growth prospects may be termed as forward-looking statements, which involve a number of risks, and uncertainties that could cause our actual results to differ materially from those in such forward-looking statements. We do not undertake to update any forward-looking statement that may be made from time to time by us or on our behalf.