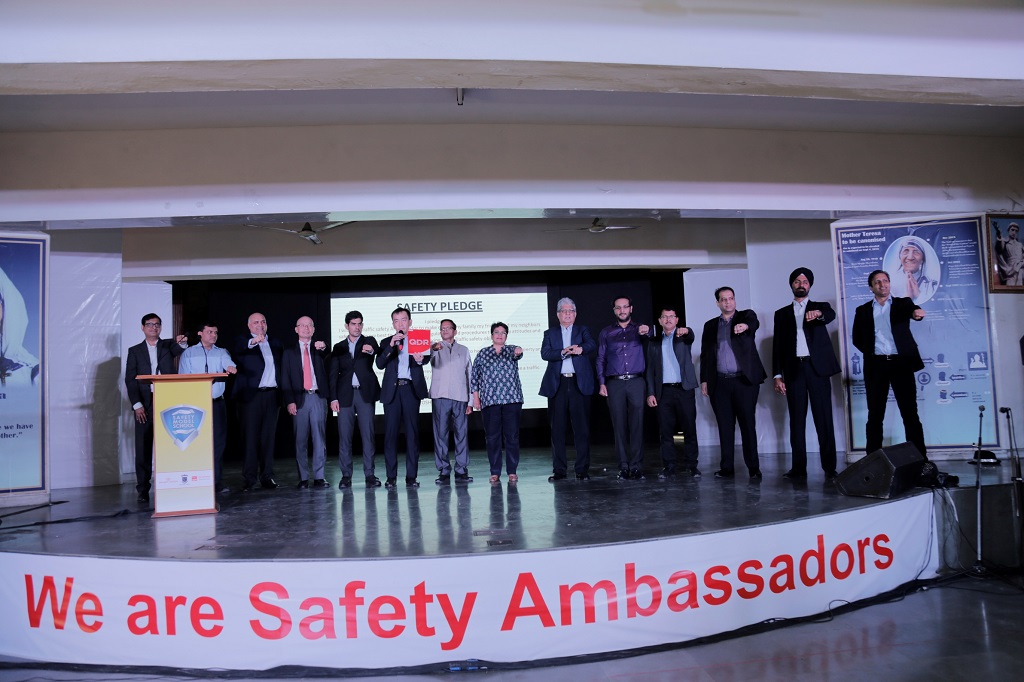 To educate the younger generation on responsible road safety habits and develop them as road safety ambassadors
New Delhi, March 09th, 2017: Galaxy Toyota in collaboration with Toyota Kirloskar Motor (TKM) today announced the inauguration of "Safety Model School" project in Montfort Senior Secondary School, New Delhi.  This initiative as a part of "Team Toyota Activity (TTA)" project undertaken by Team Toyota India, aims to educate and sensitize school children, teachers, parents and school vehicle drivers on responsible safety habits and ensure a safer traffic environment for the next generation.  Team Toyota India is a strong entity formed by TKM along with Dealer and supplier partners to contribute to the society in the best way possible. Team Toyota India works with the mission to create a better India and a better earth for all. It works as one team with one goal along with all business partners in each region with their employees and families.
The inauguration event marked the presence of dignitaries such as Honorable Mr. Ajay Kashyap – I.P.S and Special Commissioner of Police (Traffic), Ms. Garima Bhatnagar- I.P.S, Joint Commissioner of Police, Traffic (HQ), Mr. Ashok Sachdev, Chairman & Managing Director – Galaxy Toyota along with representatives from Toyota Kirloskar Motor's senior management, Mr. Akito Tachibana, Managing Director and Mr. Akitoshi Takemura, Senior Vice President.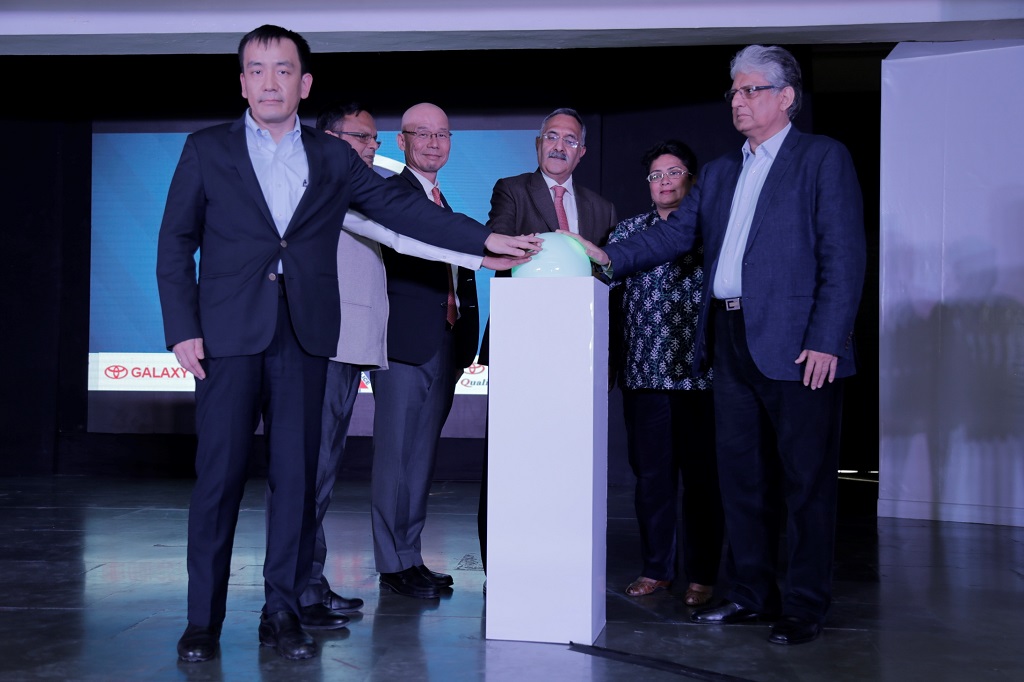 As a safety leader in the industry, Toyota has adopted an integrated approach to conduct collaborative activities together with dealers and supplier partners in each region enriching quality of life in India by promoting Safety & CSR. Galaxy Toyota, dealership of Toyota in North India has owned the responsibility to enhance the road safety conditions in the national Capital Delhi as a part of Team Toyota Activity. The newly launched Safety Project for School Children in Montfort School is a unique comprehensive program to help school children learn about road safety habits in their daily curriculum. The program is aimed at creating Safety Ambassadors in schools by creating Safety zone & Safety Park within school, Toyota Safety Education Program, training of school vehicle drivers and creation of safety group in the school.  Similar initiative was undertaken by Nippon Toyota, dealership of Toyota in South India in partnership with TKM in Kochi recently. Nippon Toyota launched the first ever "Safety Model School" project in Kerala earlier this year at Rajagiri Public School, Kochi. This pilot project witnessed participation from 400 students inculcating and spreading the importance of road safety contributing towards sustainability.
The program will comprise of four phases: Firstly, Safety zone will be created within the school campus of Montfort Senior Secondary School; The Safety Zone will comprise of Safety Road, Safety Park, Parking Bays and safety staircase in the school.  Zebra crossings, sign boards, road lane markings, speed breakers will be created in the safety zone to create an environment in the school for children to see and learn about road safety every day. Children will be educated on the importance of road safety signals, following the right safety behavior, adhering to traffic rules, causes of accidents. To further expand road safety education in a sustainable manner, Toyota Safety Education Program, an interactive learning program will be implemented in the school, which is designed especially for young school children to create strong safety sense.  Toyota initiated the Toyota Safety Education Program (TSEP) in 2007 which aims at educating school children and teachers through phase wise approach on important aspects of road safety and eventually passing on the learning to the general public. Toyota has educated more than 6,80,000 school children  on road safety across India until  now as part of  "Toyota Safety Education Programme"
Towards achieving the safest commute for the children to and from school, school vehicle drivers will be trained on safe driving practices. Safety groups will be formed involving representatives from student council and Parents Teacher Association to spread the safety awareness wider and make it more impactful through role models. This "Safety Group" will be responsible for sustaining all safety related activities inside the campus.
Commenting on the occasion, Mr. Ashok Sachdev, Chairman & Managing Director, Galaxy Toyota said, "Road safety is a growing concern in our country and the situation has further worsened due to negligence and lack of knowledge by our road users. Therefore, it is indeed a privilege for us at Galaxy Toyota to be partnering with Toyota Kirloskar Motor in making roads of New Delhi safer for the future generation. Through the "Safety Model School" program we will bring together teachers, students and also parents to propagate and encourage awareness on road safety. All-in-all the initiative is aimed at providing long-term improvements and solutions to make our neighborhoods safer for pedestrians as well as motorists."
Speaking on the occasion, Akito Tachibana, Managing Director, Toyota Kirloskar Motor said "We are delighted to be associated with Galaxy Toyota to support this initiative in Montfort Senior Secondary School. As a committed corporate towards ensuring the highest standards in road safety, it is our responsibility to connect with people from different walks of life and raise awareness to keep our roads safe for all users. "Safety Model School" program is one such unique initiative that will ensure school children learn something every-day. They will practice important safety tips within the school, participate in interactive activities by continuing to have fun while they learn. With this holistic awareness program we are hopeful to see the children of the future become responsible road users and young safety ambassadors. Together with our dealers and supplier partners we have undertaken various initiatives to strengthen our road safety initiatives in India. We appreciate the efforts and leadership taken by Galaxy Toyota and the support from Montfort Senior Secondary School to launch the 'Safety Model School' project". He further added.