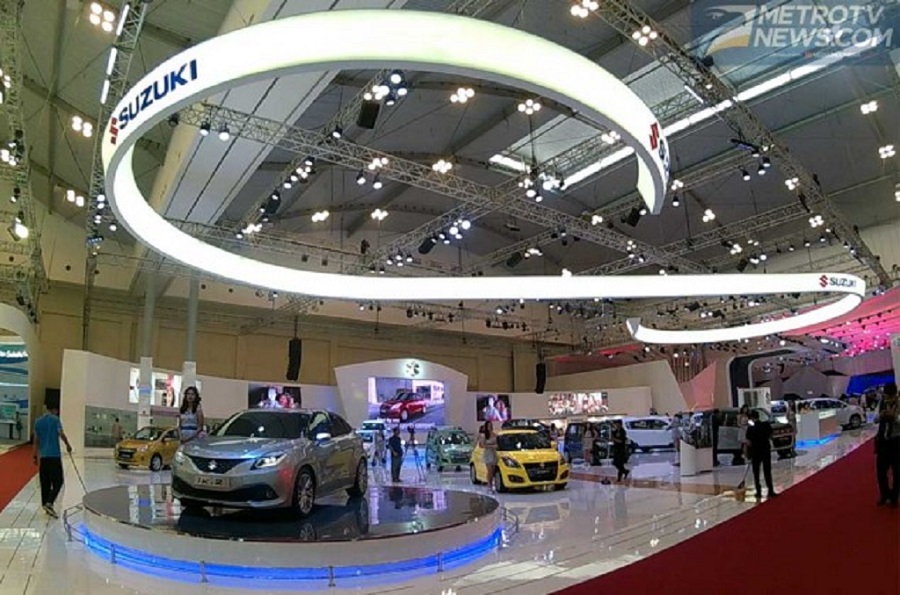 BSD City, INDONESIA, Aug 19, 2016 – (ACN Newswire) – GAIKINDO Indonesia International Auto Show (GIIAS 2016), taking place through the weekend (Aug 11 – 21), has been a roaring success, with more than 190,000 visitors crowding into 95,000 sqm of the modern Indonesian Convention Exhibition (ICE – BSD) in BSD City, Tangerang, during the first weekend alone.
Equally notable have been the numbers of new cars, concept cars and commercial cars vying for attention at GIIAS. 34 authorized brand holders (APM) are showing 33 new and concept automobiles among the 430 vehicles on dislay. Some of the new and concept automobiles featured at this year's GIIAS are presented for the first time in the Indonesian market, and even the world, including the following.
PT ASTRA DAIHATSU MOTOR
At the GIIAS 2016, PT ADM presented a total of 16 displayed vehicle units and 3 concept cars, namely:
– Daihatsu TEMPO, a commercial vehicle with maximum functionality,
– Daihatsu HINATA, a mini car with seat adjustment feature,
– Daihatsu CAST ACTIVA, a sporty mini crossover car.
Shigeharu Toda, Director of Daihatsu Motor Company, Japan, stated that Daihatsu is committed to be a stable and strong global player at the compact cars segment, including in Indonesia.

2. PT HONDA PROSPECT MOTOR
PT HPM chooses Indonesia as the market to launch two of its concept cars, Honda Clarity Fuel Cell and Honda Civic Hatchback Turbo Prototype, at the GIIAS 2016 exhibition.
– Honda Clarity Fuel Cell, the first 5-seater sedan-based model in the world that uses a very environmental friendly hydrogen fuel cell. Through this type, Honda has focused its research on hydrogen as a solution to several issues, such as global warming and the depletion of fossil fuel, by developing Fuel Cell Vehicle (FCV) that only releases water vapor, without any amount of CO2, as an environmental friendly car.
– Honda Civic Hatchback Turbo Prototype – launched by Noriaki Abe, Chief Operating Officer, Regional Operations (Asia & Oceania) Honda Motor co., Ltd, together with Tomoki Uchida, President Director of PT Honda Prospect Motor. Honda Civic Hatchback Prototype is a 5-door version from the 10th generation of Honda Civic, completed with 1.5 VTEC TURBO, a sporty and environmental friendly engine.
Featuring 35 display units, President Director of PT HPM, Tomoki Uchida expressed that the launch of the special edition is meant to energize the automotive market in Indonesia.
3. PT KRAMA YUDHA TIGA BERLIAN MOTORS (Mitsubishi)
PT KTB presents Mitsubishi XM Concept, the first MPV Concept Crossover to be introduced in the world. This model will enter the Indonesian market in 2017 as a multi-purpose vehicle (MPV).
The theme from Mitsubishi is "Brand New Exploration with Mitsubishi Motors". This year, Mitsubishi utilizes Global Booth Design from Mitsubishi Motors Company to strengthen the Mitsubishi Motors' brand, with a more consolidated communication program.
PT NISSAN MOTOR INDONESIA
PT NMI presents Datsun GO-cross Concept for the first time in Indonesia. Datsun GO-Cross Concept was first introduced in Tokyo in 2015, showcasing Datsun's vision for the opportunity to expand the Datsun GO and Go+ models in countries with a significant market potential, including Indonesia.
– Datsun GO-cross Concept, has a bolder and more dynamic design, with a practical touch.
Datsun Executive Design Director Nissan Motor Co, Kei Kyu, stated that Datsun GO-cross Concept is designed to provide style, fun, and adventure with a new twist among Datsun's products. On top of that, this car is specifically made to fulfill the preference of the new generation of drivers – young, ambitious, and adventurous.
PT TOYOTA ASTRA MOTOR
Through its premium brand, Lexus, PT TAM presents a Fuel Cell concept that is prepared for the future. The two concept cars are Lexus LF-LC and Lexus RC F GT3.
With its theme "Visionary Anticipation", Lexus states its commitment and its anticipation for future changes in terms of product, service and design, by understanding the world's taste across time, for the premium vehicle customers.
PT SUZUKI INDOMOBIL SALES (SIS)
At this year's GIIAS, PT SIS carries the theme "Urban Sport" by presenting 20 vehicles, in three categories: Reference Model, Current Model, and Modification Model.
– Reference Models, Suzuki presents the Ignis, the Suzuki Baleno, and the Suzuki Jimny.
– Concept Model, Suzuki presents the 'Ignis Water Activity' Concept.
Through the GAIKINDO automotive event, Suzuki chose Indonesia to introduce its lineup of concept cars to the wider public.
There are 6 commercial vehicle brands present at the exhibition, FAW, Hino, Isuzu, Mitsubishi FUSO, Tata Motors and UD Trucks. Big-size trucks with new innovations to make field operation easier are exclusively introduced at the GIIAS 2016.
HINO
As the market leader in the medium duty trucks segment for 16 years, PT Hino Motors Sales Indonesia (HMSI) carries the theme of "Making Your Business Easier" that is translated through a 1,238 sqm booth, featuring 7 trucks and bus models at the GIIAS 2016, with the latest models, such as:
– Dutro 110 SDLR – a light duty truck from Hino's distribution segment that has the longest cargo in its class, namely more thatn 4,2 m. Hino claims that this truck maneuvers easily in the busy traffic of the capital city, and is a solution for customers who need vehicles to carry goods in a bigger volume.
From the construction segment, Hino launches:
– New Generation Ranger FM 260 JD – in line with the government's effort to improve civil service, this vehicle is a dump truck with the best quality, durable and strong in its class.
– New Generation Ranger FG 235 JJ – shaped with a Road Sweeper Body, this truck is a solution to improve street cleanliness in the capital and other cities, making the streets cleaner and litter-free.
ISUZU
PT Isuzu Astra Motor Indonesia (IAMI) introduces a mobile service with the largest network in Indonesia, 'Bengkel Isuzu Berjalan' (Mobile Isuzu Workshop – BIB) at the international automotive event, GIIAS 2016. The BIB service makes it easier for the customers who require after-sales service when they couldn't come to Isuzu's workshop.
Through its latest service, Isuzu provides additional armada for BIB Motorcycles to increase service speed to the customers, particularly in big cities with congested traffic. BIB Motorcycles provides services such as electrical system, power train system, chassis dan engine system.
3. TATA MOTORS
PT Tata Motors Distribusi Indonesia (TMDI), a subsidiary of Tata Motors Indonesia, also features a number of its new commercial vehicles at hall 3A, booth 3F. At the GIIAS 2016, TMDI introduces its new theme "Think Business, Think Tata Motors", that represents the capability of Tata Motors' products at the commercial vehicle segment. Through its new theme, PT TMDI claims to be a reliable business partner for its customers at all time, and to support young entrepreneurs in Indonesia by endorsing Titi Kamal.
To strengthen its theme, TMDI introduces a number of new and innovative commercial vehicles that helps facilitate the operations for businesses in Indonesia:
– Tata Ultra 1012 – Strong light truck with an affordable Total Cost of Ownership (TCO) in its class. Tata Ultra 1012 has undergone more than one year probation period or have been through more than 25,000 km road terrain before it was officially launched at the GAIKINDO automotive event. With 5 advantages such as Ultra Versatile, Ultra Style, Ultra Performance, Ultra Comfort and Ultra Safe, Biswadev Sengupta as the President Director of TMDI stated that, "Tata Ultra is an important business asset for our customers and will be the ultimate choice in a very competitive business world."
– Tata Xenon XT D-Cab 4×4 – Strong, efficient and comfortable all-purpose double cabin pickup. Its abundance of power and torque, low emission, comfort, and most efficient operational cost in its class makes Tata Xenon XT D-Cab 4×4 the best transport vehicle to carry goods, basic needs for various industries – including mining and plantation – in remote areas. This latest commercial vehicle from TMDI is also supported with loading deck made of double corrugated galvanized steel with load capacity up to 1,000 kg with a size of (LxWxH) 1,430 x 1,410 x 400 mm and ground clearance of 210 mm.
MITSUBISHI
Carrying the theme Best Life Cycle Value, Mitsubishi Fuso through PT Krama Yudha Tiga Berlian Motors (KTB) presents 10 vehicle units, including trucks and busses that represent Mitsubishi Fuso's commitment, namely Best Product, Best Rear Body Arrangement and Best Value for Money. During this year's event, Mitsubishi launched a new variant, Colt Diesel FE SHD-X 6.666 with the tagline "The Fierce Climber". This latest commercial vehicle from KTB is an evolved variant of the FE HDX variant, with a bigger Final Gear Ration (Axle) that makes this vehicle more capable on off-road uphill terrain. Mitsubishi Fuso also showcases FE SHDX Chassis, FE 71PS chiller box, a modified FE 71 that functions as a 'Mobile Stage' for promotional purposes, and FE 84 BC as an executive bus.
Among the New Fuso products, KTB also presented FJ 1623 concept truck that is specially delivered from the Mitsubishi Fuso principal and the classic Colt Diesel T200 truck, the first generation of the Mitsubishi commercial vehicle.
FAW
Carrying the theme 'FAW Ready to be your business partner', the Chinese truck company, FAW, takes advantage of the GIIAS 2016 to get closer to and satisfy their customers by helping their loyal customers to get easy access to information about workshop services, spare parts, and products. At the same time, FAW also launched its latest products:
– FAW HD310CG – 8X4
– FAW FD240CG – 6×2
These new models introduce a new generation machine type from WP (Weichai Power) that is very durable and consumes less fuel. Through their latest vehicles, FAW claims that they are the most suitable transportation to support logistic or expedition, infrastructure, and oil tanks businesses.
UD Trucks
UD Trucks introduces their latest technology and services as the solution to help improve customers' businesses, and those are:
– Bogie Axie Lift Technology – This technology helps improve fuel efficiency, prolong tire's life, and driving safety during operation. UD Trucks also states that they will present this technology in the 5 Quester truck category.
 – UD Telematics Services – This is a fleet management solutions to ensure after-sales service, as well as business support. Through this service, UD Trucks provides an accurate, real-time and efficient performance report system for the trucks and drivers.
With the appearance of several concept cars, passenger cars and commercial cars, GIIAS 2016 aspires to be a platform of growth and development for the Indonesian automotive industry, while GIIAS strengthens Indonesia's automotive sector in the international marketplace.
About GAIKINDO Indonesia International AUTO SHOW (GIIAS)
GAIKINDO hosted the very first Indonesian Autoshow in 1986. In 2006 the exhibition reached a new level, becoming an international-scale exhibition endorsed by OICA (Organisation Internationale des Constructeurs d'Automobiles), and changing its name to Indonesia International Motor Show (IIMS), and in 2009 moved to a larger venue in Jakarta International Expo – Kemayoran.
In 2015 a new chapter began, as the GAIKINDO Indonesia International AUTO SHOW (GIIAS), now the largest in Southeast Asia, held at the spacious Indonesia Convention Exhibition – Bumi Serpong Damai (ICE – BSD), a new destination of the MICE industry in Indonesia. GIIAS 2016 will occupy 96,557 sqm, providing maximum convenience for visitors, transportation systems for easy access, and a series of shows that are both entertaining and educational. For more information, please visit www.indonesiaautoshow.com.