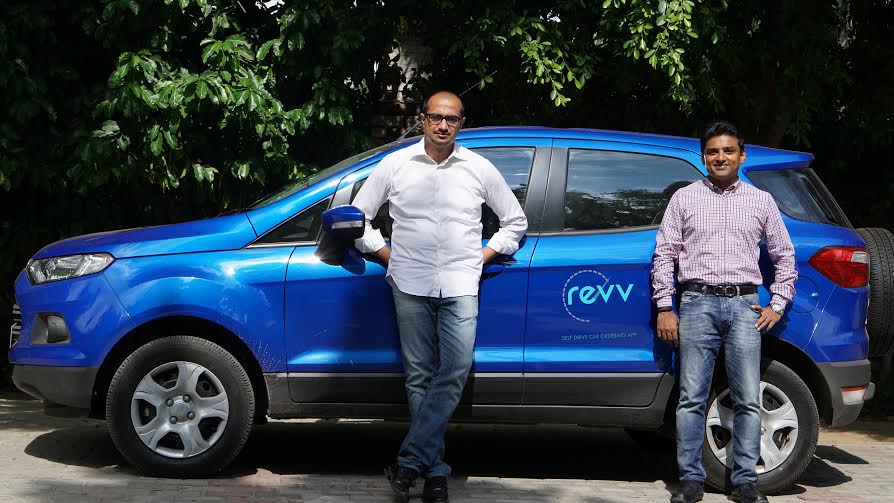 Launches world's first self-drive car rental service with 100% doorstep delivery and unlimited kilometres pricing for hourly rentals
Ever heard of doorstep delivery of self-drive rental cars, to 100% users, 100% of the time? Or of a pricing plan that doesn't count kilometres? Or of a company's staff zipping around on foldable electric scooters to reach their parking lots? Or of personalised pricing based on a user's past driving performance? No self-drive car rental company in the world does all of these yet, but Delhi-NCR based Revv has set out to change all that and create a first-of-its-kind service.
Revv was set up in May 2015 by Anupam Agarwal and Karan Jain, two ex-Associate Partners of McKinsey with a comprehensive background of a decade each, where they helped Fortune 500 clients on strategy and performance transformation. The company bets on a shift in consumer behavior towards renting instead of owning assets such as cars and has completely re-worked the prevalent self-drive rental model. One of their first-of-its-kind innovations is "pure-play doorstep delivery of cars", even for hourly rentals. To make this viable, they equip every delivery executive with a foldable electric scooter that fits in the boot of every car, and becomes a cost-effective, quick and environment-friendly way of getting back to the parking hubs.
Commenting on their vision, the founders said "Private car ownership is fundamentally inefficient. This is especially true for a household's 2nd or 3rd car, or the SUVs/ultra-luxury cars that are used only occasionally. We are out to create a rental product that truly enables the avoidance/postponement of car ownership. This needs us to re-imagine every element of the rental product, and make the user's experience resemble that of using a private car. Cloning prevalent models won't work."
They added, "Multiple self-drive car rental companies globally offer some elements of convenience, but they do it in bits-and-pieces. Customers can get one thing but not the other. The trick is think about this as an integrated product. Our 100% doorstep delivery and unlimited kms pricing plan are industry-firsts in the hourly rentals space. Reaching the rental company's parking lot is the biggest pain point for customers. Hence, we decided to eliminate the parking stations concept entirely and make ordering-a-car as quick and easy as ordering food. Similarly, the 'unlimited kilometres' pricing plan is ultra-simple and gives the same freedom that users experience with their own car. We are investing heavily to build world class technology and front-end software which will enable many more such innovations to be unveiled in the next few months."
Revv launched on July 27, serving customers in Delhi-NCR, and has seen rapid uptake by them despite minimal spend on marketing (45-50% utilisation in the first 3 weeks, with 2 "sold-out" weekends). They are already seeing repeat usage and positive customer feedback on their innovations.
With two crore cars moving on Indian roads already, there is no denying that the segment is huge and the day doesn't seem far when people will not have to necessarily buy cars to be able to use them.
About Revv
Revv is a self-drive car rental company, which recently launched from Delhi-NCR. It is the pioneer of 100% doorstep delivery and unlimited kms pricing plans for hourly self-drive rentals.
Revv was set up in May 2015 by Anupam Agarwal and Karan Jain, two ex-Associate Partners from McKinsey. It is funded by Ananth Narayanan, the newly hired CEO of Myntra, the CEO of DEN Online, more than 10 Directors and Partners from McKinsey (including the heads of logistics and automotive practices), senior executive from an investment fund, and a German soccer professional.
Revv's portfolio comprises primarily of SUVs and and ultra-luxury cars. It aspires to be the largest self-drive car rental company in India, with a presence in 6-8 major cities within 1 year and a fleet of 30,000+ cars in 4-5 years.