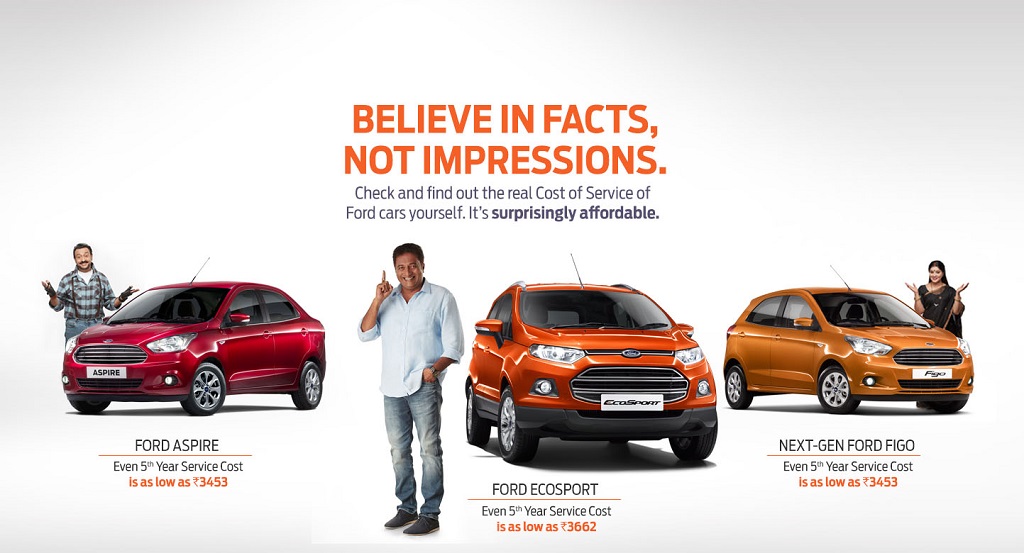 New Delhi, India, Jan 13, 2017 – "For the great enemy of truth is very often not the lie but the myth." Picking the essence of what John Kennedy once said, the latest television commercial from Ford India attempts to break the myth and stereotypes around its Cost of Service.
The genesis of the campaign finds its roots in research that shows how consumers tend to believe others and blindly follow perceptions without knowing the truth.
Taking a unique and fresh creative route to expose the trend, Ford's latest campaign on the cost of service features well known on-screen 'villains' – Singham fame Prakash Raj, Bad Man Gulshan Grover, and small screen vamp Sudha Chandran. All antagonists in the campaign highlighting how they get stereotyped as bad in real life too due to their evil appearances in cinema/ television.
The narrative seamlessly builds connect with Ford's continuing efforts in breaking the myth of being high on cost of service with hard hitting facts like the 5th year cost of service for Ford EcoSport being INR 3,662*
"Ford in India is transforming, and a key part of this success lies in winning the trust of the customer by passing the control back to them. Be it 800+ Sub Assembly Levels of Parts where we have broken big assemblies into sub-component or Longer Service Intervals, we are enabling substantial savings for customers," said Rahul Gautam, vice president, marketing, Ford India. "With our new campaign, we want to break the myth and establish that Ford cars are surprisingly affordable using an interesting and creative way of storytelling."
The Cost of Service campaign also draws strength from a Spare Parts Price Study by India leading auto magazine, Autocar India. According to the independent survey, Ford has been rated among the most affordable against a formidable set of competitors.
Betting big on trust and transparency, Ford has introduced several path breaking initiatives like Service Price Calculator and Parts Pricing on Ford India website, that allows the customer to know their service and parts cost, even before walking into the dealership.
The TVCs created by Global Team Blue (GTB) will target key sports, news and GEC channel along with significant digital and social presence.
Link to the TVCs: https://we.tl/K44G8TWmXY