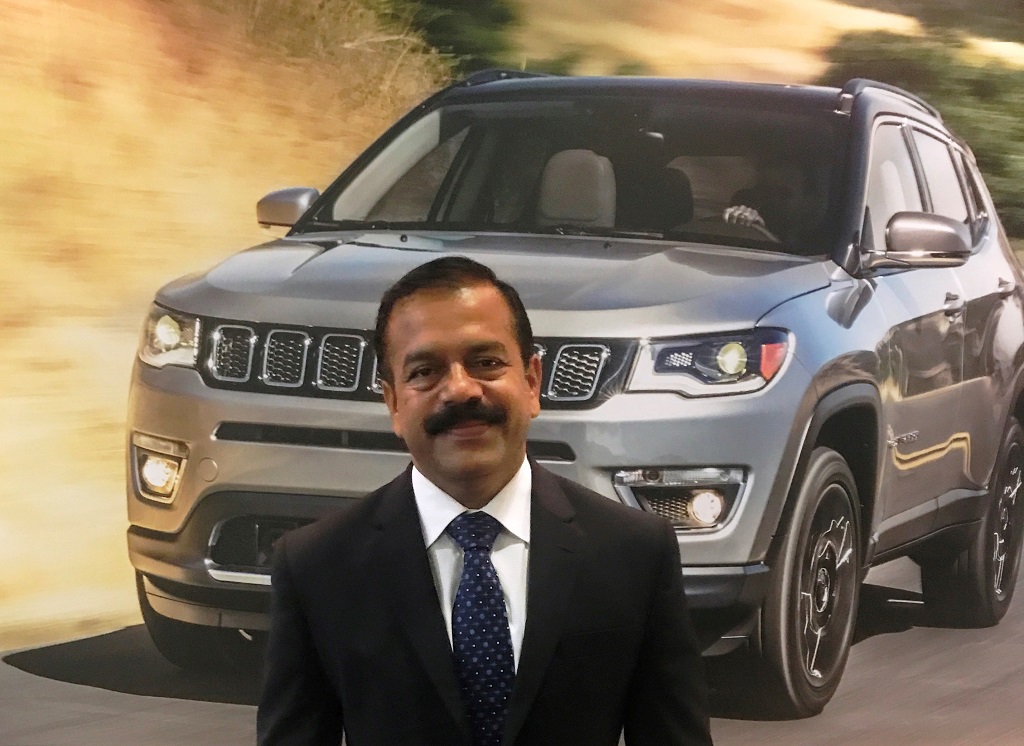 MUMBAI | July 28, 2017 FCA India, with the resolve to enhance its After Sales operations has today announced the appointment of Mr. Raghavendra Kulkarni as the new Head of  After sales, effective immediately. A Mechanical Engineer, he comes with 32 years of experience in After Sales, having worked with a number of automobile majors in India and overseas.
Kulkarni will be part of the FCA India Leadership Team and will report directly to Mr. Kevin Flynn – President and Managing Director, FCA India.
Commenting on the appointment, Mr. Kevin Flynn, said, "Raghavendra joins the FCA India family at the right time, as we are about to go to market with the Made in India Jeep® Compass. His vast experience in After Sales will be immensely valuable to us as we are moving the needle in strengthening our Service network with Mopar across the country. We welcome him and look forward to his expertise in taking our Service operations to the next level."  
Raghavendra Kulkarni will be responsible for the entire After Sales Operations that includes providing support to Fiat as well as Jeep® customers. He will oversee the implementation and expansion of Mopar workshops across India, and also strategize to introduce innovations in Service operations, to ensure customer satisfaction. Setting up of new workshops and driving all functions of FCA's Service operations will be a major part of his responsibilities.
In the past Kulkarni has worked for manufacturers such as Mahindra & Mahindra, Toyota, General Motors and Bentley, and also Volkswagen India for a significant duration. He has worked in International positions in Sri Lanka, Nepal, Africa and China.
About Fiat Chrysler Automobiles
Fiat Chrysler Automobiles (FCA) designs, engineers, manufactures, distributes and sells vehicles underthe Abarth, Alfa Romeo, Chrysler, Dodge, Fiat, Fiat Professional, Jeep®, Lancia, Ram, SRT brands as well as luxury cars under the Maserati brands.
FCA also operates in the components sector, through Magneti Marelli and Teksid, and in the productionsystems sector, through Comau, and in aftersales services and products under the Mopar brand name.In addition, the Group provides retail and dealer finance, leasing and rental services in support of the carbusiness through subsidiaries, joint ventures and commercial agreements with specialized financingservices providers.
FCA is an international auto group engaged in industrial activities in the automotive sector throughcompanies located in 40 countries and has commercial relationships with customers in approximately150 countries.
About Jeep®  Brand
Built on more than 75 years of legendary heritage, Jeep® is the authentic SUV with class-leading capability, craftsmanship and versatility for people who seek extraordinary journeys. The Jeep® brand delivers an open invitation to live life to the fullest by offering a full line of vehicles that continue to provide owners with a sense of security to handle any journey with confidence. The Jeep vehicle line-up in India consists of the Jeep® Wrangler, Grand Cherokee and now the Jeep® Compass.