Introduces indigenously engineered Electric Tractor at Agritechnica 2017, Hanover, Germany.
Future-ready clean and green Electric Tractor
Perkins-powered tractor range from 75 to 110 HP for global farmers
Europe and US emissions-compliant CRDi engined tractors
Launch of compact tractors with Hydraulic and Mechanical power transmission platform
Hanover, November 13, 2017: Farmtrac Tractors Europe, leading International tractor producer, today unveiled its latest global tractor portfolio ranging from 20-120 HP, at Agritechnica 2017, including the first electric tractor produced by Indian parent company Escorts Ltd.
Named NETS (New Escorts Tractor Series) the newest Farmtrac tractors are fully compliant with EPA Tier 4 emission regulations, and designed with simplicity for farm applications at each power level. Styling by Studio F. A. Porsche brings the range a unique blend of style and comfort, providing a complete new look and aesthetics for today's global farmers.
The range includes the flagship NETS models, offering power ratings from 70 to 90 HP; compact tractors in 22 to 30 HP options; crossover tractors designed to appeal to both on-farm and haulage applications, and tractors with cabin options for added driving comfort.
Today at Agritechnica, Farmtrac also introduced EPA Tier 4 emission regulations compliant CRDi engines, previously limited to cars and naturally-aspirated machines, which the company says will meet customer demands from the United States, Europe, Latin America, Africa and ASEAN countries, as well as the growing numbers of 'new generation' farmers in its domestic Indian market.
In the shape of the Farmtrac 26E, the company also provided a glimpse of its future intentions: the eco-friendly electric tractor is the first such tractor to be developed and built in India, the world's largest tractor market where the annual demand for tractors is seeing double-digit growth. Although still in development, the full production version is expected during 2019.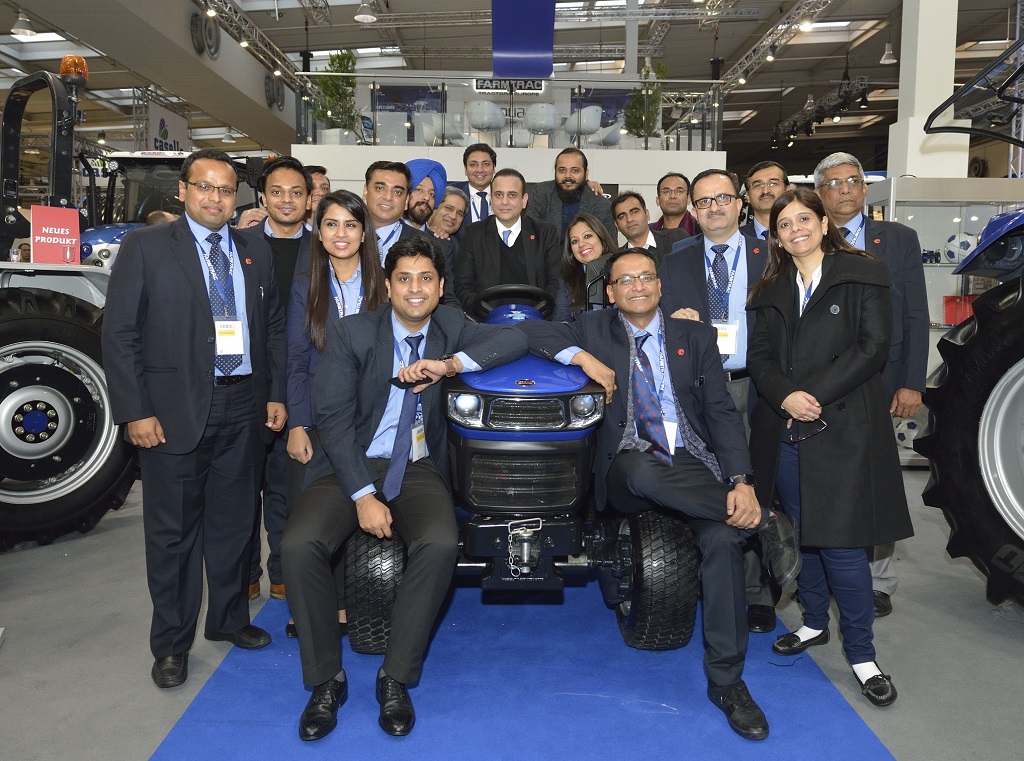 Speaking on the launch at Agritechnica, Nikhil Nanda, Managing Director, Escorts Ltd, Holding Company of Farmtrac Tractors Europe said:
"Farmtrac is extremely proud to launch the electric tractor concept. It's a display of our innovative approach to engineering, offering India's best to the world. New mechanised farming products and solutions are essential for meeting the global demand for greater food production."
Ravi A Menon, Chief Executive Officer, International and Emerging Businesses, said:
"For the New Escorts Tractor Series (NETS) we are extremely proud to have had the involvement of Studio F. A. Porsche, creating an altogether new user experience in comfort, ergonomics and precision farming."
Rajiv Wahi, Head, International Business, said:
"At Farmtrac, we're committed to technological innovations and building smarter and more efficient technology. Farmtrac Tractors Europe today offers farm solutions for farmer demands across all price points and technology applications, globally." 
Farmtrac Tractors Europe is one of the leading producers of agricultural tractors in Poland and Europe. Beginning in 2000 in Mragowo, Poland, Farmtrac today is among the leading domestic manufacturers of agricultural tractors, producing over 20 types and varieties of tractors. The tractors are manufactured in Poland and India.
Well-known names supply the components for Farmtrac tractors, including ZF, Bosch, Perkins, Carraro and MITA, along with 60 others. All the machines have European approvals and meet European standards.
Farmtrac is the winner of numerous industry awards. It is a multiple winner of the Agriculture Machine of the Year in Poland and one of the largest employers in Mrągowa, actively supporting the education of young graduates through internships and work experience.
The new tractors include:
FT 26: FARMTRAC 26 – EU, Rest Of World (ROW)
FT 30: FARMTRAC 30 – ROW
FT 6045: FARMTRAC 6045 – EU
FT 6050 C: FARMTRAC 6050C – EU & ROW
6075 CRDI: FT 6075E – EU, USA
FT 690
FT 9120
Electric Tractor: FARMTRAC 26 E