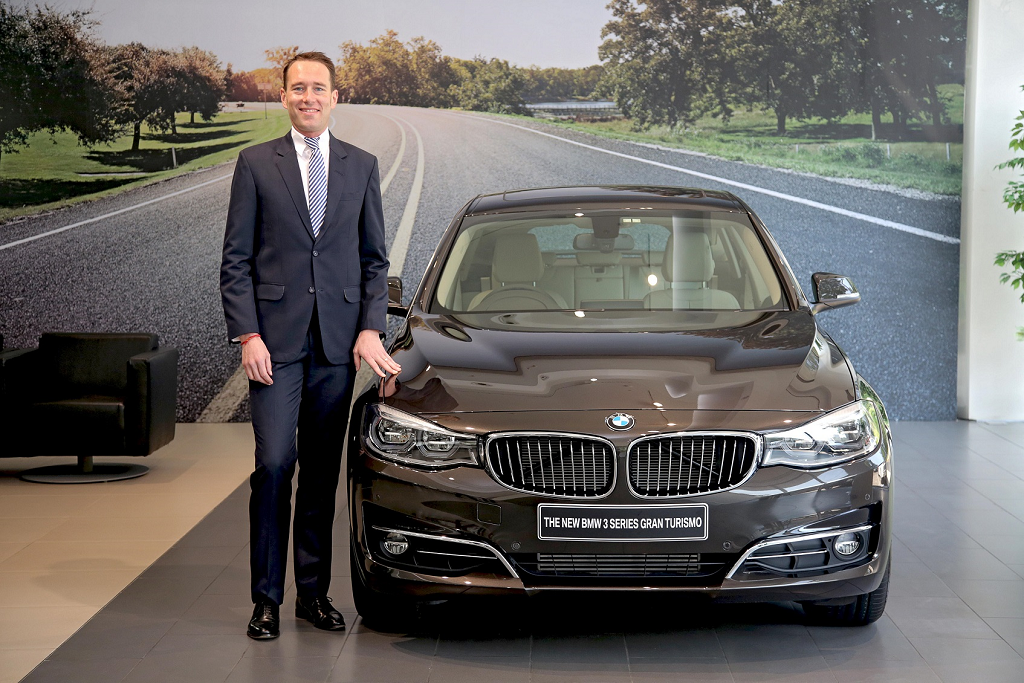 Blending the versatile character with sporty design, exciting dynamics and generous space.

The innovative new generation of petrol and diesel engines from the BMW Efficient Dynamics engine range. 
The new BMW 3 Series Gran Turismo was launched in India today.
Locally produced at the BMW Plant Chennai, the new BMW 3 Series Gran Turismo is available in diesel and petrol variants at all BMW dealerships across India from today onwards.
Mr. Frank Schloeder, President (act.), BMW Group India said, "The BMW 3 Series Gran Turismo established a new vehicle concept in the segment and became a trailblazer with its unique and modern character. The new BMW 3 Series Gran Turismo serves up its blend of luxury-class elegance,sportiness and spaciousness in even more sophisticated form. The new BMW 3 Series Gran Turismo unites the best of both worlds- an embodiment of pure dynamism and a sense of spaciousness. It exudes aesthetic and emotional appeal, boasts a distinctive presence on the road and offers similarly pronounced driving pleasure."
The new BMW 3 Series Gran Turismo is available in two exclusive design schemes –
Sport Line
and
Luxury
Line.
Sport Line celebrates the gust of adrenaline with sportystyling and interiors while Luxury Line indulges you to move in style with elegant contours and luxurious features.
The new BMW 3 Series Gran Turismo will be available inpetrol and diesel variants. The ex- showroom prices are asfollows –
The new BMW 320d Gran Turismo Sport Line                :           INR 4,330,000
The new BMW 320d Gran Turismo LuxuryLine              :           INR 4,650,000
The new BMW 330i Gran Turismo LuxuryLine               :           INR 4,750,000
*Price prevailing at the time of invoicing will be applicable.Delivery will be made ex-showroom. Ex-showroom price(inclusive of VAT@12.5% ) as applicable in New Delhi butexcludes Road Tax, RTO statutory taxes/fees, Insurance andOctroi (if applicable). VAT over and above 12.5%, ifapplicable, will be charged extra. Prices and options aresubject to change without prior notice. For further information, please contact your local Authorised BMW Dealer.
The new BMW 3 Series Gran Turismo is available in Alpine White (non-metallic) and in the following metallic paintworks: Black Sapphire, Glacier Silver,Imperial Blue Brilliant Effect and Melbourne Red with two new additional colors Jatoba, Arctic Grey Brilliant Effect.
The range of fine upholstery combinations in the new BMW 3 Series Gran Turismo include Sensatec Veneto Beige | Veneto Beige, Sensatec Black/Redhighlight | Black in Sport Line, and Leather Dakota Black | Black, Leather Dakota Oyster/Oyster highlight | Black, Leather Dakota Saddle Brown /Brownhighlight with bicolour, Leather Dakota Veneto Beige/Oyster dark highlight | Veneto Beige in Luxury Line.
The new BMW 3 Series Gran Turismo
The exterior of the new BMW 3 Series Gran Turismo is even more dynamic and eye- catching. Typical BMW proportions, four doors with framelesswindows, a coupe-style, gently downward-sloping roofline and a large automatically opening and closing tailgate, define the distinctive exterior character ofthe BMW 3 Series Gran Turismo while the L-shaped lights at the rear underline the broad shape of the vehicle.
The newly designed LED headlights coupled with LED rear lights, further enhances the new BMW 3 Series Gran Turismo's stylish appearance. TheAdaptive LED Headlights with automatic height activation and four 'white' LED corona ring design lends the car a sportier appearance. The IntelligentLight System also includes Adaptive Cornering lights and High- beam Assistant system which provides optimum road illumination in all conditions.
Imposing spaciousness is one of the outstanding qualities of the new BMW 3 Series Gran Turismo, and together with the heightened seat position and generously proportioned interiors, ensures first class comfort. Extra chrome around the interior controls, and new decorative wood elements, colour sand leather trim variants take perceived quality to another new level. The new elegant design of the Center Information Display (CID) brings structure and optical harmony to the interior with its typical BMW horizontal lines. The space argument is particularly persuasive in the rear compartment, the adjustable rear seat backrest maximises relaxation, while the cargo function increases the 520-litre boot by up to 33 litres. Folding the rear seat backrestin a 40:20:40 split adds an extra 1,600 litres.
The new BMW 3 Series Gran Turismo adapts perfectly not only to an active lifestyle but also to personal taste. The two exclusive design schemes –Sport Line and Luxury Line offer options that meet individual requirements.
The new BMW 3 Series Gran Turismo with Sport Line sets clear visual accents. Its striking design features in high-gloss black reinforce its sporty look.The boldly designed kidney grille slats in high-gloss black produce an especially athletic effect for the front end. On the inside, contrasts between blackand red express the typical BMW athleticism: red contrast rings on the round gauges of the instrument panel, including sporting chromo scaling, redcontrast stitching on the sports steering wheel and a basic decorative trim strip in high-gloss black with coral red accentuated strip. Additional upholsteryoptions are also available with Sport Line. As a distinctive feature of the Sport Line, the vehicle key is designed in black with a red decorative strip.
The new BMW 3 Series Gran Turismo with Luxury Line impresses with its classic and elegant design. Discreet and refined design elements made ofblack high-gloss chrome unit bring exclusivity to the exterior and are characteristic of the individual features of the line.
Inside, the aluminium door sill plates, sports leather steering wheel, exclusive colours for the ambient lighting and chrome edging for the air vents allcatch the eye.
The innovative petrol and diesel powered engines from the BMW EfficientDynamics family offer considerably more spirited power delivery as well asspontaneous responsiveness even at low engine speeds, thanks to BMW TwinPower Turbo Technology. The two-litre four-cylinder diesel engine of theBMW 320d Gran Turismo produces an output of 140 kW / 190 hp and produces a maximum torque of 400 Nm at 1,750-2,500 rpm. The car acceleratesfrom 0 -100 km / hr in just 7.7 seconds. The two- litre four-cylinder petrol engine of BMW 330i Gran Turismo produces an output of 185 kW / 252 hp andproduces a maximum  torque of 350 Nm at 1,450 – 4,800 rpm. The car accelerates from 0 -100 km / hr in just 6.1 seconds.
The eight-speed Steptronic Sport automatic transmission performs smooth, almost imperceptible gear shifts. At any time, in any gear, the transmissioncollaborates perfectly with the engine, enabling it to develop its full power and efficiency. For even greater driving pleasure, the eight-speed Steptronictransmission is available with steering wheel paddle shifters.
The new BMW 3 Series Gran Turismo provides unparalleled performance coupled with cutting-edge safety technologies. BMW's exemplary safetyprovides optimal support in any situation with six air bags, Anti-Lock Braking System (ABS) with brake assist, Dynamic Stability Control (DSC) includingDynamic Traction Control (DTC), Cornering Brake Control (CBC), Side-impact Protection, Runflat tyres with reinforced sidewalls, emergency spare wheel,electronic vehicle immobiliser and crash sensor.
BMW Efficient Dynamics measures make a key contribution to the excellent fuel efficiency of the new BMW 3 Series Gran Turismo. Aerodynamic excellence and the accompanying reduction in fuel consumption are guaranteed by details such as the side air blades on the tailgate and the air curtain integrated into the air inlets at the front. These measures are aided by additional features such as the 50:50 weight distribution, low centre of gravity,intelligent lightweight construction, automatic start/stop function, ECO PRO mode, brake energy regeneration, electric power steering and more.
BMW has been setting the standard for connectivity between human, car and the outside world for many years now. The BMW Connected Drive features BMW iDrive (the on-board Driver Information system) with 22.3 cms display, BMW Navigation system Professional with 3D maps (integrated Global Positioning System-GPS), BMW Apps, Park Distance Control (PDC), Connectivity through Bluetooth and USB/AUX IN connectivity.
Click below link _Specifications – BMW 3 Series GT