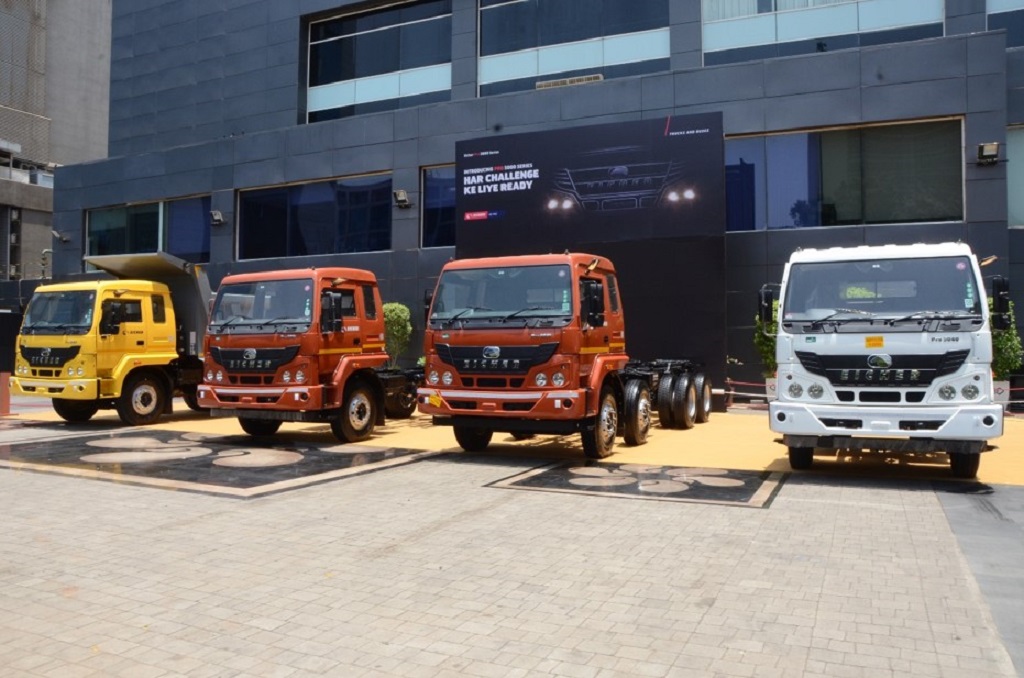 Incorporating Volvo Group's EMS 3.0
April 25th 2017, Mumbai: Eicher Trucks & Buses, part of VE Commercial Vehicles Limited, has launched Eicher Pro 5000 series today – a brand new range of heavy duty trucks from 16T to 40T with BSIV technology. With the launch of this advanced technology trucks range at competitive prices, Eicher Trucks and Buses plans to strengthen its presence in the heavy duty segment and this reinforces our vision of driving modernization in the commercial transportation.
Eicher Pro 5000 series is a new range of highly durable BSIV trucks designed and developed to deliver unmatched reliability through highly efficient E694 engine with i3 EGR technology from Volvo Group's EMS 3.0, tough and robust aggregates and Intelligent Driver Information System. These trucks are designed to deliver best-in class fuel efficiency and optimized operational cost, leading to quick returns on investment.
Commenting on the launch Vinod Aggarwal, MD & CEO, VE Commercial Vehicles said, "With the launch of Pro 5000 series of Heavy Duty (HD) trucks, Eicher today has the widest range of HD trucks at various price points to deliver a superior value and suit the needs of all application segments of customers in basic, value and premium category of trucks. These trucks with new BS IV technology engines are based on i3-EGR technology that is innovative, contemporary and efficient. The new E694 engine also includes advanced features based on Volvo Group's Engine Management system EMS 3.0 and offers first-in-the-industry features like fuel coaching and cruise control at a competitive price. HD trucks segment continues to be the biggest potential area of growth for us and the launch of Eicher Pro 5000 series will enable us to further enhance our market share in the segment"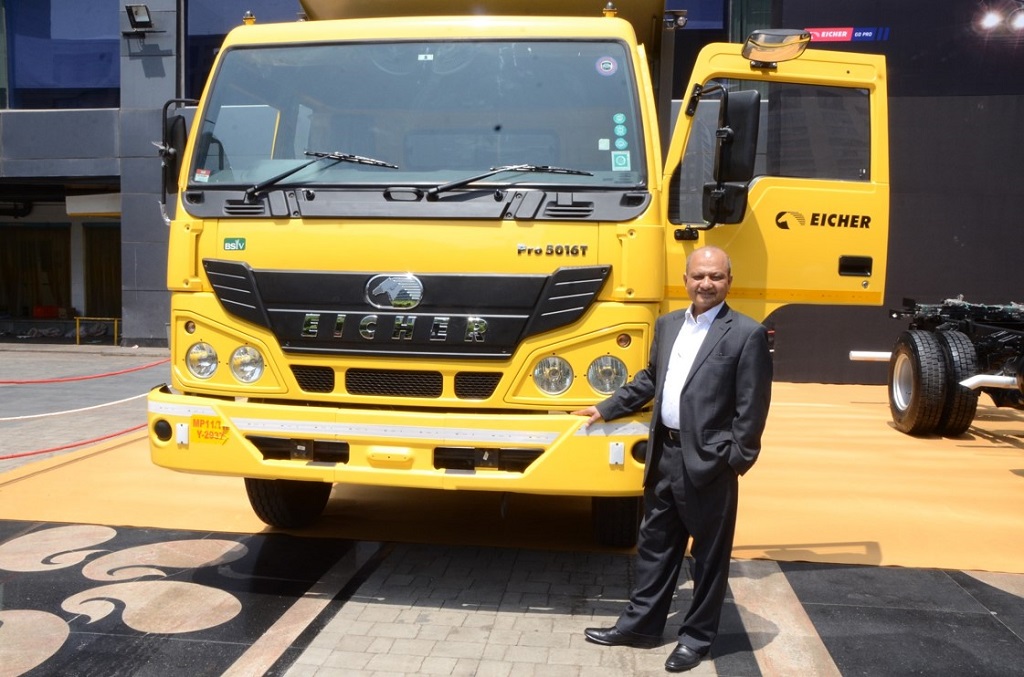 Further commenting on the aftermarket support solutions to the customers, Mr Aggarwal added, "Eicher offers innovative and customized service solutions to partner the individual customer needs throughout vehicle life cycle from purchase to maintenance to resale. Our unique offerings like Dial-a-Part and GPS enabled mobile service vans leverage the technology to ensure quick response and maximum uptime for our customers. Apart from these services, there are a lot of innovative solutions like "Eicher Freedom – AMC Package", "Eicher Sure – Used Trucks Business ", and most importantly "Eicher Promise – to put the vehicle back on road in time" to ensure highest level of productivity for our customers, leading to better profitability and prosperity for them''.
Eicher Pro 5000 series will be available across all major markets of VECV. These trucks are loaded with features that make it ready to take on the harsh challenges of today's trucking business and coupled with cost effective operations, these will meet the aspirations of ambitious fleet owners.
With an unmatched combination of key product advantages and innovative lifetime support solutions, Eicher Pro 5000 Series is HAR CHALLENGE KE LIYE READY.
About Eicher Trucks & Buses
Eicher Trucks and Buses has the lineage of three decades of operations in India. Eicher Trucks and Buses (ETB) is present in the L/MD segment with a strong presence in the 4.9T-15T truck segment and an ever increasing market share in 16T-49T heavy duty trucks segment. Eicher has unveiled its entire new range of future generation trucks and buses, named the "Eicher Pro'' series. Adopting the most professional and holistic approach to modernize the Indian trucking industry, the new brand philosophy is to "Go Pro". Eicher's new Pro series trucks and buses promise to deliver best-in-class fuel efficiency, higher loading capacity, superior uptime and overall vehicle life time profitability
About VE Commercial Vehicles Limited (VECV):
VE Commercial Vehicles Limited (VECV) is a joint venture between Eicher Motors Limited and the Volvo Group. In operation since July 2008, the company includes the complete range of Eicher branded trucks and buses, VE Powertrain, Eicher's components and the sales and distribution business of Volvo Trucks as well as aftermarket support to Volvo Buses in India. VECV vision is to be recognized as the industry leader driving modernization in commercial transportation in India and the developing world