Multix – India's First Personal Utility Vehicle will now have convenient and quick financing option from over 1400 Punjab & Sind Bank branches and also through Multix dealerships across the country
Eicher Polaris Pvt. Ltd (EPPL) and Punjab & Sind Bank has entered into a strategic partnership to extend finance to Multix – India's First Personal Utility Vehicle targeted at 'Independent Businessmen'. Through this partnership, Punjab & Sind Bank intends to offer convenient, quick and easy access to attractive vehicle financing options to prospective Multix's consumers across India.
Multix is a purpose-built vehicle that has been created ground-up to offer the unique power of extreme 3-in-1 adaptability of Family, Business and Power generation to the consumer. On entering into an agreement with EPPL, Punjab & Sind Bank becomes a preferred financier for Multix. With this, auto retail finance for Multix will now be available throughout 1400 branches of Punjab & Sind Bank and at all proposed dealerships of Multix across India.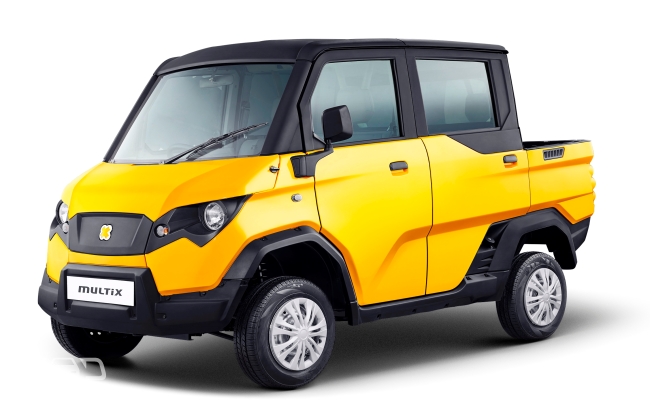 Commenting on this partnership, Mr. Radhesh C Verma, Chief Executive Officer, Eicher Polaris Private Limited, said, "We have designed Multix and its entire ecosystem to cater to the unique needs of Independent businessmen, who find other 4 wheel options sub-optimal. What makes Multix special, is it's extremely adaptable 3 in 1 design and all road capabilities. Our strategic tie-up with Punjab and Sind Bank ensures customized retail finance programs, keeping in mind the needs of our target consumer. This is a step towards making the Multix solution even more attractive and accessible to the Independent Businessmen"
 Extreme 3-in-1 Adaptability
With versatility at its heart, Multix offers the unique power of extreme adaptability to consumers. It is designed and engineered to suit a family, business and power generation needs of the consumer. Multix has a generous cabin space that can comfortably seat a family of five along with luggage. Multix can be adapted to create large storage space of 1918 liters. In just 3-minutes, the vehicle can be configured for seating a family to larger boot space in order to cater to the business needs of the consumer.
Superior All-Road Capabilities
Built through extensive consumer study, Multix is a differentiated vehicle. It is equipped with first-of-its-kind Pro Ride™ – Independent suspension system which, coupled with its best in class ground clearance of 225mm, delivers unmatched ride experience on all kinds of roads. Powered by a diesel engine, Multix gives a mileage of 28.45 kmpl.  It has a unique tubular frame structure and Roll-Over Protection System (ROPS) that provides structural stability. The vehicle delivers superior energy efficiency & durability through its Flexituff™ body. It has undergone over 18,00,000 km equivalent of rigorous testing for off-road reliability, safety & durability and has been tested on one of the world's toughest testing tracks in abroad as well as in India on specially built test tracks.
X-PORT™ – Power Take-off Function
With X-PORT ™ – most unique and exiting features power-take-off feature of Multix, which can generate power up to 3 KW,  and unlock the potentials of independent businessmen, as it can be used for lighting homes and powering professional equipment such as drilling machines, DJ systems, water pumps and more.
In an endeavour to serve its prospective consumers better, Eicher Polaris Pvt Ltd. has entered into a strategic tie–up with Cholamandalam Investment and Finance Company Limited (Chola) and Shriram Finance to extend auto retail finance options  upto 90% of the vehicle's  price. Furthermore, consumers can also avail special advance booking package at Rs. 2999/-.