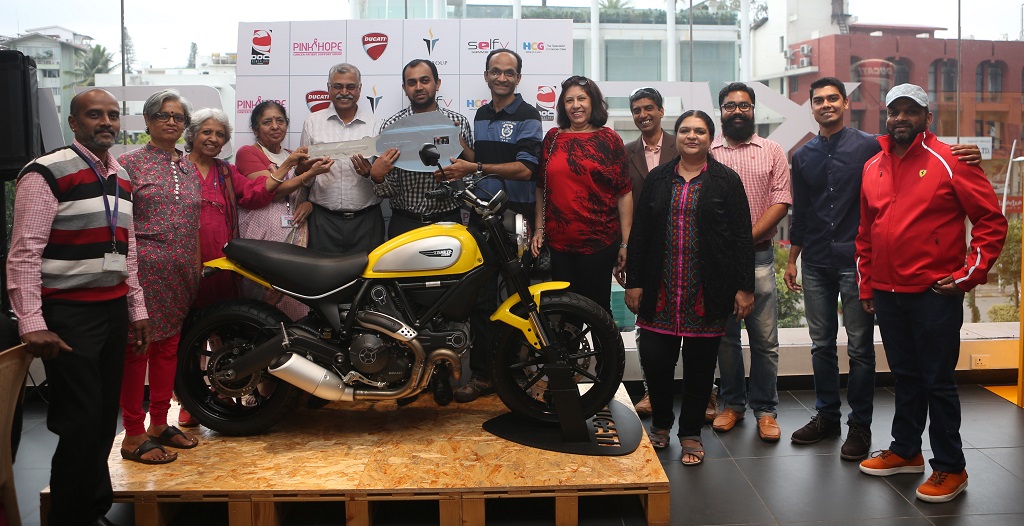 For the 3rd edition of Self V – Survivor Stories, Ducati Owners Club Bangaluru along VST Ducati handed over the bike key of the iconic Ducati Scrambler to the Pink Hope Cancer Patient Support Group, which will be awarded to the first prize winner of Self V Survivor Stories 2016 later this year.
Self V Survivor Stories is a unique platform, a one-of-a-kind celebration for cancer survivors to celebrate the spirit of overcoming cancer. To participate in the campaign, cancer survivors would need to take a self-video of up to 60 seconds duration, capturing the story of their struggle and conquest over cancer. By uploading it on facebook.com/selfv or on www.selfv.in, these stories become an ideal encouragement of hope for many patients fighting cancer and break the stigma attached to the disease. These videos will be judged by an external jury and the best ones will be selected for the grand finale of Self V 2016.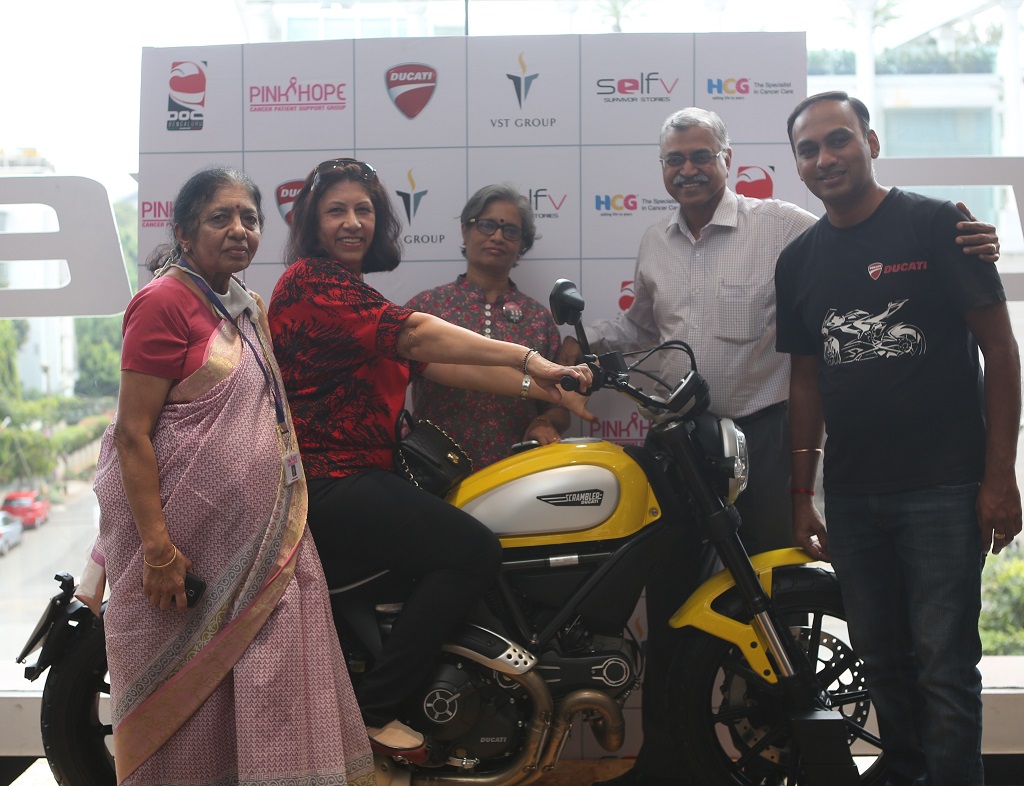 Amar Bhaskar – Cancer Survivor said, "It's a day of hope and triumph for all the survivors. Fighting cancer is a battle and one needs to be positive. I thrived after my problems and today I'm a winner, celebrating cancer survivor's day.  I am very happy that Ducati Owners Club and VST Ducati has come forward and supporting the cause which not only gives opportunities to help better society but create awareness as well."
Mr. Shubankar Nayak – President – Ducati Owners Club Bangaluru said, "The SelfV Survivor Series is a great example of new age initiatives in digital India that truly inspires the common man. At its core SelfV has the ability to reach the masses for a cause that requires such platforms to tell the stories of cancer survivors, spread awareness and extend support. DOC Bengaluru strongly believes in camaraderie and supporting community initiatives. We are proud to be associated and to extend our support towards SelfV and its noble cause."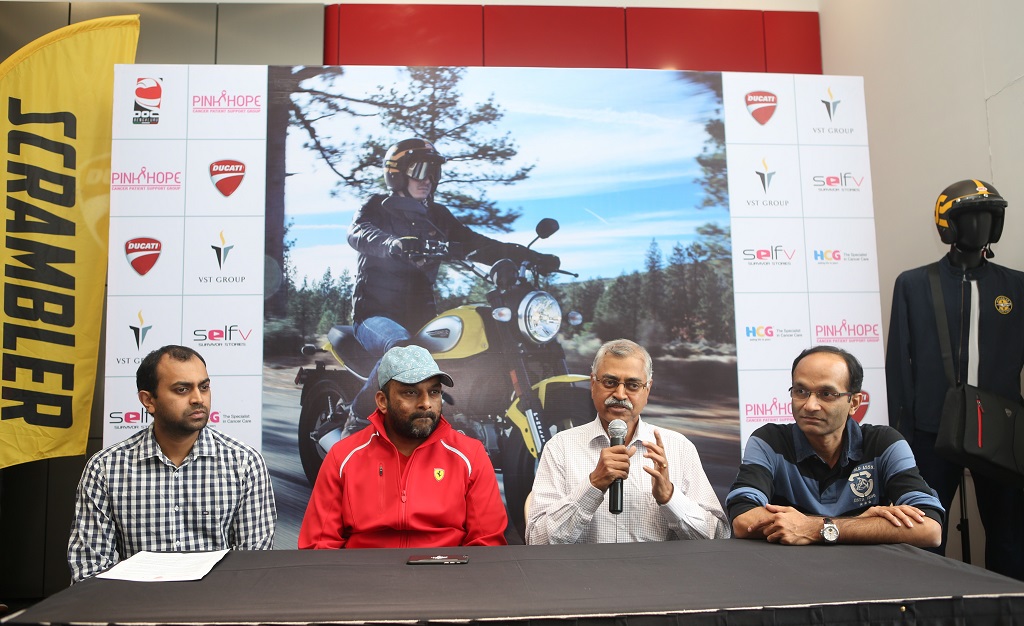 Mr. Dinesh Madhavan – Director – Healthcare Services – HCG, who conceptualized the Campaign said, "SelfV – Survivor Stories is an unique initiative to raise awareness on cancer, it has had participation from over 700 cancer survivors with stories of hope and triumph, and also mitigating the myth associating with cancer, to prove that Life is greater than Cancer. We are thankful to DOC Bengaluru and VST Ducati for supporting and sponsoring the lead award."
Mr. Shashank Raghav – Business Head – VST Ducati said, "Riding for a cause is one of the best reasons to ride. VST Ducati and DOC Bangaluru joined hands with the Pink Hope Cancer Patient Support Group to raise awareness against the fight for cancer. After riding together for this great cause, we will also be gifting the iconic Ducati Scrambler to the winner of the SelfV – Survivor Stories 2016. SelfV – Survivor stories is a great initiative to showcase the exceptional stories of cancer survivors and their fight against cancer."
Earlier in October 2016, Ducati Onwers Club Bangaluru along with VST Ducati organized bike rides across Bangalore and Hubli in support for cancer awareness and SelfV- Survivor Stories campaign.
Through this initiative the main aim of Pink Hope Cancer Patient Support Group and HCG is to build awareness for patients fighting cancer and encourage other cancer survivors to share their survival stories. For more information on Self V log onto: www.selfv.in
About HCG Enterprises Ltd:
Healthcare Global Enterprises Ltd. (HCG), headquartered in Bangalore, is the largest provider of cancer care in India. Through its network of 19 comprehensive cancer centres spread across India, HCG has brought advanced cancer care to the doorstep of millions of people. HCG's comprehensive cancer centres provide expertise and the latest technologies in diagnosis and treatment of cancer under one roof.  HCG has pioneered the introduction and adoption of several technologies in the country including stereotactic radiosurgery, robotic radiosurgery and the use of genomics for personalized treatment of cancer.
About Pink Hope Cancer Patient Support Group:
The Pink Hope Cancer Patient Support Group which is part of HCG Foundation is a forum for cancer survivors who help cancer patients and caregivers to overcome their fear of the disease, and cope with the difficulties in treatment. The Support Group operates like a surrogate family where members feel supported & cared for and encourages hope, strength and a positive attitude.