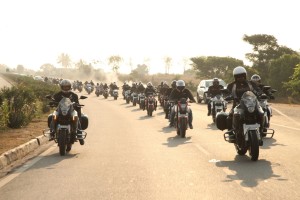 Bengaluru, March 21, 2016: DSK Motowheels, one of India's most well-established and strongest players in the superbike industry and the legendary Italian superbiking brand Benelli celebrated one year of success in Bengaluru. On 20th March, 2015, DSK Benelli opened its first showroom in the Garden City and it has now delivered its 500th superbike in Bengaluru with total bookings of over 750. This is the shortest time ever, wherein a superbike brand has achieved such a milestone in a particular city in India. DSK Benelli is celebrating this achievement by organising a success ride with the owners of its stunning superbikes.
Speaking on the achievement, Mr. Shirish Kulkarni, Chairman, DSK Motowheels, said, "DSK Benelli has received a truly phenomenal response in Bengaluru. There is a vibrant superbiking culture in the city, and its people have embraced DSK Benelli superbikes with great enthusiasm. We are delighted at recording delivery of 500 superbikes within a year. The numbers exemplify the brand value and trust that DSK Benelli exudes, and is a clear sign showcasing the acceptance of the brand by superbike enthusiasts across India as well."
The DSK-Benelli showroom in Bengaluru, under the dealership of ''Vinayak Cars Pvt. Ltd', showcases the entire range of DSK Benelli superbikes available in India including the TNT 25 – single cylinder 250cc engine; TNT 300 – In-line two cylinder 300cc engine; TNT 600i – In-line four cylinder 600cc engine; TNT 600 GT – In-line four cylinder 600cc engine; TNT 899 – In-line, three cylinder 898cc engine; and TNT R – In-line, three cylinder 1131cc engine. The state-of-the-art showroom is located in a plush locale at Langford Avenue, No. 14, Lal Baugh Road, near Richmond Circle.