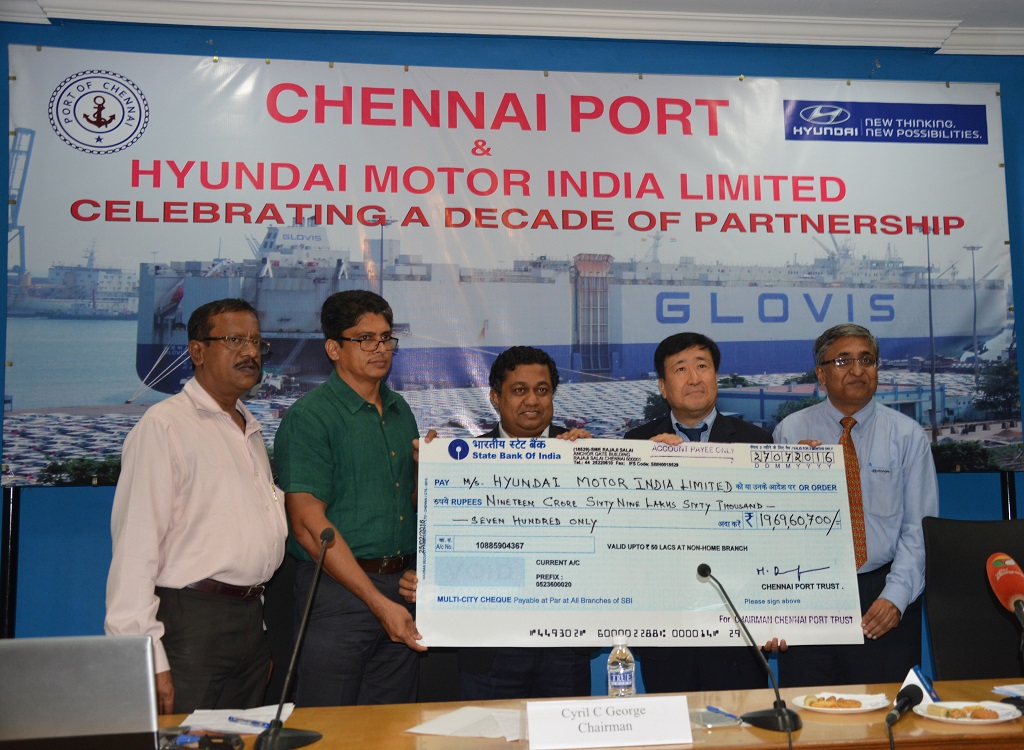 Chennai Port Trust and M/s. Hyundai Motors India Ltd., the country's biggest exporter and second largest car manufacturer today commemorate a decade of partnership.  On this occasion Shri. Cyril C. George, Chairman, Chennai Port Trust, handed over a cheque of Rs.19.69 crores towards refund of wharfage charges for the year 2015-16 to Shri. YK Koo, Managing Director, M/s. Hyundai Motors India Ltd. M/s. Hyundai has exported over 2 million cars since 2006 and has received a total of Rs.165 crores as refund of wharfage.
M/s.HMIL has been using Chennai Port ever since its inception in 1996 and started exporting through this Port from 2000 onwards.  In 2006, Chennai Port and M/s. HMIL entered into an Agreement.  Hyundai Motor Company, Korea had designated M/s.HMIL as a small car export hub and the Port has been instrumental in Hyundai shipping its cars all over the world and retaining its top exporter status for over a decade.  Prior to the Agreement, M/s. HMIL exported 3 lakh cars through this Port.
Commenting on the occasion Shri.YK Koo, MD, M/s. HMIL said, "Exports have been integral to HMIL and we are happy to have had a great partnership with the Chennai Port which has only grown and strengthened over the years.  This association has not only helped catapult Hyundai as the No.1 exporter for over a decade but also helped HMIL play a critical role in Hyundai's global operations."
Growing from strength to strength M/s. Hyundai exhibited its leadership characteristics by being a valuable partner to Chennai Port's pioneering efforts in making coastal RoRo voyages a reality.  M/s. Hyundai shipped 800 cars from Chennai Port to Pipavav on 05/02/2016, the country's maiden Coastal RoRo voyage from the East to West Coast of India.
Shri. Cyril C George, Chairman, Chennai Port Trust said "This partnership has been a win win proposition for both organizations not only in the past decade but also wish that this partnership continues to grow in the decades to come.   ChennaiPort is a pioneer in car exports and we have one of the best facilities.  I applaud the initiatives taken by M/s. Hyundai Motor India and am happy that we have been able to partner them in their success. Chennai Port is always open to new ideas and I hope this serves as an example for other exporters to use our services"