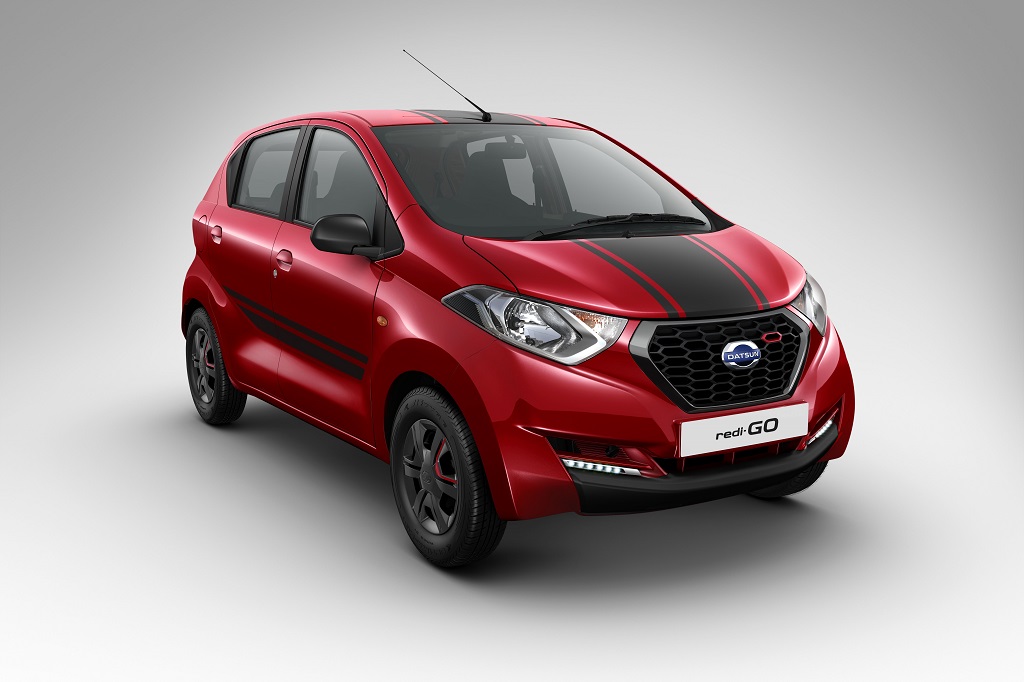 Limited edition batch of 1,000 units sold out within a month
Datsun announces an increase in production by another 800 units to delight customers
Datsun redi-GO SPORT priced at INR 3,49,479 (ex-showroom, New Delhi)
Datsun India today announced an increase in production for the redi-GO SPORT to meet high demand for the limited edition variant. The company will produce an additional 800 units to meet customer demand and the deliveries will be scheduled next month.
"The Datsun redi-GO SPORT version has generated more demand than anticipated and we are happy to announce that the initially planned 1,000 units have been sold out in less than a month. To meet the high demand and delight our customers, we are announcing an increase in production of the car with a further 800 units," said Arun Malhotra, Managing Director, Nissan Motor India Pvt. Ltd. (NMIPL).
The limited edition car was launched in India by the face of the Datsun redi-GO SPORT, Sakshi Malik, on September 29, 2016. With 9 new features, it is a limited edition car dressed with bold black stripes and red accents on the exterior along with all-black interiors and a host of new features for customers seeking an active lifestyle. The sporty-themed Datsun redi-GO SPORT is priced at INR 349,479 (ex-showroom, Delhi).
The Datsun redi-GO SPORT demonstrates the capabilities of Nissan engineers at the Renault Nissan Technical Business Center India (RNTBC-I) in Chennai who worked closely with the Nissan design team in Japan to roll-out the attractive and funky limited edition car.
"Datsun redi-GO has redefined the value proposition offered to young achievers in India. Now with the success of the Datsun redi-GO SPORT, we plan to continuously update and refresh the redi-GO range in India to offer our customers a unique value proposition," Mr. Malhotra added.
Datsun India recently handed over two redi-GO SPORT versions to Olympic medallists Sakshi Malik and P.V. Sindhu, to honor them for their achievements at the Rio Olympic Games 2016.
The new limited edition Datsun redi-GO SPORT comes with several attractive features:

The redi-GO SPORT variant will be available as the top grade and comes in three stylish body colours: Ruby, White and Grey. It will be available at all 227 Datsun dealerships across India.