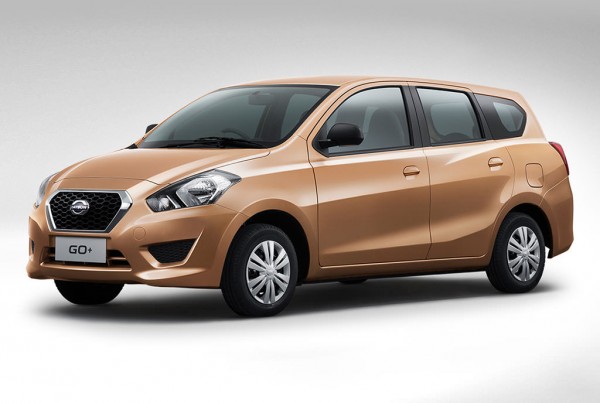 The Datsun GO+ has been named UV of the Year at the 16th CNBC-TV18 Overdrive Awards. The prestigious prize was handed over at a ceremony held in New Delhi.
The jury comprised of renowned industry experts. They made their evaluation based on build quality, ride and handling, styling – interior and exterior, value-for-money, engine and transmission and fuel efficiency. The Datsun GO+ created a new market segment when it was launched as India's first compact family wagon. Its spacious 5+2 seater interiors and engine capacity of 1.2L were key factors in clinching the award.
Commenting on the achievement, Arun Malhotra, Managing Director – Nissan Motor India Pvt Ltd said; "This award is a testimony to our product excellence. The Datsun Go+ was engineered with the needs of Indian families in mind with seven seats, an engaging drive and worry-free ownership at a competitive price. Coming on top of our expanding dealership network and our recent J.D. Power accolade for sales satisfaction, this shows we are delivering to our Indian customers."
Datsun Go+ also boasts best in class fuel economy of 20.62km/l, as well as the lowest Total Cost of Ownership (TCO) amongst its competitors.
About Nissan Motor India Pvt. Ltd.
Nissan Motor India Private Ltd. (NMIPL) is a 100% subsidiary of Nissan Motor Co. Ltd. Japan. The company was incorporated in 2005 and offers innovative and exciting products across hatchback, MUV, SUV and sedan segments in India. Nissan together with its global alliance partner Renault set up a manufacturing plant and a Research & Development Centre near Chennai. Nissan in India has a portfolio of two brands, Nissan and Datsun. For more information, visit www.nissan.in.
 About Datsun
Nissan Motor Co., Ltd. announced the return of the Datsun brand, Nissan's third global brand, alongside Nissan and Infiniti, in March 2012. Datsun provides a sustainable motoring experience to optimistic up-and-coming customers in high-growth markets. Datsun represents 80 years of accumulated Japanese car-making expertise and is an important part of Nissan's DNA. Datsun started sales in India, Indonesia, Russia and South Africa from 2014. For more information, visit www.datsun.co.in. 
About Datsun History
Datsun originated in Japan as DAT-GO (the DAT-car) almost a century ago in 1914. The word DAT means 'lightning-fast' in Japanese but is also a reference to the first letters of family names of the three financiers who supported the business at the time: Den, Aoyama and Takeuchi. Using the same logic, it was promoted as Durable, Attractive and Trustworthy, or DAT for short.
In 1933, Nissan's founding father Yoshisuke Aikawa took over the business with a vision of "mobility for all". The introduction of a light-weight, economical yet resilient car to meet the aspirations of young Japanese people in the early 1930s was named the 'son of DAT' – Datson – which later changed to Datsun. Local engineering and mass-production made the founder's dream a reality.