Displayed the exciting Datsun GO-cross Concept for the first time in India
New Datsun #ISayYes brand campaign leveraged at DAE to help build connections with young, aspirational Indians
Exhibited Datsun's heritage with the winning 1600 SSS rally car
The brand generated a reach of 165 million via various digital engagement at the Datsun stand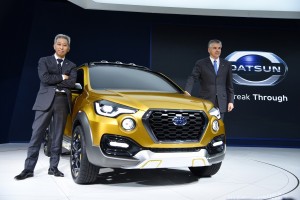 NEW DELHI, India, (10th February, 2016) Datsun participated in the Delhi Auto Expo for the second time, show casing its new concept car, the Datsun GO-cross crossover.
The Japanese brand, with over 80 years' experience in building modern and segment-defining cars, is building a stronger connection with young, ambitious and aspirational Indians via its new social media campaign called #ISayYes.Visitors to the Datsun stand at the Delhi show could engage with onsite interactions as part of the campaign, which was launched in January and will continue for several weeks to come.This was evident as #ISayYes figured among top trends on twitter for couple of days during the week long Expo.
Adding a sense of style, adventure and fun to the Datsun line-up at the Expo, the Datsun GO-cross Concept is a cool crossover which showcased the company's vision for a potential Datsun GO/GO+ family expansion in a high-growth market such as India.
Datsun GO-cross is a pure concept car that was showcased during the Datsun press conference on 3rd February. However, if it were to go into production, it could meet the needs and preferences of a new generation of Indian drivers who are young, ambitious, fun-loving and ready to take the next step in their lives.
Also at the stand at the Auto Expo were enhanced versions of the current Datsun line-up. The Datsun GO and GO+ range have been accessorized with all-new dual-tone interiors, and a new blue exterior colour is now available.
Attracting the attention of enthusiasts and showgoers alike was the Datsun Bluebird 1600 SSS (510) rally car, which brought motorsport glory to the brand in the early 1970s. This storied rally machine embodies the fighting spirit and winning determination that anchors the brand. Accompanying it was theDatsun GO-Rally showcar, created by a passionate group of Japanese engineers and designers. The car embodies what a modern Datsun rally car could look like.
Demonstrating the roominess and versatility –despite its sub-4-metre footprint– was the GO+ Smartversion, created to resemble an entertainment lounge with game consoles installed in the rear to attract the young and the young-at-heart.
A series of real-time video content was generated to enable fans to watch the action at #DatsunPavilion. All these videos can be watched at the Datsun India YouTube channel. The action at #DatsunPavilion resonated well with the visitors between 3rd and 9th February.