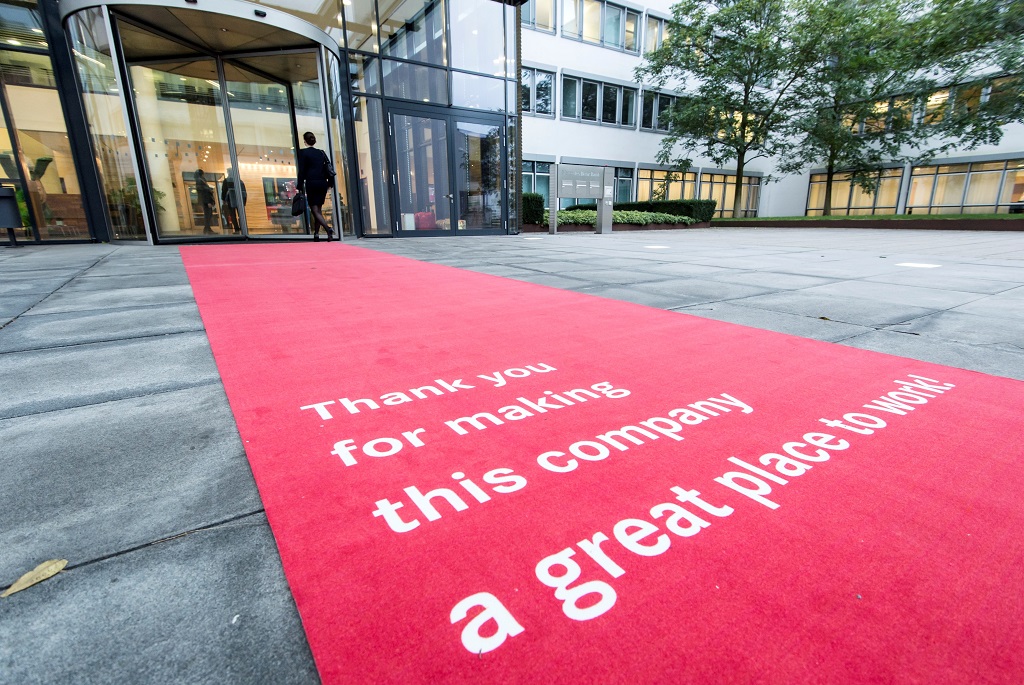 Independent Great Place to Work Institute ranks Daimler Financial Services among world's 5 best employers
Daimler Financial Services is the first and only German company among the 25 top employers
Ranking based on employees' survey and HR- and Leadership programs
Daimler Financial Services ranked 5 in the Great Place to Work top 25 best employers list. This is the outcome of an anonymous survey among its 10,000 employees and a ranking of its HR- and Leadership programs by the independent Great Place to Work Institute. More than 4,100 companies participated in that study. Around seven million employees took part in the survey. In 2014, Daimler Financial Services made it to the list of the world's 25 most attractive employers. In this year's list, Daimler Financial Services improved and jumped from rank 19 to rank 5. It is still the only German company that made it on this list. To qualify for the global list, a company must be one of the top employers in at least five countries, it must have at least 5,000 employees, and at least 40 percent of its employees must work outside the company's home country.
Bodo Uebber, Member of the Board of Management of Daimler AG for Finance & Controlling and Daimler Financial Services: "The investment in our employees and our culture pays off. We are excited about theirpositive feedback which also shows their dedication to their job."
"Engaged and motivated employees are the foundation of our success. At Daimler Financial Services, we empower, trust, and respect our employees as well as enhance diversity and equality of opportunity. That is our recipe for a positive corporate culture and we invest in it every day", states Klaus Entenmann, CEO Daimler Financial Services AG.
Fred Weick, Managing Director & CEO, Daimler Financial Services India commented, "At DFS India we actively encourage our employees to create a workplace that is vibrant, positive, inspiring and promotes mutual trust. We are an equal opportunity employer that nurtures and values the diversity and knowledge that our employees bring to the organization."Germany's best employer
Daimler Financial Services ranked as the number one attractive employers this year in Germany with its' subsidiary Mercedes-Benz Bank. Mercedes- Benz Bank is among the leading auto banks and employs around 1.900 people in Stuttgart, Berlin and Saarbrücken. Additionally, the bank's Service Center in Berlin was recognized with an award for its apprenticeship program.
2nd best employer in Europe
Daimler Financial Services ranked number two in the European ranking. In total, around 5.900 employees work for Daimler Financial Services in Europe. To qualify for the European ranking, a company has to belong to the top employers within a minimum of three countries. Daimler Financial Services is among the best employers in France, Germany, Italy, the Netherlands, Poland, Spain, Turkey and United Kingdom.
Leading employer in the United States
In the US, Mercedes-Benz Financial Services is among the best employers for women, millennials and among the best 30 employers for Financial and Insurance Services, according to the Great Place to Work Institute. Daimler Financial Services employs more than 2,200 people in the US.
About Daimler Financial Services
Daimler Financial Services supports sales of Daimler's vehicles by offering financing, leasing and insurance contracts, fleet management, banking services and innovative mobility services. By the end of 2015, over 3.7 million cars and commercial vehicles worth almost 117 billion € were recorded in the company's accounts. In Germany, Daimler Financial Services is present with Mercedes-Benz Bank, where people can finance their cars and furthermore have fixed-term deposits and accounts of day-today money. Daimler Financial Services is a pioneer in mobility services with its brands car2go, mytaxi and moovel.