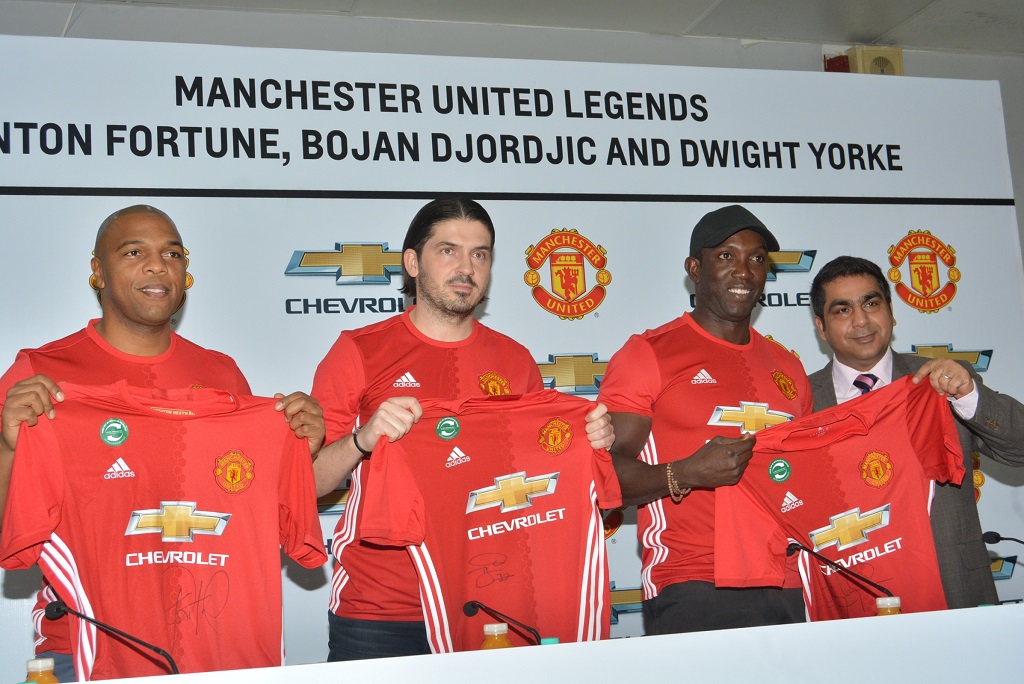 Chevrolet hosted Manchester United fan party #ILOVEUNITED at its dealership Dulichand Motors today. The 3-days long event #ILOVEUNITED celebrates the passion of Manchester United fans in India.
Chevrolet organized a Meet and Greet session today at its dealership, Dulichand Motors with ManU Legends Dwight Yorke, Quinton Fortune and Bojan Djordjic.
Extending its the partnership with Manchester United, Chevrolet started an online contest giving ManU fans a chance to be a part of #ILoveUnited and watch the live screening of the match along with Legends.
Mr. Suhail Tariq, General Manager, Marketing & Customer Experience, GM India said, "Football transcends geographic, cultural and language barriers, the association with ManU provides Chevrolet a chance to engage with billions of passionate fans around the world. Chevrolet takes immense pleasure in bringing play to India by its continued partnership with Manchester United and supports the team and its legends in building a strong base with its fans."
As a part of the association, Chevrolet hosted an online contest on its facebook page wherein 20 winners were awarded passes for the live screening of Manchester United vs. Tottenham Hotspur & 2 lucky winners got a chance to go on a drive with Manchester United's legends in a Chevrolet Trailblazer.
This activation began yesterday with a Q&A session with the Man U legends for the fans, proceeding towards a Meet & Greet session hosted today at Dulichand Motors. As the last leg of the activation, fans can look forward to a 'legends 3v3' match, where the trio of former United players will take on three legends from the popular local team. These winners will also get a chance to watch the Live screening of the highly-anticipated match against Manchester United's fellow title-hopefuls Tottenham Hotspur at the Bengal Football Club tomorrow with the legends.
The #ILOVEUNITED comes for the third time in India following feverish scenes at highly successful events in Bangalore and Mumbai in early 2016. Chevrolet started its seven-year shirt sponsorship of the club in 2014. Chevrolet's sponsorship of Manchester United brings together two global giants with a strong global presence.
About Chevrolet
Founded in 1911 in Detroit, Chevrolet is now one of the world's largest car brands, doing business in more than 115 countries and selling more than 4.0 million cars and trucks a year. Chevrolet provides customers with fuel-efficient vehicles that feature engaging performance, design that makes the heart beat, passive and active safety features and easy-to-use technology, all at a value. More information on Chevrolet models can be found at www.chevrolet.in
About Manchester United
Manchester United is one of the most popular and successful sports teams in the world, playing one of the most popular spectator sports on Earth. Through our 138-year heritage we have won 64 trophies, enabling us to develop the world's leading sports brand and a global community of 659 million followers. Our large, passionate community provides Manchester United with a worldwide platform to generate significant revenue from multiple sources, including sponsorship, merchandising, product licensing, new media & mobile, broadcasting and match day.