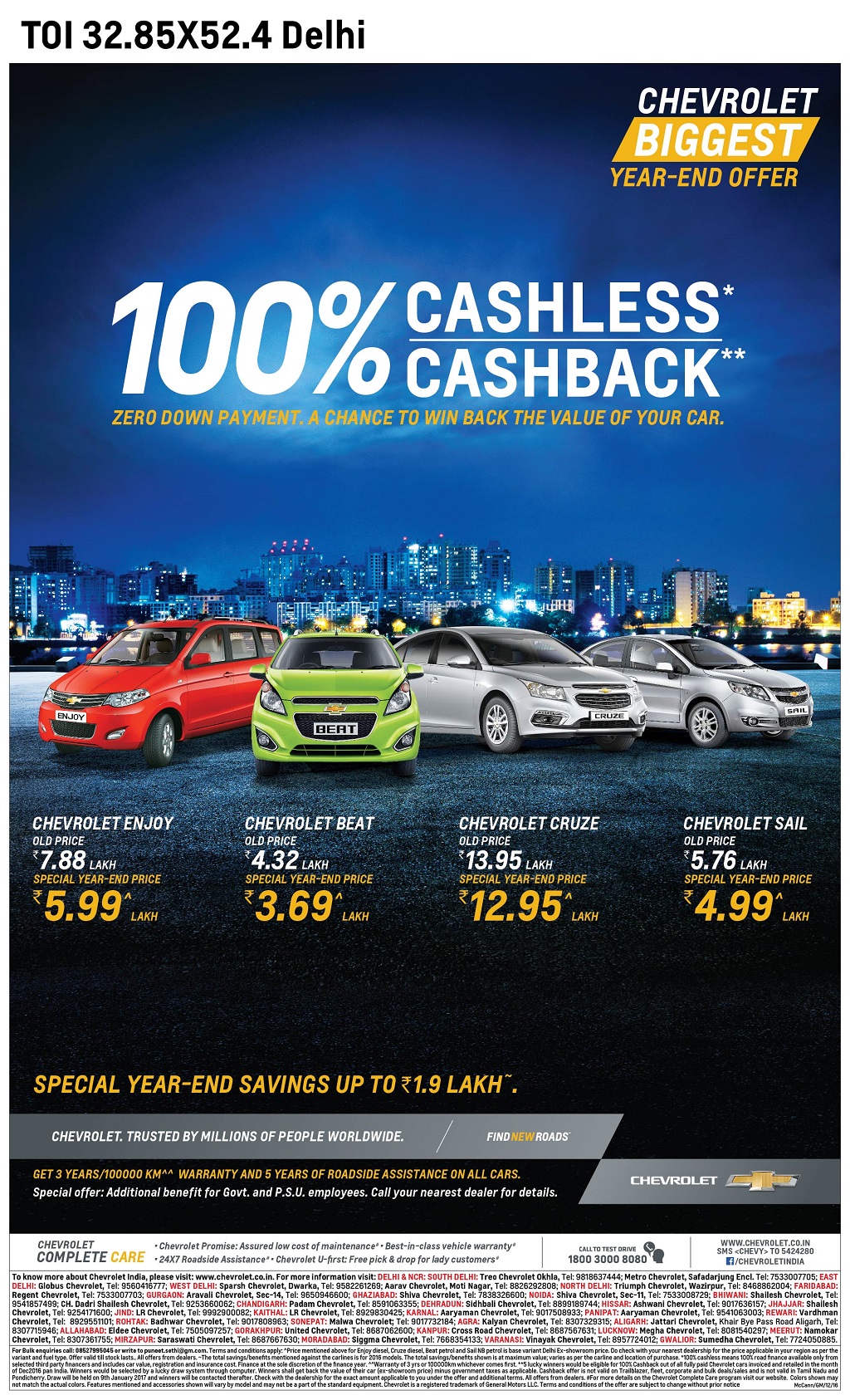 Special prices across Chevrolet car models, with discounts up to Rs.1.89 lacs
Lucky customers can win upto 100% cashback* on select models or avail 100% finance*
All Chevrolet cars offer 3yr/100,000km warranty and a 5 year roadside assistance
With a positive response to the retail campaign announced in November this year, Chevrolet India has extended the festivities with its new-year celebrations offer. The special year-end prices are extended across bestselling Chevrolet models – Beat, Enjoy, Cruze, Trailblazer and Sail. Special year end pricing on these cars workout to savings of Rs. 63,000 and go upto Rs. 1.89 lacs along with a 3yr/100,000km warranty and a 5 year roadside assistance on all Chevrolet cars. In addition to the special pricing and offers on the cars, lucky customers may get a chance to win up to 100% cashback* on their brand new Chevrolet.
"We are a brand with a clear focus on our customers, where safety, quality and world-class experience are natural elements in all our campaigns. After receiving positive response to the retail campaign announced in November, we decided to further extend the festivities with the new-year celebrations offer. We wanted to go that extra mile to delight our customers with the new year-end campaign. The campaign is in sync with Chevrolet's promise to provide customized solution to customers, said Jack Uppal, Vice President Marketing & Customer Experience, GM India.
"This is a great time to purchase Chevrolet cars, as customers will get the best value for their money along with complete piece of mind giving them a truly satisfying ownership experience", he added.
One of the key values at Chevrolet is keeping customers at the center of everything we do. The company continues to engage with its valued customers and is committed to provide an enhanced service experience at every step.
The retail campaign which went live from the November 10th provided exciting offers in the month of November and it generated positive customer response. Chevrolet extends the festive offer with additional year-end benefits that the patrons can avail in December.
Customers can continue to enjoy the last leg of 2016 with these exciting new offers on Chevrolet cars:
| | |
| --- | --- |
| Model | Chevrolet year-end retail offer price |
| Beat | From 3.69 lacs |
| Tavera | Upto 1.0lac savings best offer of the year |
| Sail NB | From 4.99 lacs |
| Enjoy | From 5.99 lacs |
| Cruze | From 12.95 lacs |
| Trailblazer | 23.95 lacs |
Head to the nearest Chevrolet showroom to avail special discount schemes and offers!