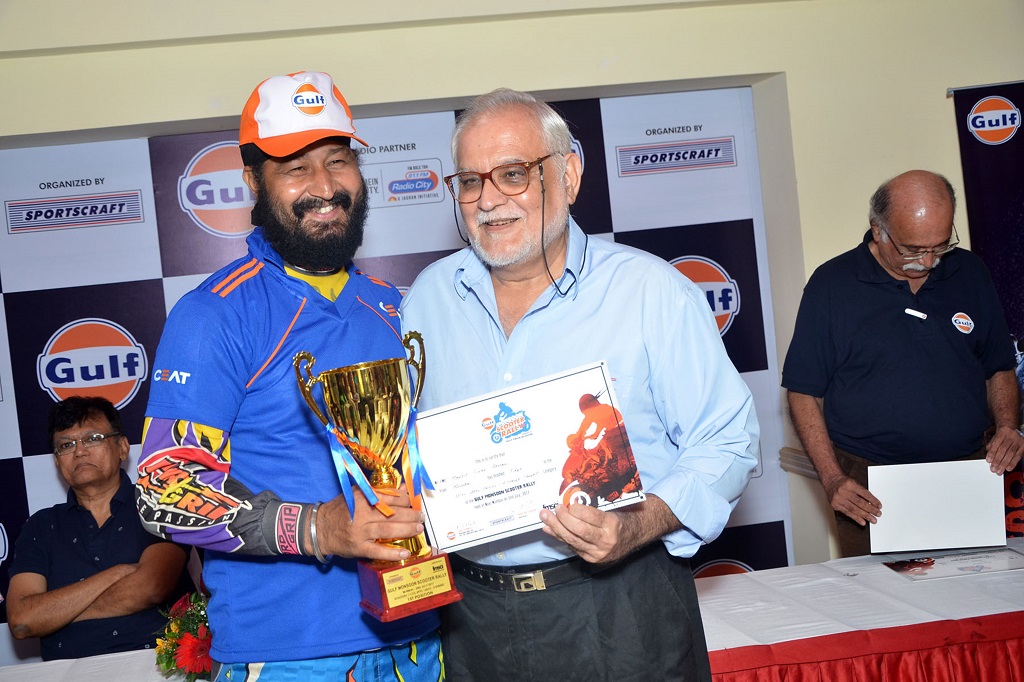 CEAT Team Achievements:
Nidhi Shukla wins the Best Lady Driver trophy
Rohan Thakur secured first position in 81 CC to 110CC – Two Stroke category
Manjit Singh achieved first position in 110CC to 160CC category
Navi Mumbai, 3rd July 2017: Consistent winner from last two years, Nidhi Shukla from Team CEAT achieved a hat-trick today by winning the title of Best Lady Driver in 28thGulf Monsoon Scooter Rally held in Belapur in Navi Mumbai. She participated in the rally on her Honda Activa, which was fitted with CEAT Gripp tyres that enabled her to complete the course in remarkable time. Amongst the sponsored teams, in the 81 CC to 110CC – Two Stroke category, CEAT team has ranked as first securing all three positions. Team CEAT achieved 10 podium positions across all categories at the Gulf Monsoon Rally 2017.
With an outstanding track-record and having received many accolades in the past rallies, other CEAT team members Rohan Thakur achieved 1st Position on his Kinetic in 81 CC to 110CC – Two Stroke category and Manjit Singh gained 1st position with his LML Vespa in 110CC to 160CC category, which was a second time victory for him. The rally witnessed participation from 60 riders this year from across the country. The rally covered a distance of 30Kms in five hours, which started on Sunday – 2nd July from K-star hotel in Belapur and returned back. The path was covered with difficult terrains and challenging landscapes.
CEAT team entered this year's Gulf Monsoon Scooter Rally with its latest variant of 'CEAT Gripp' scooter tyres. These Tyre's angular block pattern feature and deeper shoulder grooves provide superior grip on difficult patchy, muddy and rocky roads.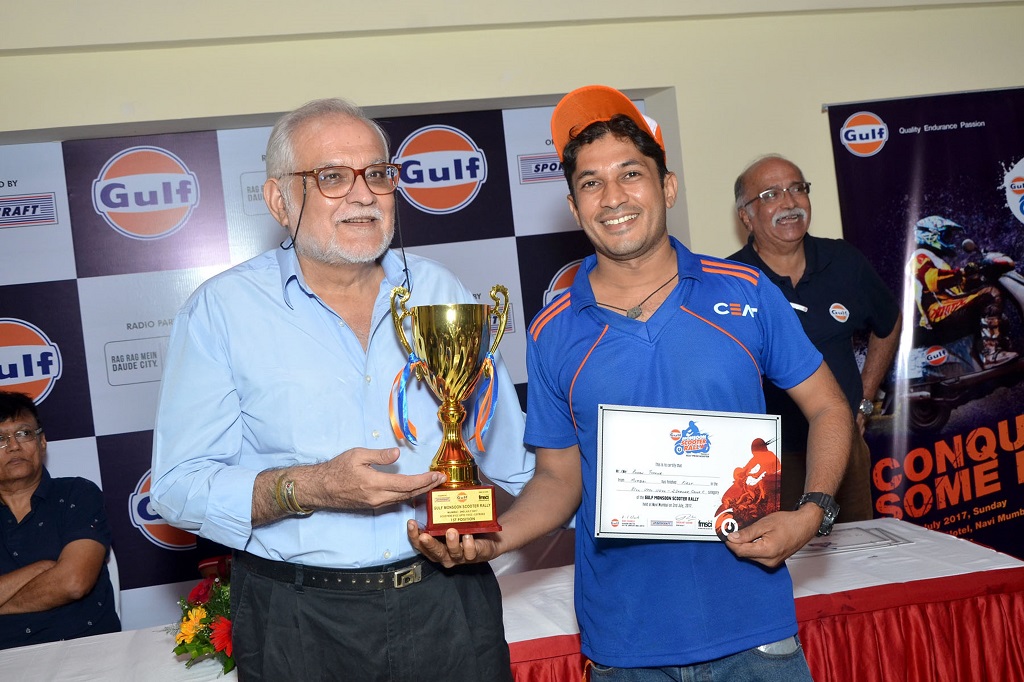 The Rally was divided in three stages with participation of following scooter classes– Two stroke/Class S-1 (above 80 upto 110 cc), Two stroke/Class S-2 (above 110 cc upto 160 cc) and Four stroke/Class FSG (upto 160 cc) with a special class for ladies. From the start point, the riders made their way to Navi Mumbai region, where a special rally route had been chalked in the hilly terrain, comprising of mud, gravel, stone, peaks, slush, hard rocky terrain and sand sudden drops. Riders had to complete three laps of the stages that were made through the hills before the finishing line.
CEAT Limited participates in the Gulf Monsoon Scooter Rally every year with a vision to make mobility safer and smarter for end-customers every day. Such events lay a right platform to render a true test of the superior grip performance and endurance of the tyres made with the cutting edge technology.
About CEAT Ltd (www.ceat.com):
CEAT, the flagship company of RPG Enterprises, was established in 1958. Today, CEAT is one of India's leading tyre manufacturers and has strong presence in global markets. CEAT produces over 15 million tyres a year and offers the widest range of tyres to all segments and manufactures world-class radials for: heavy-duty trucks and buses, light commercial vehicles, earthmovers, forklifts, tractors, trailers, cars, motorcycles and scooters as well as auto-rickshaws.
About RPG Enterprises (www.rpggroup.com):
Mumbai head-quartered RPG Enterprises is one of India's largest industrial conglomerates. With over 15 companies in its fold, the group has a strong presence across core business sectors such as Infrastructure, Tyre, IT and Specialty. Established in 1979, RPG Enterprises is one of India's fastest growing business groups with a turnover a turnover in excess of Rs.22,000 crore.