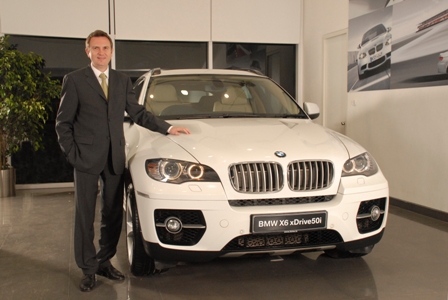 BMW India debuted the BMW X6, the world's first Sports Activity Coupé, at the brand new OSL Prestige workshop facility on East Topsia Road in Kolkata.
The BMW X6 will be available in two variants – X6 xDrive50i (petrol) and X6 xDrive30d (diesel). These cars are available as Completely Built-up Units (CBU).
The new BMW X6 has all the agility and elegance of a coupé plus the impressive versatility of an SAV. The BMW X6 draws its strength from two exclusive automotive worlds to create a new one. The first Sports Activity Coupé. Equipped with BMW Dynamic Performance Control, this is a coupé that knows no limits, especially in terms of driving dynamics.
Speaking on the occasion, Mr. Peter Kronschnabl, President, BMW India said, "We are proud to introduce the world's first Sports Activity Coupé, the new BMW X6. With xDrive all-wheel drive technology, the BMW X6 premiers with the newly developed Twin Turbo engine and is the first vehicle in the world to offer Dynamic Performance Control. It is our goal to provide the Indian market with an entirely new type of car that continues to provide our customers with the highest standards of all-round quality, safety, and perfection to ensure the highest levels of comfort and luxury."
The ex-showroom prices of the new BMW X6 in INR are as follows.
BMW X6 xDrive50i: 82,90,000
BMW X6 xDrive30d: 65,90,000
Note: Ex-showroom price excludes RTO registration charges, tax, insurance, handling charges; Octroi and entry tax (if applicable). Prices and options are subject to change.
BMW India also announced the further expansion of the OSL Prestige dealership in Kolkata by inaugurating the brand new workshop facility on East Topsia Road, five minutes from the OSL Prestige showroom. The showroom and workshop are headed by Mr. Charchit Mishra, Managing Director, OSL Prestige. OSL Prestige brings to Kolkata the BMW standards of sales and service and the same international experience as any BMW dealership worldwide.
Commenting on the occasion, Mr. Peter Kronschnabl, President, BMW India said, "Our continuing partnership with OSL Prestige in Kolkata has been very successful and is reflective of BMW's quest to provide international quality of service to customers. We are proud to see dealers, such as OSL Prestige, investing more in BMW, thereby demonstrating their confidence in the brand."
The OSL Prestige workshop has a covered area of almost 13,000 sq ft on the ground floor and almost 5000 sq ft on the mezzanine floor. The workshop has 5 service bays that can service 25-30 vehicles a day. The workshop offers customers a high quality service experience which ensures comfort to the customer at all times.
Ms. Charchit Mishra, Managing Director, OSL Prestige said, "Working with BMW in Kolkata for more than a year now has been a very fulfilling experience. This is an exciting opportunity for us as BMW symbolizes dynamic forward moving people and is among the most coveted premium brands in India. We are fully committed to our customers and further developing this partnership and look forward to an exciting time ahead."
As with every other BMW dealership, OSL Prestige has provided its staff intense training in management of sales, service, spare parts and business systems to ensure customers receive best-in-class pre and post sales ownership experience. A team of service engineers have also been trained at BMW's training centers in Singapore, Malaysia and Germany.
BMW India 
Headquartered in Gurgaon (National Capital Region) BMW India is a 100% subsidiary of the BMW Group. The initial investment in India is 1.1 billion Indian Rupees.
The wide range of BMW activities in India include the establishment of a production plant in Chennai (Tamil Nadu) and development of a dealer organisation across major metropolitan centres of the country.
In medium term, BMW India will employ around 200 people; up to 600 additional jobs will be created in the dealer and service network.
On 29 March 2007, BMW India officially opened its production plant in Chennai. The BMW Plant Chennai produces the BMW 3 Series and BMW 5 Series Sedans in petrol and diesel variants and has a capacity to produce 3000 units per year on a single shift basis.
Presently, 13 dealers represent BMW in the Indian market; Bird Automotive (Gurgaon, NCR), Deutschen Motoren (New Delhi); Navnit Motors (Mumbai), Infinity Cars (South Mumbai); Krishna Automobiles (Chandigarh); Navnit Motors (Bangalore), Delta Motors (Hyderabad), Kun Exclusive (Chennai), Bavaria Motors (Pune), OSL Prestige (Kolkata), Parsoli Motors (Ahmedabad),Platino Classic (Kochi) and Kun Exclusive (Coimbatore).
BMW dealerships presently display the BMW 3 Series (325i, 320i and 320d, 320d Highline) and BMW 5 Series (525i, 530i, 520d, 530d and 530d Highline) that are produced at the BMW Plant Chennai. BMW dealerships also display the BMW 6 Series (650i Coupé and 650i Convertible), BMW 7 Series (750Li and 730Ld), BMW X3 (X3 xDrive25i, X3 xDrive20d), the BMW X5 (X5 xDrive48i and X5 xDrive30d) and the BMW X6 (X6 xDrive50i and X6 xDrive30d) which are available in the country as CBU's (completely built-up units). The BMW M3 Coupé, BMW M3 Convertible, BMW M5, BMW M6 Coupé, BMW M6 Convertible, BMW 6 Series Individual and BMW 7 Series Individual can also be ordered at BMW India dealerships.
BMW India has also established an International Purchasing Office (IPO) at its Headquarters in Gurgaon. The IPO will focus on the development of exports from India to the BMW Group International Production Network and their work towards increasing the sourcing share from India over the next years. The activities include the identification and assessment of potential suppliers taking into account BMW's requirements for quality, technology and logistics. The IPO will explore procurement of production material (components) as well as IT and Engineering Services.
BMW Financial Services 
BMW Financial Services is currently active in more than 50 countries worldwide offering competitive financial solutions for BMW and MINI customers. BMW India has partnered with Bajaj Allianz General Insurance for offering motor insurance and with ICICI Bank to offer customised financial solutions and ORIX Auto Infrastructure Services Limited for leasing services for its customers. These products and services are offered through the BMW Financial Services.