The all-new BMW 3 Series Gran Turismo launched in India at Auto Expo 2014. A New Vehicle Concept in its Class that combines Coupé Elegance with Spaciousness.
BMW i: The new generation of Urban Mobility showcases BMW i8, the most progressive sports car of present time.
The third generation all-new BMW X5 unveils a Powerful and Athletic Personality that will soon rule the Indian roads and hearts.
The Ultimate Four-Door High-Performance Sports Coupé: The all-new BMW M6 Gran Coupé radiates the Aura of the Exceptional.
The BMW i8, the BMW X5 and the BMW M6 Gran Coupé to be launched in India in 2014.
Greater Noida. BMW India presented the new generation of Individual Mobility by unveiling the BMW i8, the all-new BMW X5 and the all-new BMW M6 Gran Coupé at the 12th Auto Expo 2014. The all-new BMW 3 Series Gran Turismo was also launched in India.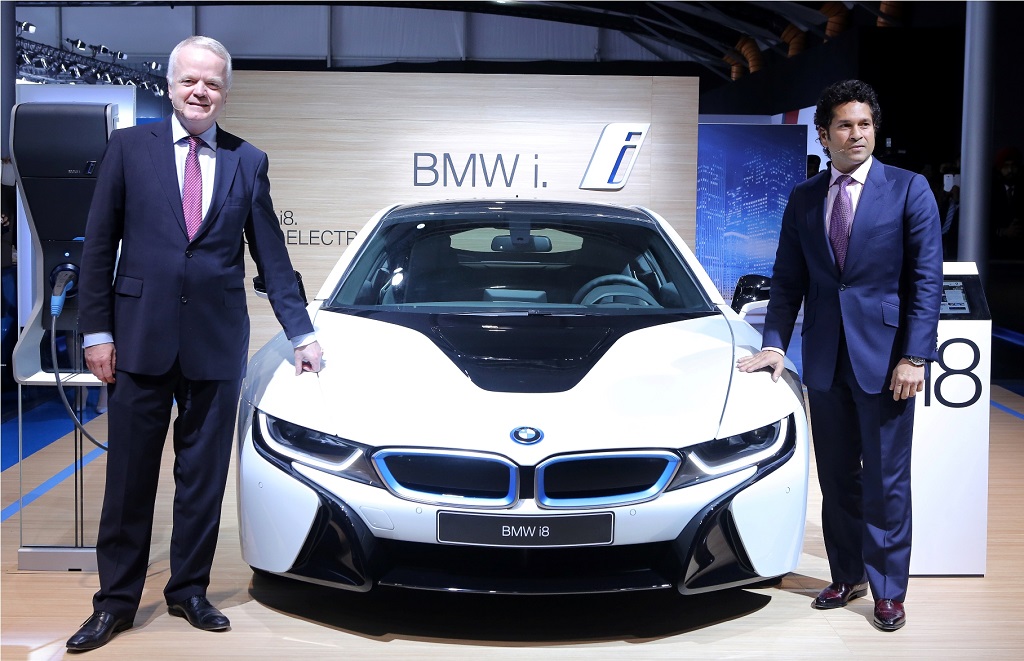 Mr. Philipp von Sahr, President, BMW Group India said, "We are on the verge of a new era of sustainable individual mobility and a revolutionary interpretation of BMW's hallmark driving pleasure. The BMW i presents a ground-breaking concept with visionary electric vehicles and mobility services, creating a new understanding of luxury that is strongly defined by sustainability. BMW i plays an important role in our future product strategy and as a sign of our commitment to this market, we will bring our revolutionary BMW i8 to India later this year."
The BMW i8 will be launched in India as a CBU (Completely Built-up) unit by end of 2014.
The intelligent plug-in hybrid system in the BMW i8 combines the benefits of an electric motor and a petrol engine into an extraordinary driving experience: highest efficiency and maximum dynamics are simultaneously possible. With BMW eDrive, the new BMW drive technology, the battery can be charged from any mains socket or while driving.
The electric drive, a powerful 96 kW (131 hp), is located on the front axle. The rear axle is driven by BMW TwinPower Turbo 1.5-litre three-cylinder petrol engine with 170 kW (231 hp) of peak performance. The petrol engine combined with the electrical boost of the hybrid system guarantees typical BMW driving pleasure. Together, the two units deliver a total of 362 hp, accelerating the BMW i8 from 0 to 100 km/h in 4.4 seconds using all four wheels in the process. Running on battery power, it achieves the top speed of 120 km/h with a maximum range of 35 kilometres. In conjunction with the combustion engine the electric motor takes the e-powered supercar to up to 250 km/h.
A distinctive feature conceived exclusively for BMW i is the LifeDrive vehicle architecture which significantly contributes towards weight optimisation. It includes the Life module comprising passenger cell made from carbon-fibre-reinforced plastic (CFRP) and the Drive module comprising an aluminium frame for the combustion engine and electric motor, the battery pack and the suspension.
Another impressive characteristic is record low fuel consumption and CO2 emissions, at an average of 40 km/l and emission of 59 g/km (provisional figures, according to the EU test cycle).
Locally produced at the BMW Plant Chennai, the all-new BMW 3 Series Gran Turismo will be available at BMW dealerships across the country from March 2014.
Mr. Philipp von Sahr, President, BMW Group India said, "The all-new BMW 3 Series Gran Turismo is a completely new vehicle concept in its class that combines coupé elegance with spaciousness. Adding a unique and distinctive model variant to BMW's product line-up, it blends the BMW 3 Series Sedan's dynamic, sporting genes with the practicality and versatility of the Touring. Impressive spaciousness, together with a high seating position, makes the all-new BMW 3 Series Gran Turismo perfect for long trips. With countless innovations and thoughtful details, the all-new BMW 3 Series Gran Turismo presents a new stylistic assurance around the use of space, boasts a distinctive presence on the road and offers similarly pronounced driving pleasure. No other vehicle can support business, leisure and sports activities with such natural ease."
As a completely independent concept, the all-new BMW 3 Series Gran Turismo provides a so far unique combination of a sporty and elegant coupé design, excellent versatility, and hallmark BMW driving enjoyment. The Panorama Glass Roof proves that even the most generous interior can be made to appear even more spacious. The all-new BMW 3 Series Gran Turismo also provides a generous 520-litre luggage compartment which can easily be expanded to up to 1,600 litres thanks to a 40/20/40-split rear backrest with fold-down headrests. With the electrically operated tailgate as a standard feature, the large, wide rear door opens and closes at the touch of a button.
Among the new features introduced for the all-new BMW 3 Series Gran Turismo is the active rear spoiler, which is automatically deployed at 110 km/h and retracted at speeds below 70 km/h. When deployed at high speeds, the spoiler increases downforce on the rear axle and ensures perfect directional stability when driving fast. As a positive side-effect, the spoiler also enhances aerodynamics and reduces the drag coefficient. Another very distinctive new BMW introduction is the so-called Air Breathers behind the front wheel arches, which reduce turbulence in this area and lower the car's aerodynamic drag.
The all-new BMW 3 Series Gran Turismo will be available in a diesel variant (the BMW 320d Gran Turismo) at an all India ex-showroom price of INR 42,75,000.
Price prevailing at the time of invoicing will be applicable. Delivery will be made ex-showroom. Ex-showroom prices (inclusive of VAT@12.5%) but excludes Road Tax, RTO statutory taxes/fees, Insurance and Octroi (if applicable).VAT over and above 12.5%, if applicable, will be charged extra. Prices and options are subject to change without prior notice.
The 2.0 litre BMW TwinPower Turbo four-cylinder diesel engine combines advanced CommonRail direct injection with innovative turbocharger technology to develop an output of 135 kW/184 hp and an impressive torque of 380 Nm. The sprint from 0 to 100 km/hr takes 7.9 seconds and top speed is 226 km/h.
The all-new BMW X5 will be locally produced at BMW Plant Chennai from third quarter of 2014.
Mr. Philipp von Sahr, President, BMW Group India said, "The BMW X5 – the founder of the Sports Activity Vehicle segment and globally best-selling car in its class – is entering a new chapter in its successful history. The third-generation X5 sees BMW once again setting the benchmark for powerful design, interior spaciousness and luxury, versatility, driving pleasure, efficiency and innovative equipment features. The all-new BMW X5 offers customers an assured all-round package equipped to meet the most exacting and varied demands."
The all-new BMW X5 comes as standard with BMW xDrive – an intelligent all-wheel drive system that monitors the driving situation constantly and distributes drive power smoothly between the axles. BMW xDrive splits drive variably to the front and rear axles to suit the driving situation and the surface. In addition, the Dynamic Performance Control optimises tracking stability under tough driving situations, especially when accelerating out of a sharp bend.
The all-new BMW M6 Gran Coupé will be launched as a CBU (Completely Built-up) unit by mid 2014.
Mr. Philipp von Sahr, President, BMW Group India said, "Seemingly unstoppable, compellingly sporty, a singular presence – the all-new BMW M6 Gran Coupé does not follow conventional rules, it sets new standards.
This thoroughbred sports car combines hallmark M high-performance refinement with a deliberately powerful coupé appearance, a sporty and luxurious interior and a comfortably-sized cabin with ample space even for rear passengers. The all-new BMW M6 Gran Coupé is now the new flagship of BMW M GmbH."
At the BMW Pavilion at Auto Expo 2014, BMW India has also displayed its product range in India: the BMW 1 Series (BMW 118d Sport Plus), the BMW 3 Series (BMW 320d Sport Line), the BMW 5 Series (BMW 520d Modern Line), the BMW X1 (BMW X1 sDrive20d xLine) and the BMW X3 (BMW X3 xDrive20d). BMW India has also displayed the BMW Z4 (BMW Z4 sDrive35i) and the BMW 7 Series (BMW 760Li Individual) which can be ordered as CBUs.