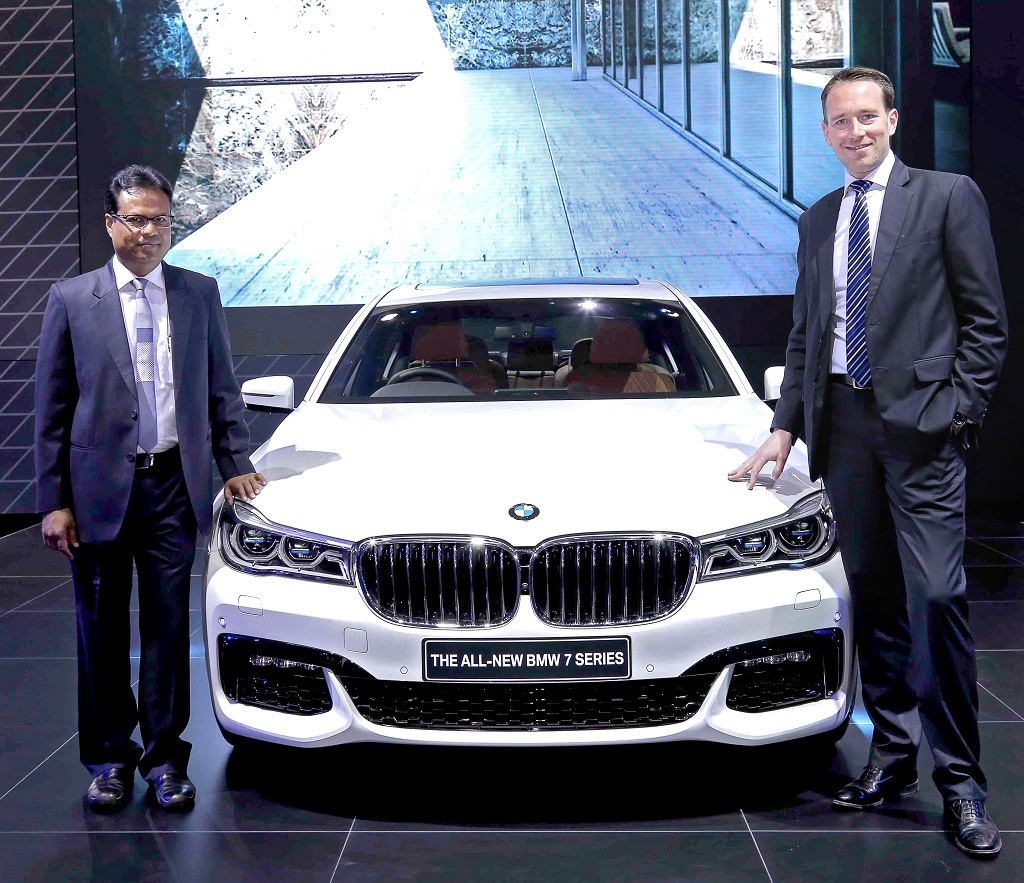 BMW India announced the appointment of Titanium Autos, its new dealer for the states of Jharkhand and Bihar.
Titanium Autos is currently operational at the Radisson Hotel, Ranchi, where the customers and prospects can experience the BMW product range. The dealership is headed byMr. Bimal Singhania, Managing Director, Titanium Autos.
Mr. Frank Schloeder, (Act.) President, BMW Group India said, "BMW India is committed to creating unparalleled customer delight and fascination for our most aspirational product portfolio to our discerning customers. The appointment of Titanium Autos in Ranchi is part of our plan to establish a world-class dealer network in India. This facility will be instrumental in tapping the growing luxury car market potential of the city and cater to the increase in our customers in states of Jharkhand and Bihar."
Mr. Bimal Singhania, Managing Director, Titanium Autos said, "We are proud to partner with BMW India in setting up world-class dealership here in Ranchi. We will offer our customers the renowned BMW experience along with providing them with the best in automotive luxury. BMW has a lot of growth potential in a city like Ranchi and we look forward to serving our growing clientele in the region with enthusiasm and passion."
An ultra-modern 4S facility will be integrated with after-sales service workshop and will commence operations in the second half of 2016. The design of the showroom will be based upon Urban Street Display concept which is a signature BMW layout with sales lounges close to the display area. The showroom will display 9 cars indoors along with a special display area featuring high-end cars. The lifestyle section will showcase premium BMW accessories for sale to customers and BMW fans.
The state-of-the-art workshop will comprise of seven service bays (including mechanical, body and paint) that can service up to 200 cars per month. The dealership will deliver extremely high quality standards in all processes of Sales, Service, Spare-parts and Business Systems to ensure that customers receive best-in-class pre and post sales ownership experience. 
BMW Group in India
With its three brands, BMW, MINI and Rolls-Royce, the BMW Group has its sight set firmly on the premium sector of the Indian automobile market. Along with its automotive concerns, the BMW Group's activities in India comprise the marketing of motorcycles, as well as financial services for its premium clientele.
Headquartered in Gurgaon (National Capital Region), BMW India is a 100% subsidiary of the BMW Group. Till date, BMW Group has invested over 4.9 billion Indian Rupees (€ 69 million) in BMW India. The wide range of BMW activities in India include a manufacturing plant in Chennai, a parts warehouse in Mumbai, a training centre in Gurgaon NCR and development of a dealer organisation across major metropolitan centres of the country.
The BMW Plant Chennai started operations on 29 March 2007. The BMW Plant Chennai locally produces the BMW 1 Series, the BMW 3 Series, the BMW 3 Series Gran Turismo, the BMW 5 Series, the BMW 7 Series, the BMW X1, the BMW X3 and the BMW X5. BMW dealerships display the BMW 6 Series Gran Coupe, the BMW X6, the BMW Z4, the BMW M3 Sedan, the BMW M4 Coupe, the BMW M5 Sedan, the BMW M6 Gran Coupe, the BMW X5 M and the BMW X6 M which are available in the country as Completely Built-up Units.
BMW India is the pioneer in bringing luxurious dealerships to India. BMW India has set a decisive course by setting up BMW dealerships of international standards across the country. BMW India has also set very high standards in service quality and customer care. Currently, BMW India has 39 sales outlets in the Indian market.
BMW India offers 'BMW Premium Selection' with the finest range of pre-owned BMW vehicles that are carefully selected and comprehensively examined for quality. BMW Premium Selection vehicles can be ordered through exclusive BMW Premium Selection dealerships at 12 locations in the Indian market.
BMW i stands for visionary electric cars and mobility services, inspiring design and a new understanding of premium that is strongly defined by sustainability. BMW i8, plug-in hybrid sports car, is available at four BMW i dealerships as a Completely Built-up Unit (CBU).
MINI has successfully established itself as a premium small car brand in India. Presently, the MINI model range in India includes the MINI 3-door, MINI 5-door, MINI Convertible and MINI Countryman. MINI has established four exclusive outlets in India.
The International Purchasing Office (IPO) established at BMW India's headquarters in Gurgaon identifies and assesses potential suppliers for BMW, MINI, and BMW Motorcycles taking into account BMW Group's requirements for quality, technology and logistics. The IPO strongly focuses on increasing the sourcing of production material (components) as well as IT and engineering services from India to the BMW Group international production network.
BMW Financial Services India is a 100% subsidiary of the BMW Group and is headquartered in Gurgaon (National Capital Region). Till date, BMW Group has invested 6.4 billion Indian Rupees (€ 98 million) in BMW Financial Services India.
BMW Financial Services India operates with three business lines: Retail Finance, Commercial Finance and Insurance Solutions (as corporate agents). The services offered through BMW Financial Services India are significantly valuable to the premium clientele who require exclusive and flexible financial solutions. Service excellence is the primary focus of operations across all business lines.
BMW Financial Services India offers solutions for retail automobile financing for BMW customers and multi make customers, financing for fleet owners and commercial financing for BMW dealerships and multi-make dealerships. Commercial finance solutions offered to BMW India dealerships further strengthen operations in the country and reinforce the BMW brand. BMW Financial Services India also offers BMW Lease for individuals and corporate customers. BMW Financial Services India offers insurance solutions (as corporate agents) to its customers through its cooperation partner in India.