With the new product, customers need not renew their two wheeler insurance for up to 3 years
Bharti AXA General Insurance, the private general insurance joint venture between Bharti Enterprises and AXA, the No.1 global insurance brand for the 8th consecutive year as per Interbrand*, is expanding its two wheeler product portfolio by launching "Two Wheeler Long-Term Package Policy". The product is designed to cater to the large two wheeler segment in India most of which is uninsured due to break in policies.
In an online poll conducted by Bharti AXA General Insurance with two-wheeler owners pan India, two main reasons cited for not renewing insurance were a. the hassle of yearly renewals and b. forgetting to renew on time. Over 80% respondents said that they would prefer buying long term two wheeler insurance if they did not
need to renew for 3 years
The 'Two- Wheeler Long Term Package Policy' is a comprehensive plan that offers multiple benefits with minimum paperwork and hassle-free renewals at reasonable cost. The main features of the plans are
Hassle-free renewals by ensuring that the policy can be renewed after 2 or 3 years
Benefits on 'No Claim Bonus'
Discounts on premium
Minimal paperwork
Accidental damage cover to the vehicle
Liability for third party injury/death and property damage
Compulsory Personal Accident Cover for owner/driver
Announcing the launch of the new product, Parag Gupta Chief Underwriting Officer, Bharti AXA General Insurance said, "As per industry projections, the two wheeler segment is expected to grow at CAGR of 10-12% till FY 2020. Additionally, as per IRDAI, approximately 75% of two wheelers are either uninsured or have lapsed insurance policies. With the two-wheeler segment poised for growth, coupled with a large consumer base with a break in policy, it's extremely important to introduce comprehensive two wheeler plans that will encourage riders to not only buy insurance but also renew regularly. Basis our online poll we understood that majority riders either found renewals cumbersome or simply forgot to renew.
In view of these insights, we realized a need to introduce a comprehensive "buy & forget" type of two wheeler insurance policy. We are confident that our 'Two Wheeler Long Term' plan will cater to all the needs of a rider and create a strong foothold for us within the two-wheeler insurance category."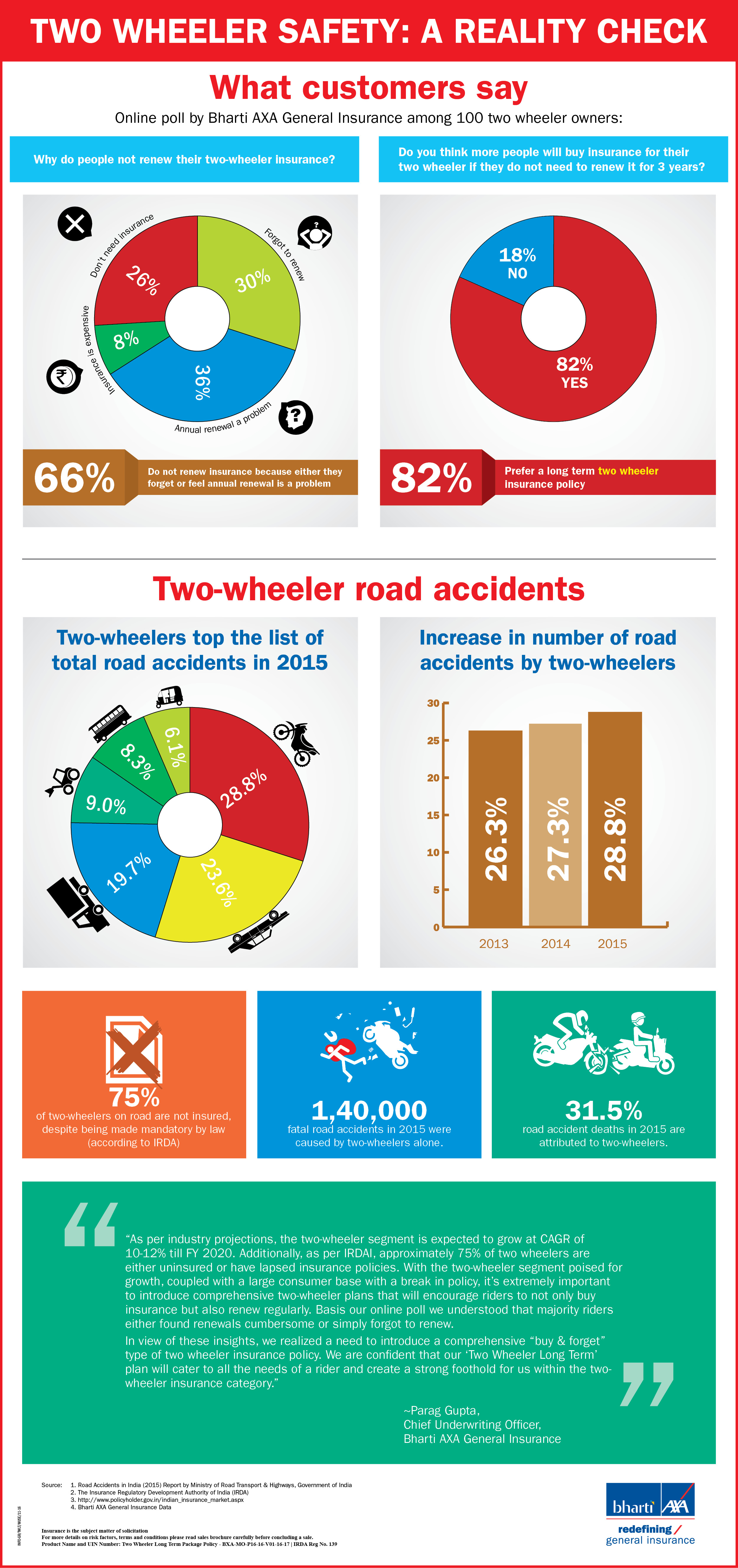 Bharti AXA has launched this product with its dealer and agent network pan India and will soon launch this online on its website www.bharti-axagi.co.in
About Bharti AXA General Insurance:
Bharti AXA General Insurance Company Ltd is a joint venture between Bharti Enterprises, a leading Indian business group and AXA, a world leader in financial protection. The joint venture company has a 51% stake from Bharti and 49% stake from AXA Group. Bharti AXA General Insurance is the first organization in the GI Industry to receive dual certifications of ISO 9001:2008 & ISO 27001:2005 for its superior quality and information safety systems.
Presently, the organization has cashless facilities across 4,500 network hospitals, over 2,700 garages for motor claims and associations with 16+ TPAs pan India.