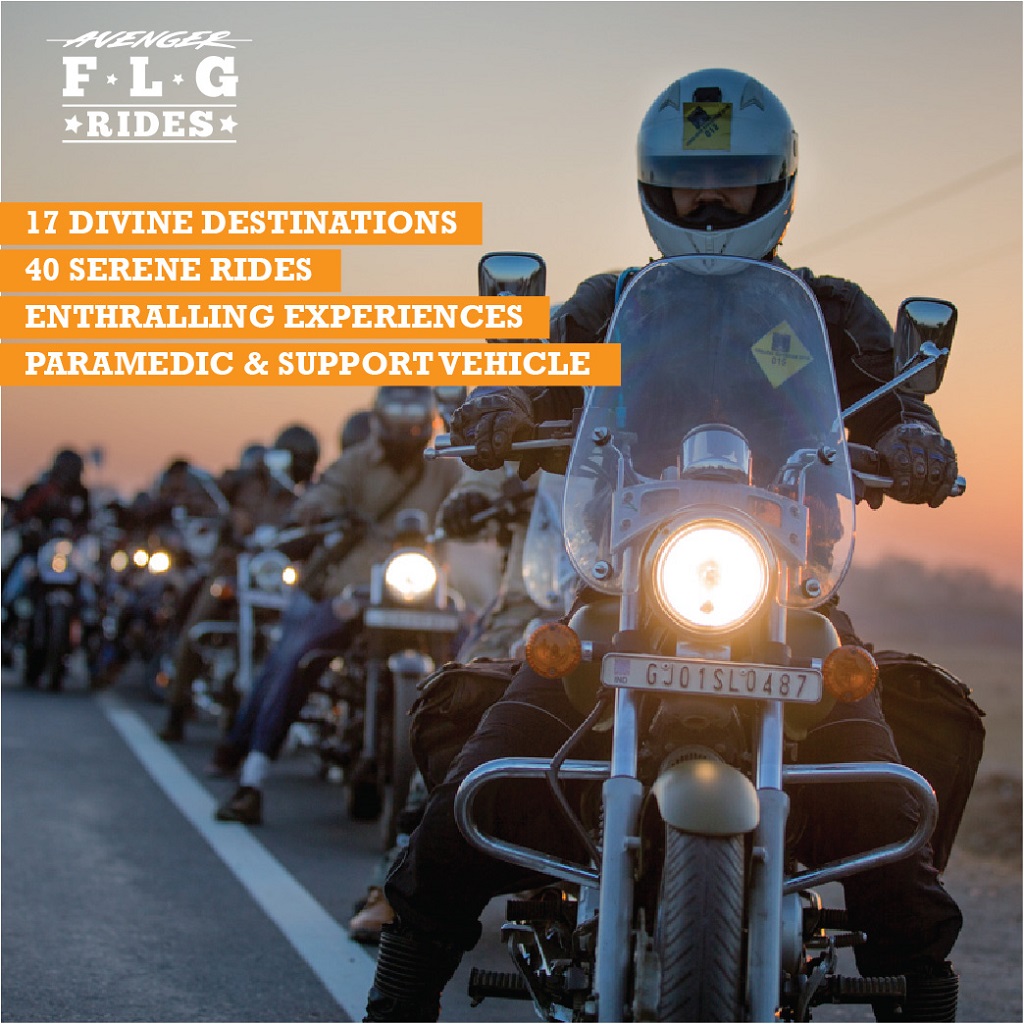 Avenger 'Feel Like God' (FLG) Rides, a pan-India riding community exclusive to Avenger owners, initiated in 2016 and moving to a much bigger scale in 2017-18
40 serene rides, 17 Divine destinations, +20,000 kms and innumerable enthralling experiences. Plus the assurance of Paramedics & Support vehicles 
May 30th 2017: Bajaj Auto, India's leading motorcycle manufacturer has launched 'Avenger FLG Rides' Cruising Season 2017-18 – a pan-India riding community initiative for its highly popular Avenger brand. The Avenger 'Feel Like God' experience hosted by Bajaj Auto, is a riding experience initiative that is exclusive to Avenger owners.
FLG rides were initiated in 2016 and received tremendous response. Taking the experience forward and making it even bigger, Avenger FLG Rides Cruising Season 2017-2018 will now be a round-the-year initiative. This season, there will be 40 rides across the country to 17 divine destinations, covering more than 20,000 km. The first FLG ride of the season was organized on 24th June 2017 to Spiti Valley, followed by rides as per Riding Calendar (below) to scenic locations like Leh, Jaisalmer, Goa, Yercaud and Yumthang Valley, among others. Some of the enthralling experiences this year include Bird Watching, Paragliding, Elephant Rides, Lion Safaris, Parasailing, forest treks, Cave Visits among others.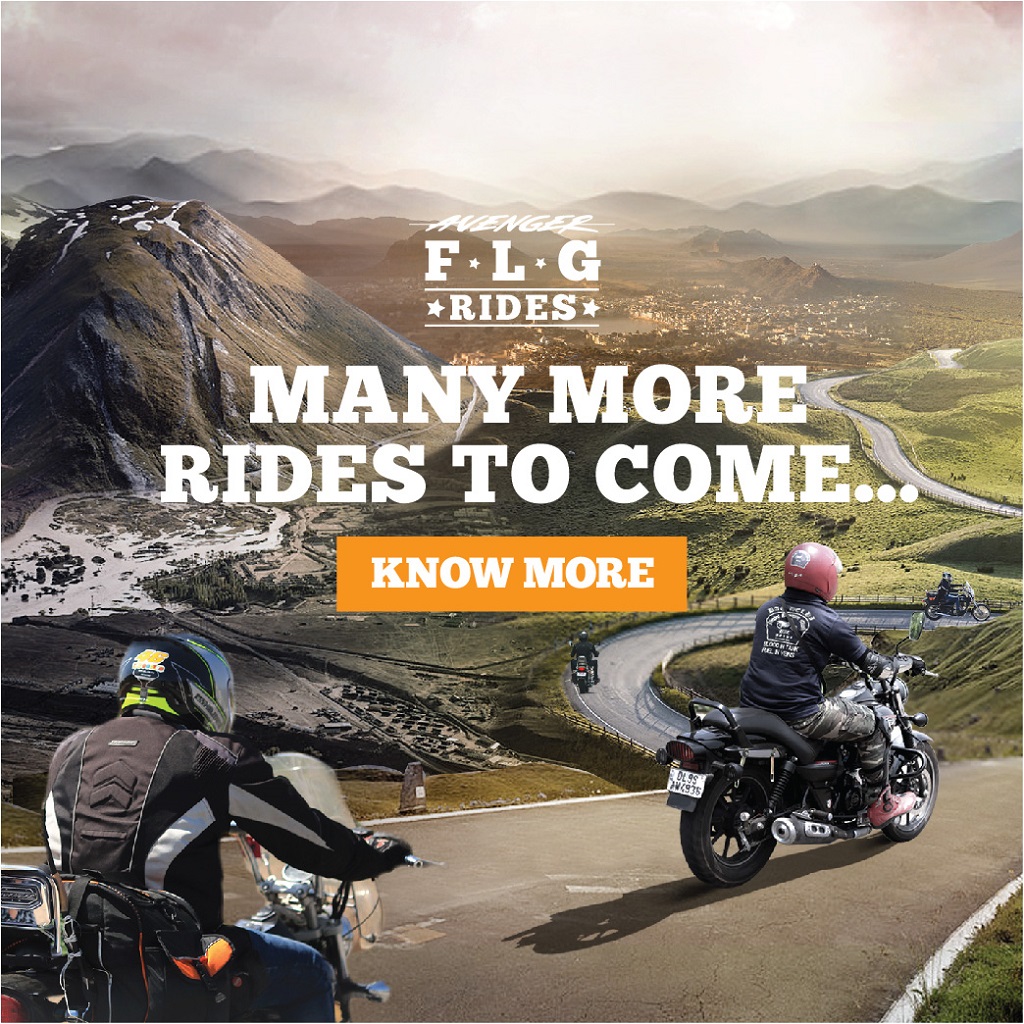 Avenger FLG rides have a sharp focus on safety and security of riders, and are professionally supervised by leading adventure operators. Each ride is accompanied by a support vehicle and a certified paramedic with medical equipment. Also, to ensure rider alertness, no night riding is allowed, with a maximum cap on the number of riding hours per day.
Speaking on the introduction of Avenger 'Feel Like God' Cruising Season 2017-18, Mr. Sumeet Narang, Vice President, (Marketing), Bajaj Auto said, "Long distance group riding has gained tremendous momentum in recent years across India. Avenger brand embodies 'Liberation' and these FLG rides symbolize that value in the best way possible. It further helps the riders to get the best experience out of their Avengers. With Avenger FLG Rides, we want to encourage our valuable customers to experience the feeling of liberation in riding to the most breathtaking destinations. Avenger FLG has been uniquely designed with resources and infrastructure that promotes group riding in a safe and professional manner."
As a market leader in the performance biking segment, Bajaj Auto has always remained committed to keeping abreast with evolving customer preferences. Bajaj Auto has seen huge potential with the FLG rides and will use it to consolidate its brand equity for existing and new products from the Avenger stable.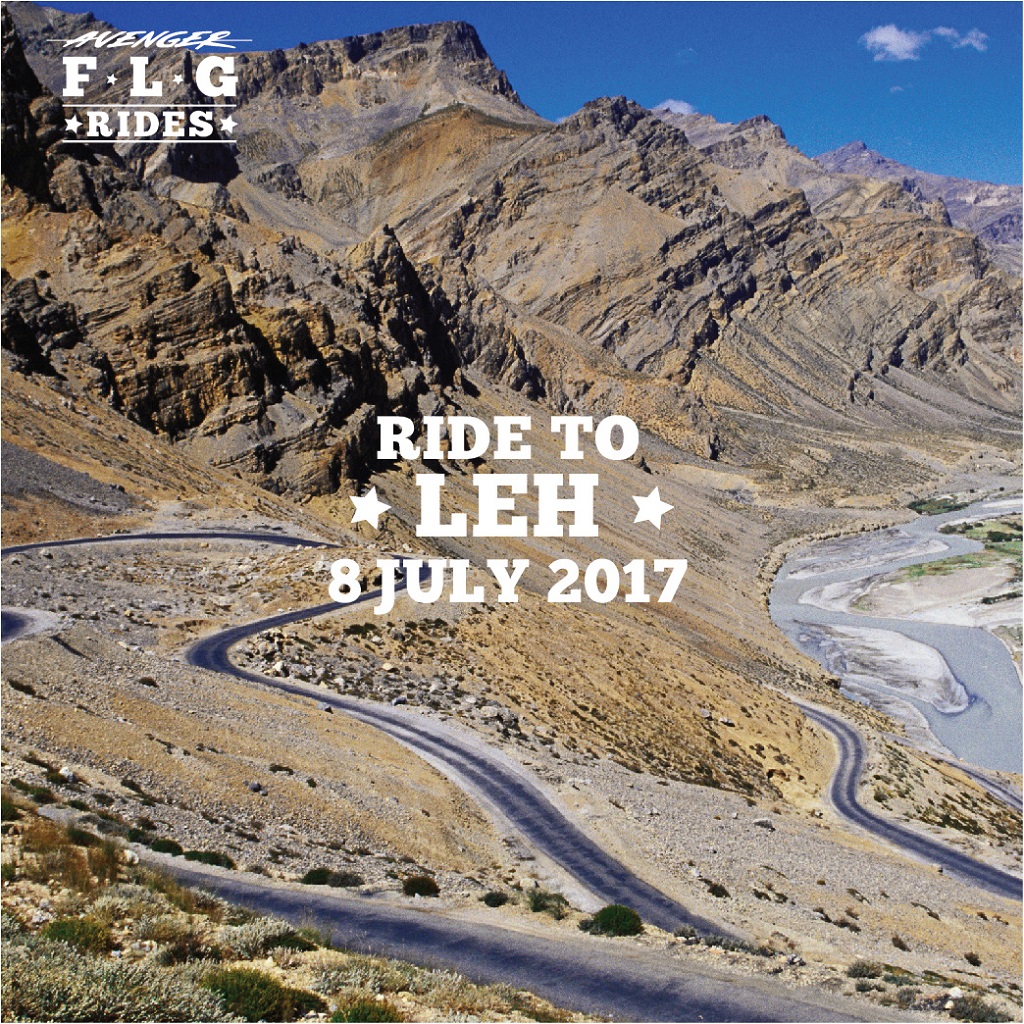 RIDING CALENDAR
DESTINATION
ROUTE
DURATION
DATES
SPITI VALLEY (Himachal Pradesh)
Delhi-Spiti Valley
7 days & 6 nights

24 Jun – 01 Jul 2017

Chandigarh-Spiti Valley
6 days & 5 nights

25 Jun – 30 Jul 2017

LEH (J&K)
Delhi-Leh
11 days & 10 days

08 Jul – 18 Jul 2017

Chandigarh-Leh
10 days & 09 nights

09 Jul – 17 jul 2017

BHANDARDARA (Maharashtra)
Mumbai-Bhandardara
3 days & 2 nights

28 July – 30 Jul 2017

Pune-Bhandardara

28 July – 30 Jul 2017

WAYANAD (Kerala)
Mangalore-Wayanad
3 days & 2 nights

08 Sept – 10 Sept 2017

Coimbatore-Wayanad

08 Sept – 10 Sept 2017

Bengaluru-Wayanad

15 Sept – 17 Sept 2017

Cochin-Wayanad

15 Sept – 17 Sept 2017

KAAS PLATEAU (Maharashtra)
Mumbai-Kaas Plateau
3 days & 2 nights

22 Sept – 24 Sept 2017

Pune-Kaas Plateau

22 Sept – 24 Sept 2017

PUSHKAR (Rajasthan)
Delhi-Pushkar
3 days & 2 nights

27 Oct – 29 Oct 2017

PERIYAR
National Park (Kerala)
Cochin-Periyar National Park
3 days & 2 nights

13 Oct – 15 Oct 2017

Coimbatore-Periyar National Park
Madurai-Periyar National Park

20 Oct – 22 Oct 2017

Trivandrum-Periyar National Park
GOA (Goa)
Bengaluru-Goa
5 days & 4 nights

25 Nov – 29 Nov 2017

Mumbai-Goa
Pune-Goa
GANDIKOTA (Andhra Pradesh)
Hyderabad-Gandikota
3 days & 2 nights

11 Nov – 13 Nov 2017

Chennai-Gandikota
GIR NATIONAL PARK (Gujarat)
Ahmedabad-Gir National Park
4 days & 3 nights

16 Dec – 19 Dec 2017

CHANDIPUR (Odisha)
Kolkata-Chandipur
3 days & 2 nights

01 Dec – 03 Dec 2017

JAISALMER (Rajasthan)
Delhi-Jaisalmer
6 days & 5 nights

06 Jan – 11 Jan 2018

Jaipur-Jaisalmer
4 days & 3 nights

07 Jan – 10 Jan 2018

Ahmedabad-Jaisalmer
6 days & 5 nights

20 Jan – 25 Jan 2018

LONAR LAKE (Maharashtra)
Mumbai-Lonar Lake
3 days & 2 nights

12 Jan – 14 Jan 2018

Pune-Lonar Lake
Nagpur-Lonar Lake
PONDICHERRY (Pondicherry)
Chennai-Pondicherry
3 days & 2 nights

10 Mar – 12 Mar 2018

Bengaluru-Pondicherry

10 Mar – 12 Mar 2018

YERCAUD (Tamil Nadu)
Cochin-Yercaud
5 days & 4 nights

09 Feb – 13 Feb 2018

Coimbatore-Yercaud
3 days & 2 nights

10 Feb – 12 Feb 2018

Chennai-Yercaud
4 days & 3 nights

16 Feb – 19 Feb 2018

Madurai-Yercaud
4 days & 3 nights

16 Feb – 19 Feb 2018

Bengaluru-Yercaud
4 days & 3 nights

23 Feb -26 Feb 2018

AULI (Uttarakhand)
Delhi-Auli
6 days & 5 nights

03 Mar – 08 Mar 2018

Chandigarh-Auli
YUMTHANG VALLEY (Sikkim)
Siliguri-Yumthang Valley
6 Days & 5 nights

17 Mar – 22 Mar 2018