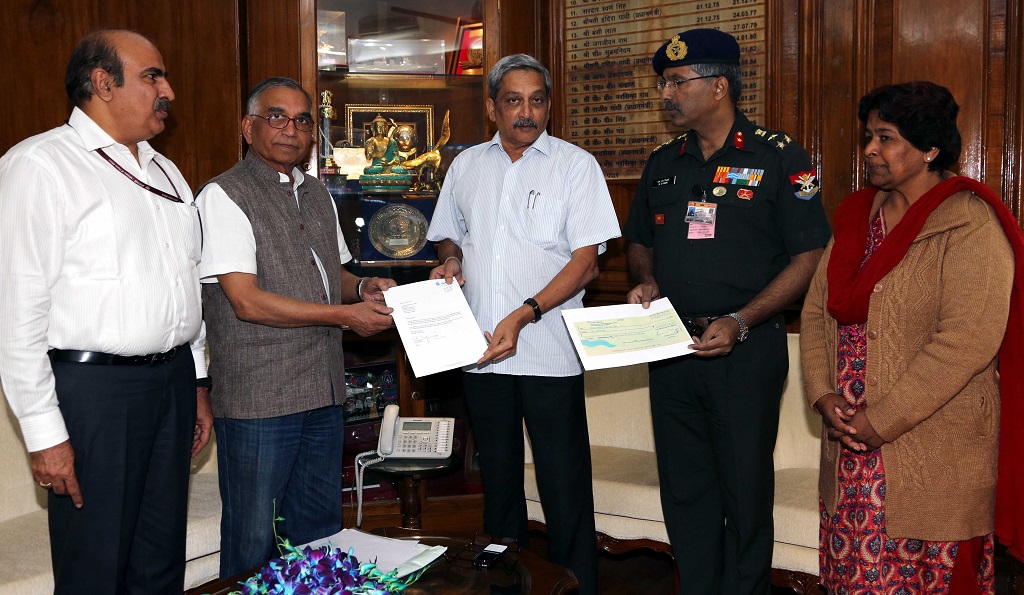 Contributes funds towards the Flag Day Fund for war widows and their dependents and institutions involved in their rehabilitation
Makes donations towards the Paraplegic Rehabilitation Centre, Pune to fund battery operated powered wheelchairs for quadriplegic war veterans
Pune: 7th March: Bajaj Auto has donated Rs one crore to the Armed Forces Flag Day Fund (AFFDF) as well as an amount of Rs 31 lakh towards Pune-based Paraplegic Rehabilitation Centre (PRC). A cheque for AFFDF was recently handed over to Honourable Shri Manohar Parrikar, Defence Minister, Government of India in New Delhi by Shri C P Tripathi, Advisor (CSR), Bajaj Auto, in the presence of the officials of AFFDF.
Bajaj Auto, the leading manufacturer of two-wheelers and three-wheelers in India, has for long placed corporate social responsibility at the heart of all its endeavours, directly as well as through Jankidevi Bajaj Gram Vikas Sanstha and other NGOs and trusts. It reaches out to underprivileged sections of the society in the areas of education, healthcare, environment and social and economic development.
About Armed Forces Flag Day Fund
AFFDF is operated by a managing committee, headed by the Honourable Defence Minister at the Centre and the Honourable Governor/Lt Governor at the State/UT level. KSB – an apex body of the Government of India – formulates and operates various welfare and rehabilitation schemes for ex-servicemen (ESM) and their dependents, which are funded from AFFDF, through a network of 32 Rajya Sainik Boards (RSBs) and 385 Zilla Sainik Boards (ZSBs) co-located in the state capitals and district headquarters respectively.
About Paraplegic Rehabilitation Centre
PRC, located at Khadki near Pune, is a rehabilitation centre meant for the after care and rehabilitation of personnel of India's defence forces who are medically boarded out (retired from service due to spinal cord injury while serving the nation). It is the largest of its kind centre in India and one of the largest in South and South East Asia.