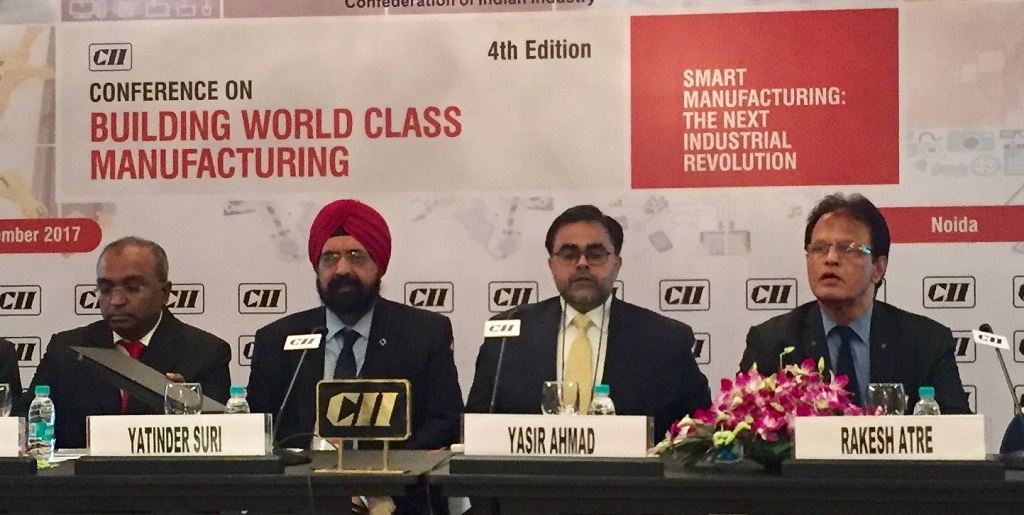 AUTOMOTIVE SECTOR EXPERTS FOR ADOPTING DIGITAL TRANSFORMATION WITH CAUTION IN INDIA
EXPERTS FOR BUILDING WORLD CLASS MANUFATURING WITH SUSTAINABLE PRODUTION TECHNOLGIES
New Delhi/Noida- August 6, 2017  Automotive Industry Experts attending a day long conference on 'Building World class Manufacturing" organized by Confederation of Indian Industry (CII) stressed on adopting automation and digital transformation to cater to the changing markets world wide but with caution as it has its own challenges and road blocks in Developing country like India .
"Technology predictions foretell a future world where virtual reality (VR), Artificial Intelligence (AI), robotics and automation are the norm – in both our personal and business lives. These technologies, among others, are set to completely change the way we interact with each other and the world around us. Many organisations across the globe are already gearing towards this future, embarking on digital transformation journeys that will cater to the changing markets. Indian companies are no different. In order to compete in a global market. Indian businesses need to embrace the idea of "disrupt, or be disrupted", and begin to leverage technology to enable digital transformation. "said Dr Sunil Chaturvedi, Chief Executive Officer, Automotive skills Development Council while speaking at  the conference'
"This journey, however, does not come without its challenges,While technology significantly paves the way towards digital transformation, many organisations also believe it to be the biggest stumbling block. This is partly attributed to a fear of the unknown, and reluctance to embrace new technologies. This reluctance coupled with a lack of understanding of how best to use the technologies in their own organisations is preventing many companies from truly joining the digital revolution. Having said that the biggest roadblock is often not the technology itself, but rather the mindset."he said.
"New technology has traditionally been driven by the IT department, which they would identify and implement, providing a service and answering the needs of the business and its customers. There is a strong focus on customer centricity within business, and with a diverse and evolving customer base, IT decisions are now increasingly driven by the business in direct response to customer demand." said Mr Sameer Gupta, Conference chairman  and CMD Jakson group while speaking on the occasion .
"Traditional IT specialists may not have the skills necessary to understand the business value of new technologies, or how to implement them for maximum impact. Typical IT approaches problems on a case by case basis, applying a technology to a specific problem. Digital transformation means that a technology needs to be matched to a use case which enhances the customer experience. Businesses should aim to re-train and re-deploy existing employees to parts of the business where more value can be derived. This is an opportunity to develop new, in-house competence – to grow an organisation's workforce and create functional teams in line with its digital growth."said Mr Damodar Sahu head, manufacturing Wipro   Limited.
"In automotive sector along with adoption of digital technology , green and sustainable manufacturing also has to be added. As the future is of Electric and light weight vehicles  as  Emission reduction standards are also setting huge demands on the design of new vehicles.. Stainless steel     provides a new material group for sustainable design and optimized crash performance within the automotive technology. The Forta H-Series  stainless steel range products provide high strength and ductility and have been used in the automotive industry for over 10 years to create lighter, more durable components. Said Mr Yatinder Pal Singh Suri, CMD, Outokumpu India  while speaking on the occasion