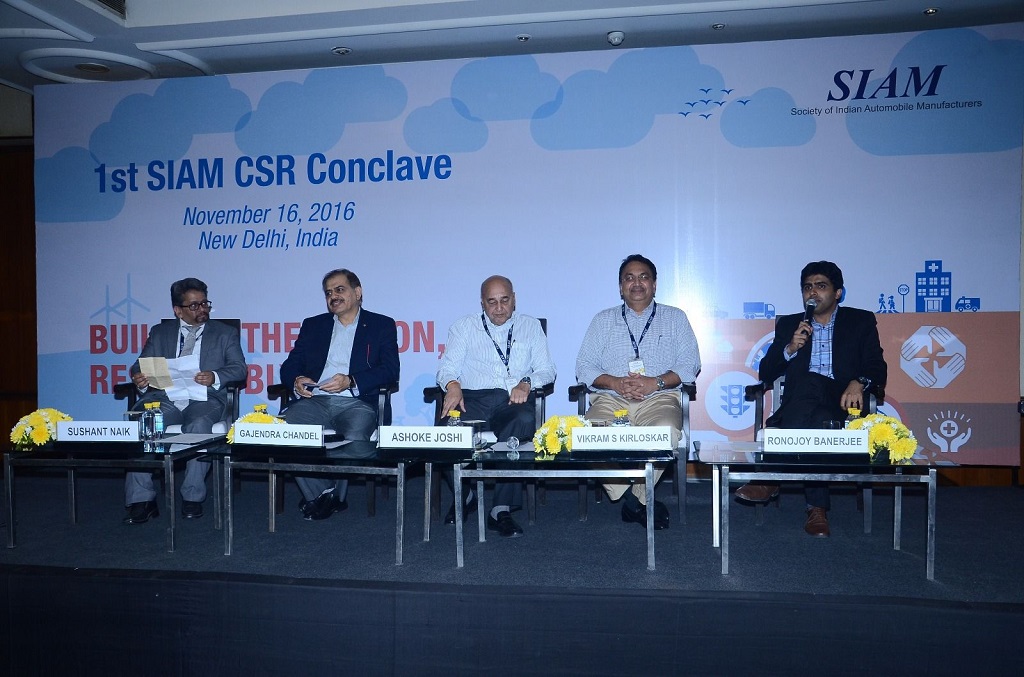 Environmental rejuvenation, Health & Sanitation,
Skill development and Road Safety were the key focus areas of the Conclave

Auto industry body Society of Indian Automobile Manufacturers, (SIAM) determined to work for sustainable growth of the nation by organising its 1st CSR Conclave in New Delhi. SIAM addressed and discussed the importance of different approach in CSR initiatives through panel discussions with representatives of industry, government and social bodies.
The inaugural session saw participation from Mr. Kenichi Ayukawa, Treasurer, SIAM & Managing Director & CEO, Maruti Suzuki India and the event was inaugurated by Sh. Girish Shankar, Secretary Department of Heavy Industry, Ministry of Heavy Industry & Public Enterprise.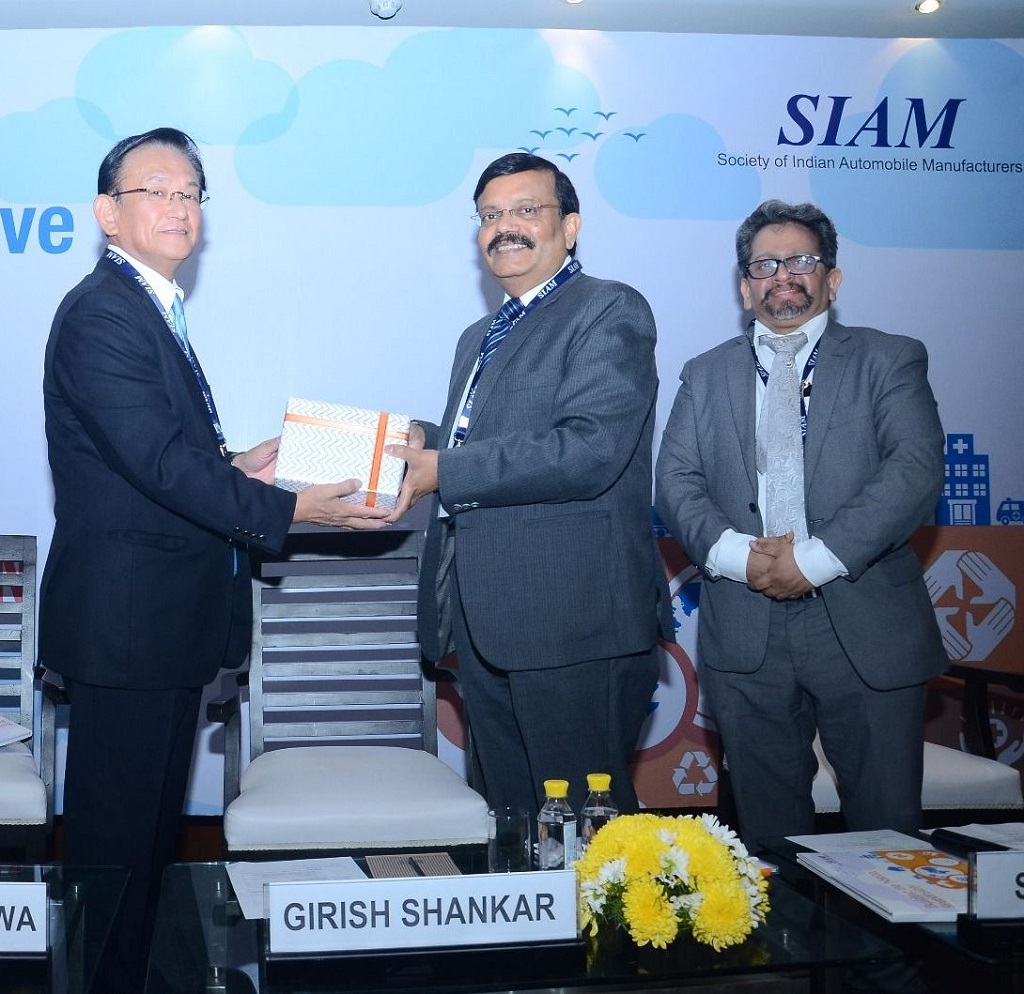 Delivering his welcome address during the session, Mr. Kenichi Ayukawa, Treasurer, SIAM & Managing Director & CEO, Maruti Suzuki India, reiterated, "Automobile industry is contributing 7.1 % to the GDP in India. Around 32 million people are involved directly or indirectly in this industry. Total investment by the industry has been to the tune of 35billion USD. Our vision is that over the next decade, the Indian automobile sector must contribute in excess of 12% of the country's GDP, creating nearly 65 million additional jobs by 2026."
The panel discussions were divided in 4 different sessions on Environmental Rejuvenation, Health & Sanitation, Skill Development & Road Safety and concluding session on way forward. The sessions drew focus towards the various initiatives taken up by the members and how the industry can come together for the greater good of the society.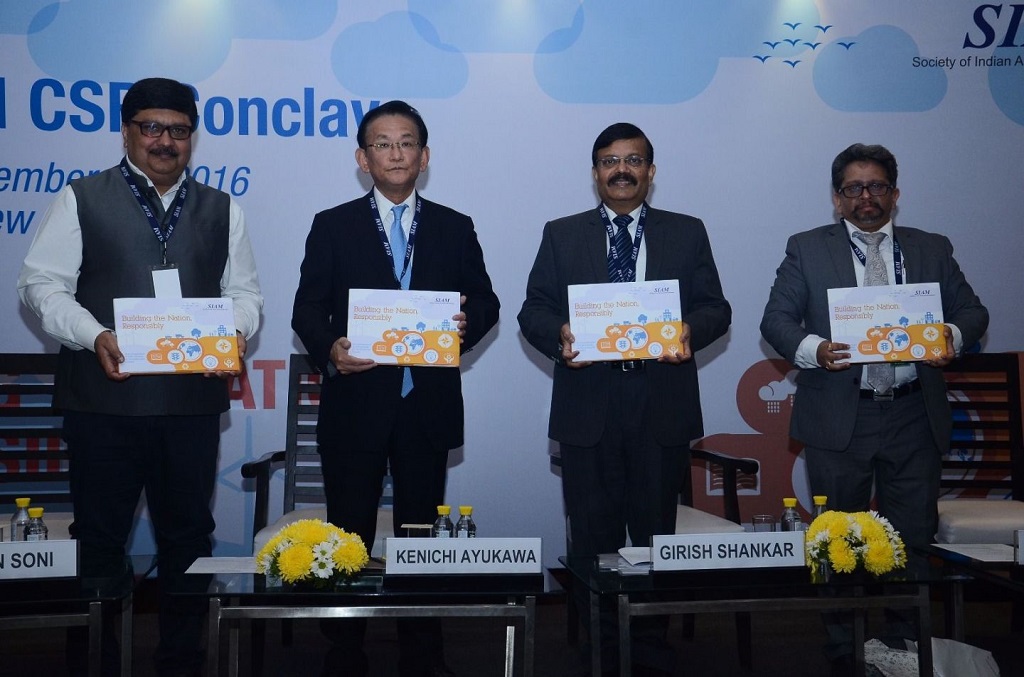 Mr. Habib Sayyed, Social Activist, Hiware Bazar talked about how collective efforts have changed life and the environment in Hiware Bazar. He also said that communities should also be made to contribute in CSR initiatives of corporate to make sure that they are responsible towards the initiative.
Mr. Vikram S Kirloskar, Past President SIAM & Vice Chairman, Toyota Kirloskar Motor, talked about how Toyota Kirloskar Motor started the initiative of building toilets and making sure that people have good sanitation and clean water even before our Prime Minister started Swaachh Bharat initiative. He also stated how such initiatives were taken up in various villages from the ground level by understanding the situation of the people and mainly focusing on improving their hygiene.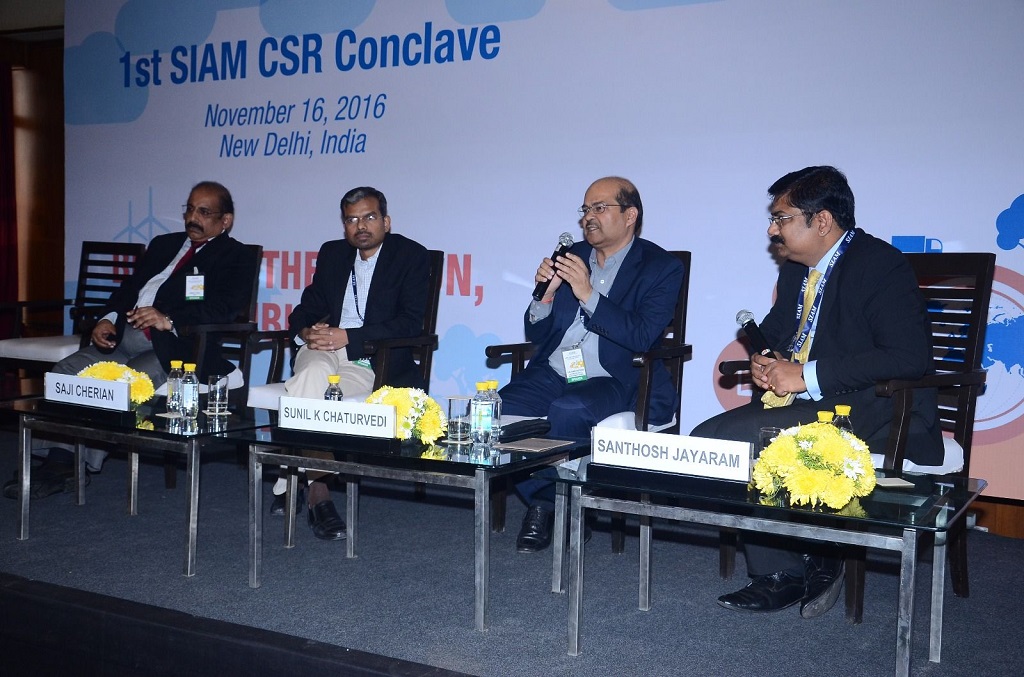 Mr. Bezwada Wilson, Safai Karamchari Andolan emphasised on the fact that corporates should focus CSR initiative toward areas which was not explored earlier. Citing prevalence of caste system in the country and discrimination against manual labourers, especially dalits, he appealed to corporate and government to focus a part of their CSR initiatives in coming up with technology which could reduce the pressure on the labourers.
During the Health and Sanitation session, Mr. Ajay Khera, Public health specialists and Deputy Commissioner at Ministry of Health & Family Welfare, GoI, said "One very important area of health in the country which needs attention is the health of mother and children, without which there cannot be a healthy population or socio-economic development."
Mr. Sunil K Chaturvedi, CEO, Automotive Skills Development Council talked about how road safety was a national issue in the Country and alongside addressed the issue of setting skill standards and training. Commenting his view on CSR, he said, "CSR should be Corporate Sustainability through Social Responsibly (CSR) where corporate should look at their own sustainably."
Mr. Saji Cherian, Director Operations, Save LIFE Foundation also said, "Road safety can be considered as a public health that the country is facing". He further said that from CSR perspective, focusing not just on activities like education and awareness of road safety but looking at projects which gives an impact assessment data/risk factor makes sense.
During the last session of the SIAM-CSR Conclave, the collective thought which emerged was to involve all stakeholders and work in cohesion to ensure more comprehensive results.
"Instead of over-committing, it would be better to understand the need of the people and then address it in a manner which actually alleviates their problems," Mr. Vikram S Kirloskar, Past President, SIAM and Vice Chairman, Toyota Kirloskar Motor said.
Mr Ashoke Joshi, Former Secretary to Govt. of India & Chairman, Srinivasan Services Trust, TVS Motors talked about how CSR can be optimised by involving three stakeholders – Target groups, Companies and the Government.
He spoke of his organisation working in five thousand villages where they address the two most vulnerable groups of people – the women and the children- by empowering the women and looking after the health and education of the children.
Mr. Gajendra Chandel, Member Corporate Steering Committee and CHRO Tata Motors, said, "Every company have their special focus area in which they deal. Our aim is to work towards health, education and skill development. We have been building our own health centres in all our plants, which also caters to the general public."
At the end, SIAM wrapped up by saying that they will try to bring all members under a joint initiative and try to develop a model village where different companies can take up different activities to optimize resources.