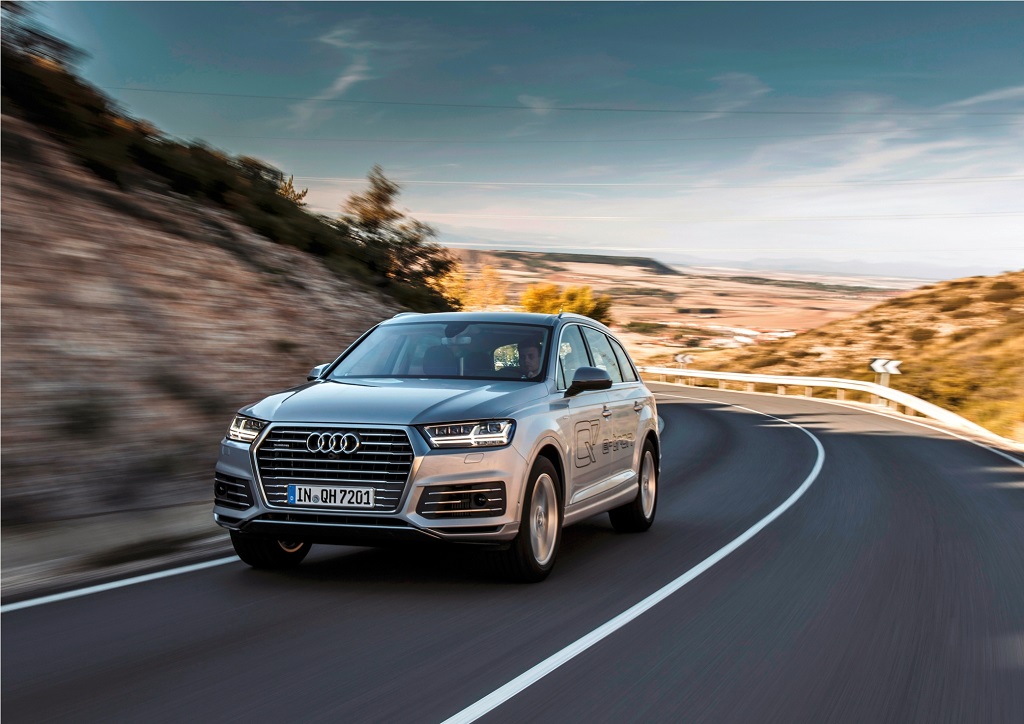 Around 132,350 deliveries in the month, up 2.9 percent
Sales chief Dietmar Voggenreiter "Sales growth for 80 months in a row is testimony to Audi's sustainable success"
Globally balanced growth in all core sales regions 
AUDI AG delivered around 132,350 cars to customers in August. As such, global sales exceeded the prior-year month by 2.9 percent. Most recently, the demand for automobiles with the Four Rings developed positively especially in China (+8.8%), the United Kingdom (+13.2%) and Spain (+23.3%). By contrast, weaker conditions of some markets in South America, Eastern Europe and the Middle East were also reflected in Audi's sales balance. Cumulative global sales increased by 4.9 percent since January to around 1,234,900 cars and are up in all the brand's core regions: in Europe (+7.4%), Asia-Pacific (+3.8%) and North America (+5.2%).
"In August, Audi achieved its 80th month of growth in a row. This impressive sequence shows that our business is geared towards solid long-term success," says Dietmar Voggenreiter, Board Member for Sales and Marketing at AUDI AG. "In a generally difficult market environment, a healthy, sustainable development is therefore the top priority for us."
In Europe, Audi increased its deliveries by 6.6 percent to around 48,750 units in August. The cumulative increase in the region is thus 7.4 percent; around 572,450 customers decided to buy an Audi since January. In the past month, the Four Rings continued to grow sharply in Spain (+23.3% to 2,935 cars); France also achieved substantial growth of 7.7 percent totaling 3,987 sales. In the United Kingdom too, where the generation changeover for the A3 model had led to decreasing sales in July, figures picked up again for Audi in August with an increase of 13.2 percent to 6,336 customers. In Germany (+10.9% to 17,678 cars), the company exceeded the 200,000 deliveries mark just after eight months for the first time; here cumulative sales expanded 11.6 percent to 208,378 units sold since January.
The new A4 made a substantial contribution to the positive month in these markets, increasing 60.1 percent to around 12,850 units in the whole of Europe. In August, Russia remained one of the countries where overall demand in the market fell. Audi sold 1,650 cars in the country, 25.0 percent less than one year ago. In Turkey (-46.7% to 853 cars), sales in August were also below the prior year's month following the challenging market environment.
In the U.S. market, Audi of America continued to grow with 19,264 cars delivered in August, up 2.5 percent. Despite the recent lower market pace and falling sales in the premium competition, Audi continues to achieve new record-breaking figures month after month. From January through August, sales went up 3.5 percent year-on-year to 134,562 units. The brand's SUVs in particular remain a firm favorite among U.S. customers; in August sales of the Q models increased 9.1 percent to 9,004 units. While Canada (+6.9% to 2.597 cars) also played its part in the continued positive development in North America in the past month for Audi overall, the passenger car markets in South America again proved more challenging. In Brazil, the region's largest market, Audi closed August with 1,065 cars delivered to customers, 24.5 percent less than one year ago.
By contrast, the company's sales in China once again were very positive year-on year: 49,154 deliveries in August represent an 8.8 percent increase. Once again, growth for Audi was fueled particularly by its premium compact models. Demand for both the A3 (+25.7% to 7,444 cars) and for the Q3 (+45.6% to 8,121 cars) continued to rise sharply in the month. Across all models, the brand sold 385,734 cars in China since the beginning of the year, a year-on-year increase of 6.8 percent. Additionally, the new A4 L is currently being premiered in Chinese dealerships and is set to continue its predecessor's success story. With this model, Audi became the first premium manufacturer to offer a long-wheelbase sedan also in the mid-size segment from 2009 onwards. Since then the annual sales figures for the A4 have increased roughly sixfold in its largest global sales market.
Sales for
AUDI AG
In August 
Cumulative
2016
2015
Change from 2015
2016
2015
Change from 2015
World
132,350
128,647
+2.9%
1,234,900
1,176,992
+4.9%
Europe
48,750
45,769
+6.6%
572,450
533,031
+7.4%
Germany
17,678
15,934
+10.9%
208,378
186,657
+11.6%
UK
6,336
5,598
+13.2%
107,825
104,792
+2.9%
France
3,987
3,702
+7.7%
41,636
39,532
+5.3%
Italy
3,202
3,278
-2.3%
41,578
36,170
+15.0%
Spain
2,935
2,380
+23.3%
36,522
31,747
+15.0%
USA
19,264
18,794
+2.5%
134,562
130,063
+3.5%
Mexico
1,261
1,258
+0.2%
10,014
8,984
+11.5%
Brazil
1,065
1,410
-24.5%
8,762
11,548
-24.1%
China
(incl. Hong Kong)
49,154
45,196
+8.8%
385,734
361,315
+6.8%