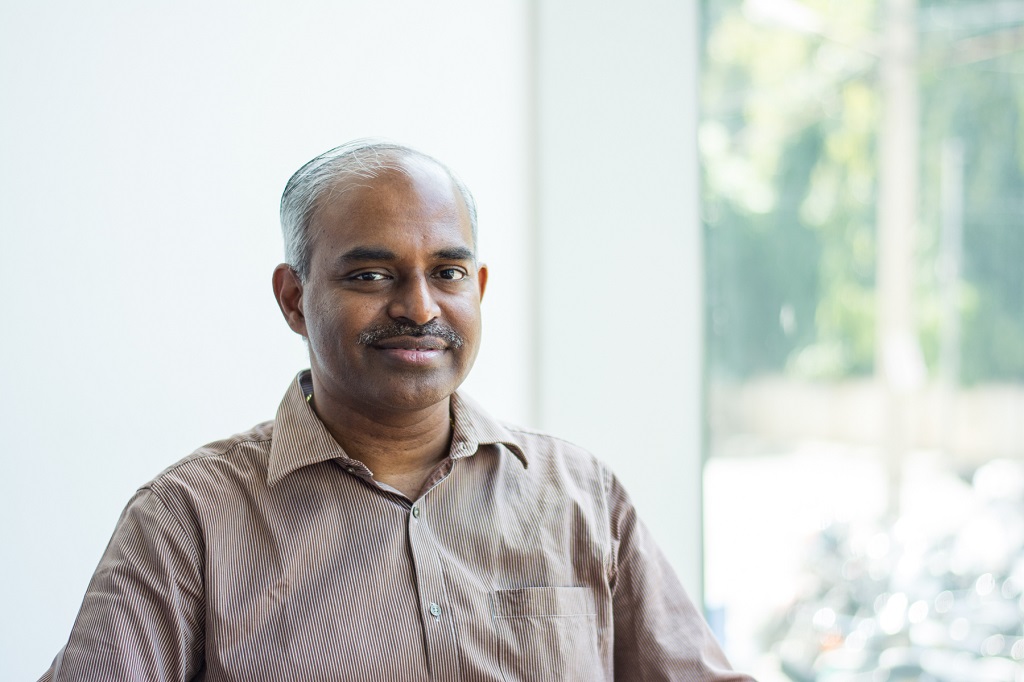 Bangalore, 20th June, 2017: Ather Energy, the smart electric two-wheeler start-up, today announced the recent hire of Vice President of Vehicle Development, Thiruppathy Srinivasan (Thiru).
"Having worked around the world and in India, I am convinced of the great capability here to engineer innovative product concepts. Especially our young engineers with guidance from seniors from industry and academia have been developing exceptional product concepts, as seen with many IIT Madras incubated companies recently.  Ather Energy is among the best of them and have assembled a great team producing a product design with no compromises.  Guiding the team in taking the design through development, along with supplier partners, into production and successfully into the market is an opportunity I am truly delighted to take up,"  said Thiru. "In the past few months I have been with them, I have enjoyed the great level of openness, diligence, enthusiasm, and high sense of purpose of the team."
"Thiru joins Ather with over 25 years of experience in product organisations and with a number of product launches under his belt. His knowledge of new product development and introduction will be a tremendous advantage for a startup like Ather." said Tarun Mehta, CEO, Ather Energy. "His exposure to the product vendor ecosystems in India, China as well as in countries like Singapore and the United States, gives us a strategic advantage in the prototyping cycle of the S340 and in our future products."
Thiru also serves as a Senior Advisor of Industry Relations at the Center for Industrial Consultancy & Sponsored Research, IIT Madras.  In this role he advises Industry and IITM faculty on Technology and Capability development in Manufacturing towards global leadership.
Thiru started his career in 3M after completing his Masters in Mechanical Engineering from The Ohio State University, USA. Eventually, he moved to Iomega (now Lenovo) supporting their worldwide design centers and factories in sourcing components from Asia. In 2002, he joined Rexnord as its Director of Global Quality in the Bearing Products Division.
He moved back to India in 2003 to serve as the Director of Sourcing for Tyco Healthcare (now Medtronic) managing their Bangalore and Shanghai offices. After a stint at IMI International, he joined AO Smith as Director of Operations, India in 2008. Thiru played a key role in establishing their Green Field Manufacturing Operations in Bangalore. In 2012, he joined  Ariv Technologies as their Managing Director and currently serves on their Board of Directors.
About Ather Energy:
Ather Energy Pvt. Ltd. is an automobile design and manufacturing company founded in the year 2013 by IIT Madras graduates – Tarun Mehta and Swapnil Jain. Ather is committed to building smart, connected, uncompromising vehicles and seeks to reimagine urban commute with the help of technology. The company has so far received funding from Hero MotoCorp, Tiger Global and Flipkart founders Sachin and Binny Bansal. The team of about 200+ employees is currently developing an electric two-wheeler, which will be completely designed and made In India. They are presently in their stage of product testing and vendor finalization for their first product, the S340. Ather is also setting up a charging network with its own smart charging pods. These fast charging pods will be set up initially across its three market cities – Bangalore, Chennai & Pune.