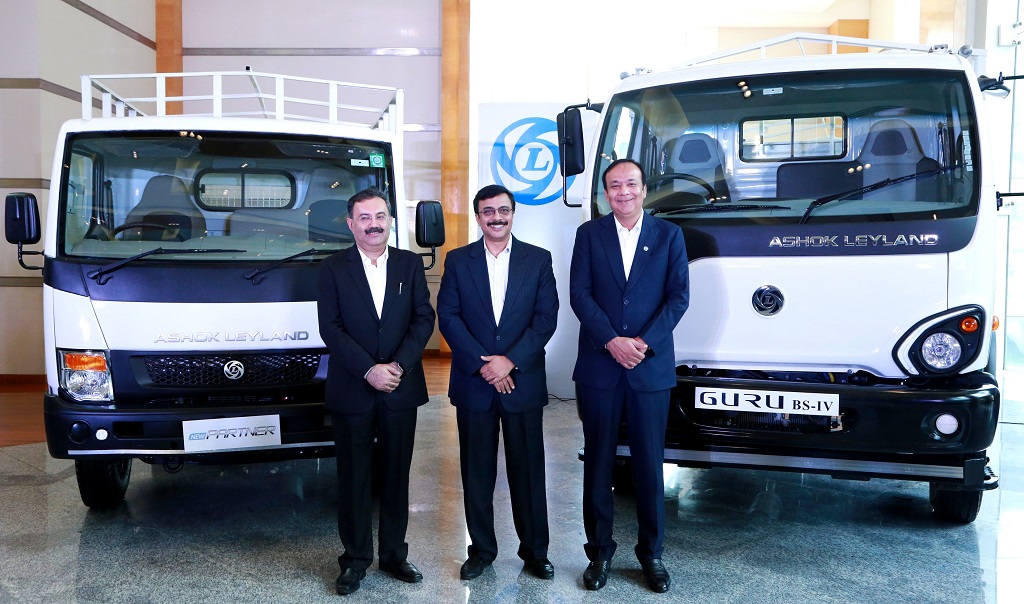 Key highlights – 'GURU':
Addresses the growing rated-load ICV segment
Offers best-in-class mileage, making it the most fuel-efficient truck in its segment
Offers the highest actual payload for a 13T GVW truck
Comes with highly reliable and robust aggregates
Features an innovative, first-of-its kind sleeping provision in a day cab –'GURU''s cabin has been designed keeping the driver's safety and comfort in mind
 Key highlights – 'PARTNER':
Latest LCV product to address the growing hub and spoke transportation model
Based on internationally acclaimed platform
Powered by the advanced, efficient ZD30 Common Rail diesel engine – BS IV
Available in 4-tyre and 6-tyre variants, with class leading payload in the LCV segment
Modern Euro cabin with factory-fitted AC option
18th January, 2016, Chennai: Ashok Leyland, flagship of the Hinduja Group, and one of the largest commercial vehicle manufacturers in India, launched the 'GURU'– the latest Intermediate Commercial Vehicle (ICV) and the 'PARTNER' – the new Light Commercial Vehicle (LCV) in Chennai today. 'GURU' offers an ideal combination of best-in-class fuel efficiency and highest actual payload, ensuring maximum returns for its owners. After the commercially successful 'DOST', 'PARTNER' is India's first air-conditioned LCV goods vehicle with best-in-class comfort from Ashok Leyland. 'GURU' has been launched in the price range of INR 14.35 lakhs to 16.72 lakhs including VAT and the PARTNER 6-tyre, 14 ft HSD BS IV is priced at INR 10.59 lakhs and PARTNER 4-tyre, 14 ft HSD BS IV is priced at INR 10.29 lakhs. Prices are ex – Showroom, Chennai.
Speaking at the launch, Mr. Vinod K. Dasari, Chief Executive Officer and Managing Director, Ashok Leyland Ltd. said, "Ashok Leyland has upped the ante over the last few years and that reflects in our results. An integral part of this performance is our winning product portfolio which delivers superior returns for our customers and we believe this is the reason we are growing our market share across markets. Two indispensable products in this strategy are the 'GURU' and the Next Generation 'PARTNER', our latest offering in the ICV and the LCV segment, respectively. With these launches, we have further strengthened our position in the market and are closer to our vision of emerging as one of the top 10 truck makers, globally, by significantly increasing the market share in ICV and LCV segments."
According to Mr. Anuj Kathuria, President, Global Trucks, Ashok Leyland Ltd., "Ashok Leyland has always focused on delivering the right product to its customers and 'GURU' is our latest offering. ICV is one of our key focus areas to achieve our vision in trucks and with the 'GURU', Ashok Leyland will further increase its market share in the Competitive ICV segment. 'GURU' helps customers increase their revenue stream by having the best payload and ensures maximum uptime, thanks to robust and reliable aggregates. Launched at a competitive price point, 'GURU''s best-in-class fuel efficiency, combined with longer tyre life, will help reduce operating costs for customers. Reinforcing our brand promise of 'Aapki Jeet, Hamari Jeet', 'GURU' will help our customers maximise profits by increasing revenue and reducing operating costs. "
Speaking at the launch, Mr. Nitin Seth, President – Light Commercial Vehicles, Ashok Leyland, said, "We are delighted to present this LCV from the Ashok Leyland, the 'PARTNER'  –the Indian industry's first truck in its segment with an Air Conditioned (AC) cabin and equipped with a BS-IV engine. With the launch of 'PARTNER', we have stayed true to our LCV mission – to deliver to the Indian customer, contemporary products that deliver best-in-class user experience, coupled with exceptional efficiency. This is an exciting addition to our LCV portfolio and we are confident that we will delight the customers and continue the successful winning streak with 'PARTNER', like that of the 'DOST'."
 ABOUT GURU:
'GURU''s new-age stylish cabin, built with highest safety standards caters to the demand and overall comfort of the driver community. Ashok Leyland has paid great attention to detail by providing an innovative, first-of-its-kind sleeping provision in the day-cab to enhance driver comfort. It also features an ergonomically positioned driver seat that helps reduce blind spots, and a four-spoke tilt and telescopic steering wheel to easily manoeuvre tight turns. Featuring LED parking lamps and an all metal asymmetric front fascia, the 'GURU', carrying the tagline "Business ka naya andaaz", is meant for the aspirational and dynamic, modern day customer.
ABOUT PARTNER:
'PARTNER' brings to the Indian customer the latest LCV technology from Europe and Japan. This next-generation truck, focuses on driver comfort and sports a modern Euro cab with spacious car-like interiors and offers global levels of performance and efficiency. With a Gross Vehicle Weight (GVW) of 6 T and 7.2 T, the 'PARTNER' will address various applications like parcel goods, durables, perishables and FMCG products, among others. With a tilt-able cabin for service accessibility, a choice of load body options and optional HVAC (Heating, Ventilation and Air-Conditioning) system, the 'PARTNER' is sure to win the hearts of demanding customers. All of this is provided in a truck that, true to the lineage of Ashok Leyland LCVs, offers exceptional fuel efficiency.
The 'PARTNER' is powered by the advanced ZD30 Common Rail diesel engine, which ensures superior fuel-efficiency and better turnaround time. It is future ready and compliant with the upcoming BSIV Emission Norms. The 'PARTNER' has a host of features like power steering with tilt adjustment and cable-operated gear shifter for superior driver comfort. The company is offering an engine and transmission warranty of 3 years/3 lakh kms whichever earlier and a standard warranty of 1 year/unlimited kms on the overall vehicle. 'PARTNER' will be made available to customers through its 375 outlets across the country.
'GURU' and 'PARTNER' will be launched in a phased manner across the country.