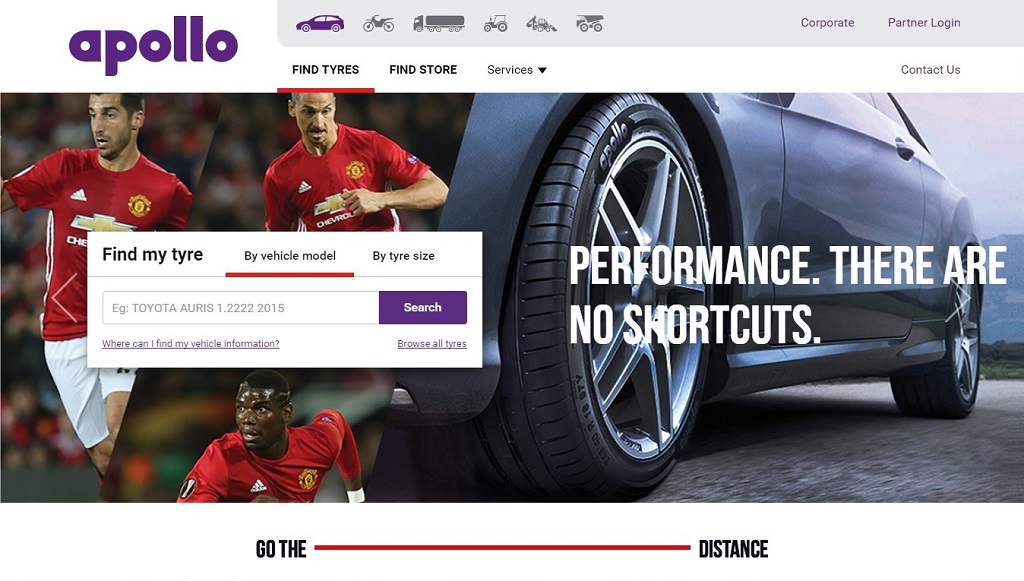 Future ready website gives higher user-friendly experience
The international tyre major, Apollo Tyres today unveiled its new brand and corporate website (www.apollotyres.com). The website has been designed to give a more user-friendly experience, making it convenient for the customers to find the right tyres for them, and also to buy it quickly and easily, by locating the closest dealers and driving business to the company's dealers.
The website has a clean uncluttered design and enhanced rich content enabling an easy navigation between various tyre categories and respective brand sites to the corporate site and vice-versa. Incorporating the latest design elements, this website has a responsive design making it compatible with leading browsers and various devices, including mobile.
Designed and developed basis a user research conducted, the website is in line with the company's product/ digital communication strategy. A thorough research was undertaken by speaking with both consumers and dealers in the Asia Pacific, Europe, Middle East and Africa region to gain insight into their tyre purchasing habits, challenges and preferences. The learning from this research helped the design process and has led to a host of new features on Apollo's site, in addition to an improved user experience. The website is future ready and has been designed so that new features can be easily added based on market requirements.
Commenting on the launch of the new website, Marco Paracciani, Chief Marketing Officer, Apollo Tyres Ltd, said "As a company, we have always believed in keeping our customers at the forefront of all our activities. The new user friendly website that we have launched today, with enhanced features, will help us in our ambition of being a global tyre brand. I would like to thank our partners for helping us create this site, which I am sure, will provide an enriching digital experience to our customers. On similar lines, we will soon be launching a refreshed Vredestein website as well."
The new website is equipped with the following features:
 A smart tyre finder: Customers to Apollo's site can make an informed decision on which tyre to buy for
their vehicle, as they get the suggestions on the right tyre, along with its attributes
 Dealer finder: Once the tyre is chosen, the customers can easily find their closest dealer; the website
helps drive the traffic to the dealers
 Personalisation: The website will boost the discoverability of tyres based on users behaviour on the
website
 Mobile: The site allows for a seamless experience across all devices