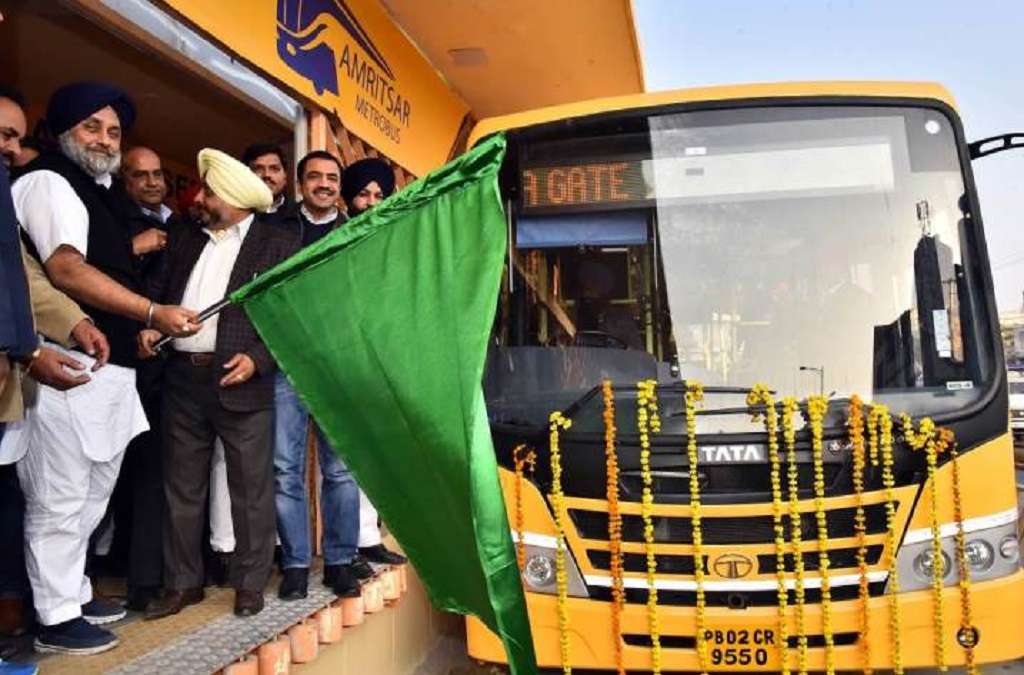 Free ride to the passengers on Metro buses till 31st December 2016
"Dream big, to achieve big," says Dy CM, S. Sukhbir Singh Badal
The holy city Amritsar has joined the premium league of cities to boast of Bus Rapid Transit System (BRTS). With Punjab's Deputy Chief Minister Mr. Sukhbir Singh Badal inaugurating the first phase of BRTS at Amritsar today, state's development process has reached even higher trajectory.
Amongst the very few cities in the country to have BRT system, Amritsar will offer last mile connectivity when it gets fully operational. In the first phase, the bus would traverse from India Gate on the Amritsar-Attari bypass road to the Amritsar railway station. Within two months, it will connect all important destinations in the holy city.
Elaborating on Punjab government's one of the most ambitious project, Deputy Chief Minister, Mr. Sukhbir Singh Badal said, "I, in true Punjabi spirit firmly believe that we have to dream big to achieve big. To translate our big dreams into reality, we need to build on our existing strengths and resources to create a robust and integrated system as a whole. In a bid to offer efficient, reliable and sustainable transport facility, we have introduced Bus Rapid Transport System at Amritsar."
"This will reduce travel time by offering safe & fast commuting option and will also considerably reducing traffic congestion and pollution. Changing the people's perception about public transport in the state, this will surely fill in a sense of pride in everyone," added Mr. Badal.
Running on the pattern of metro, 93 air-conditioned buses will operate on the 31-km-long special corridors. This will offer metro like level boarding alighting for passenger comfort. Besides, special ramps for differently abled persons have been set up along with a provision for wheelchairs.
The buses under the system would connect various parts of the city through a world-class audio-visual passenger information system. The buses would be equipped with GPS devices and cameras and would have automated fare collection system and smart cards.
With an aim of achieving the comfort and quality of metro rail while keeping the cost down, the BRT system involves deployment of buses in a closed or semi-closed network. This is ideal for the rapidly growing Indian cities to decongest roads while offering efficient public transport system.
Currently operational only in 168 cities across the world, BRT ferries 3,08,91,743 passenger per day in a network spread at 4,424 km.