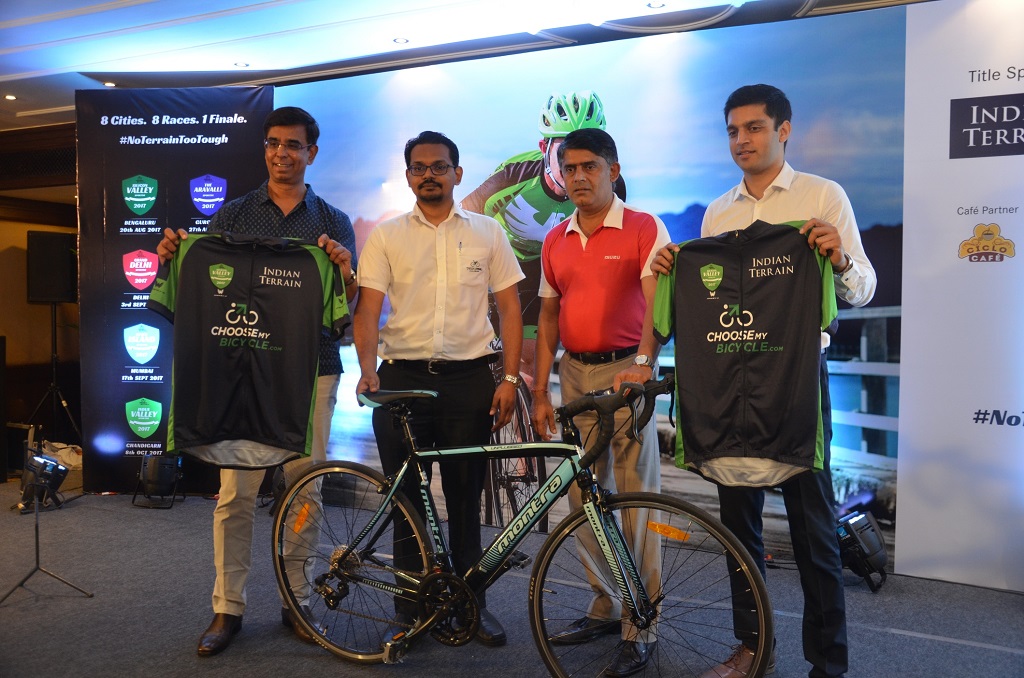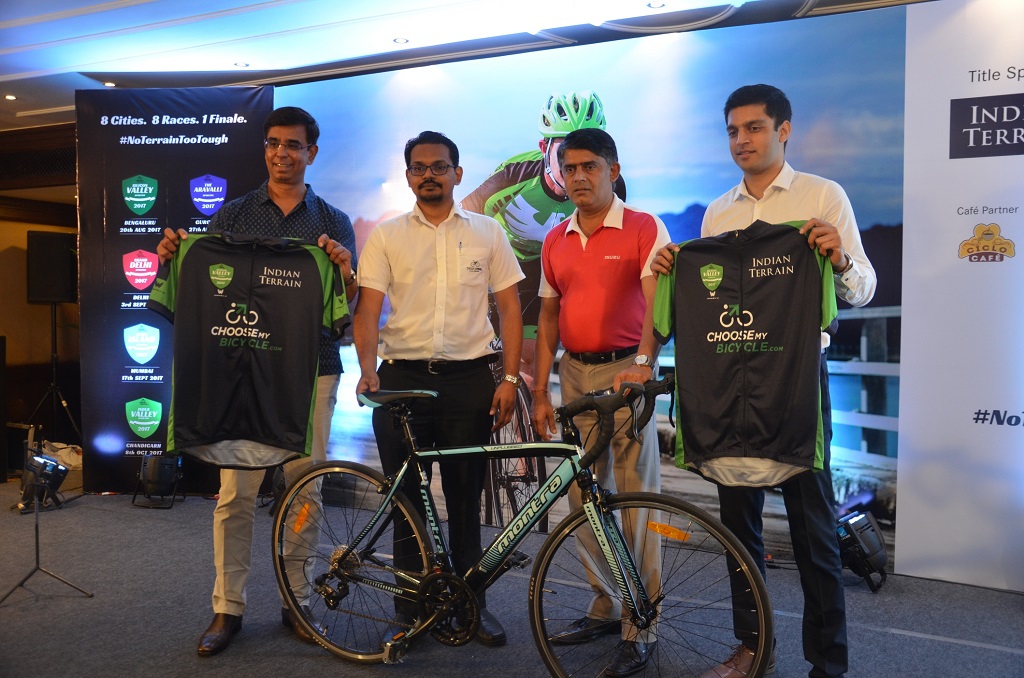 The Champions Sportive Series is a multi city cycling championship format, spread across 8 cities, that is being conducted for the first time in India
10thAugust, 2017: Indian Terrain Fashions Limited, along with Montra and ChooseMyBicycle.com brings 'The Champions Sportive Series' to India. The announcement along with the unveiling of The Champion Sportive Series shield, was done by Mr. Venky Rajagopal, Chairman and Managing Director, Indian Terrain Fashions Limited; in the presence of Mr. Kailash S, Head Marketing, T.I Cycles of India, Mr. Rohit Kuttappa, Chief Executive Officer, ChooseMyBicycle.com, and Mr. K R Capt. J Shankar Srinivas, Sr. General Manager, Communications, PR and External Affairs, ISUZU Motors India Pvt. Ltd.
The Champions Sportive Series is a competitive cycling event for amateur cyclists, spread across 8 cities in India. The event format is split into two parts comprising of a competitive leg (100km race) and non-competitive part of the event (50kmride). The top 3 winners (Men and Women) from the competitive leg from each city, will get a chance to ride at 'The Champions Sportive Series–Grand Finale' in Delhi, against the winners from all 8 cities. The event is conducted in line with international sportive standards, and will boast of the best of safety and ride measures across the routes.
Speaking on The Champions Sportive Series, Mr. Venky Rajagopal, Chairman & Managing Director, Indian Terrain Fashions Ltd, said, "Indian Terrain believes in a 'Lifestyle' which has well being and fitness as integral to the persona of our consumer. In perusing this belief, we are partnering with Choose My Bicycle to sponsor the 'Champions Sportive Series' and we believe that this will spread the awareness of the sport for both fitness and doing our bit to reduce our community's carbon foot print.''
Being at the forefront of the cycling revolution in India Mr. Kailash S, Head Marketing T.I Cycles said, "Montra's vision is to make performance cycling accessible to all. Through the Champions Sportive event, we want to create a platform for amateur cyclists to experience competitive cycling."
Speaking on the occasion Mr. Rohit Kuttappa, Chief Executive Officer, ChooseMyBicycle.com said: "The growth of cycling as a sport over the years has been phenomenal. We consider The Champions Sportive Series as the ideal platform for motivated amateur cyclists across India to part-take in this 8 city cycling championship, towards the endeavor of positioning cycling as a mainstream sport for all."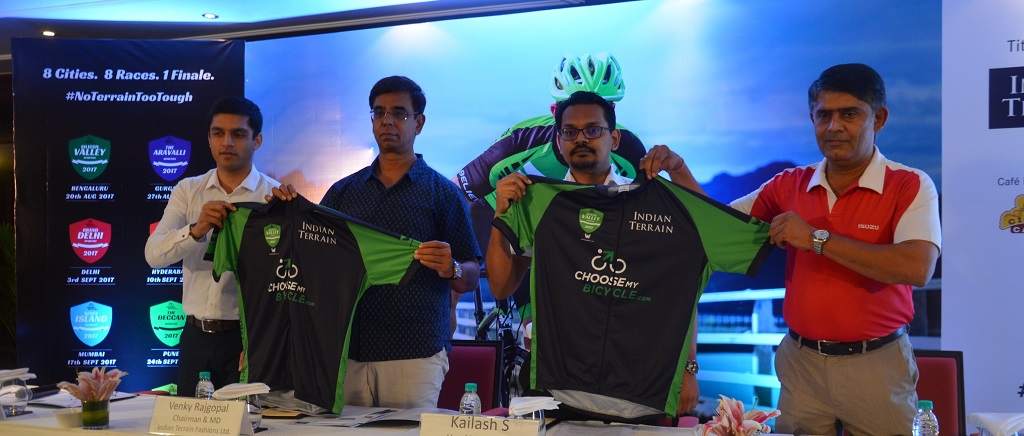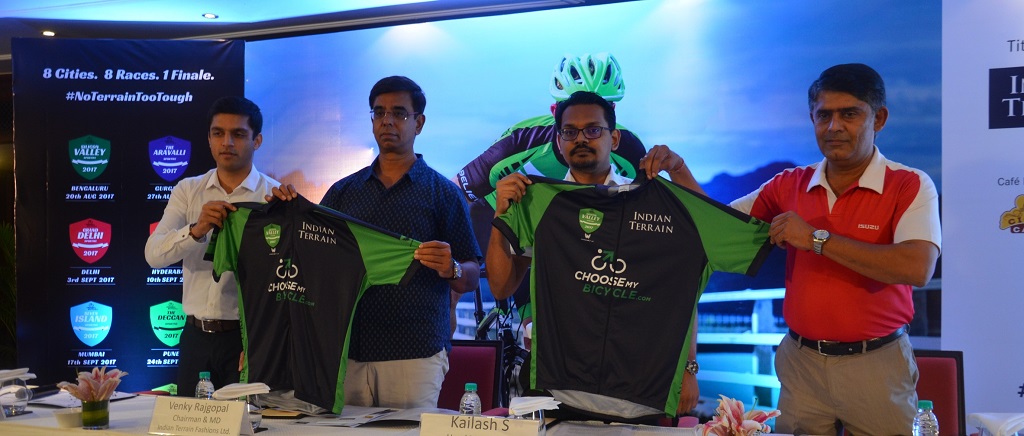 Speaking about the association, Capt. J. Shankar Srinivas, Sr. General Manager, Communications, PR and External Affairs, Isuzu Motors India, said, " Fitness is an essential part of a healthy lifestyle and this trend is fast catching up in India. Cycling has taken a lead in the minds of health conscious people. Cycling is not only a good fitness pastime but is equally reflective of an adventurous outdoor attitude to explore nature. The ISUZU D-MAX V-Cross is a vehicle that complements this attitude of adventure and outdoor and more importantly to travel the unbeaten path. We are happy to be associated with this event as an AUV partner".
About The 'Seven Island – Mumbai (17th  September 2017)
The Indian Terrain 'Seven Island Sportive' event will comprise of a 104 km endurance race, and a 54 km ride. The 104km race will be the competitive leg of the sportive, while the 54 km segment will be a leisure ride. The Top 3 Men and Women in the 104 Km endurance race, will qualify for an accredited championship race  (Grand finale) with the winners from the other cities.
Event Location: Mumbai
Event Date: 17th September 2017
Event type: Road endurance
Start venue: Track and Trail Store, Bandra
Reporting time: 5:15am
104km Start time: 6:00am
54km Start time: 6:10am
REGISTRATIONS CLOSING DATE: 16th September 2017
ANNEXURE:
The Individual city edition events will see some of the top amateur and semi-professional men and women cyclists, who will compete to be champions in their respective cities. These winners will then have a shot at the Champions Sportive, to be crowned the top amateur cyclist in the country.
Indian Terrain's The Champion Sportive Schedule
| | |
| --- | --- |
| Silicon Valley Sportive(Bangalore) | 20thAugust 2017 |
| Aravalli Sportive(Gurgaon) | 27th August 2017 |
| Grand Delhi Sportive(Delhi) | 3rd September 2017 |
| Golconda Sportive(Hyderabad) | 10th September 2017 |
| Seven Islands Sportive(Mumbai) | 17th September 2017 |
| Deccan Sportive(Pune) | 24th September 2017 |
| Indus Valley Sportive(Chandigarh) | 8th October 2017 |
| Madras Superstar Sportive(Chennai) | 15th October 2017 |
| Champions Sportive(Grand Finale- Delhi) | Date to be finalized |
The Champion Sportive Website: www.championssportive.com
SHIELDS OF THE 8-CITIES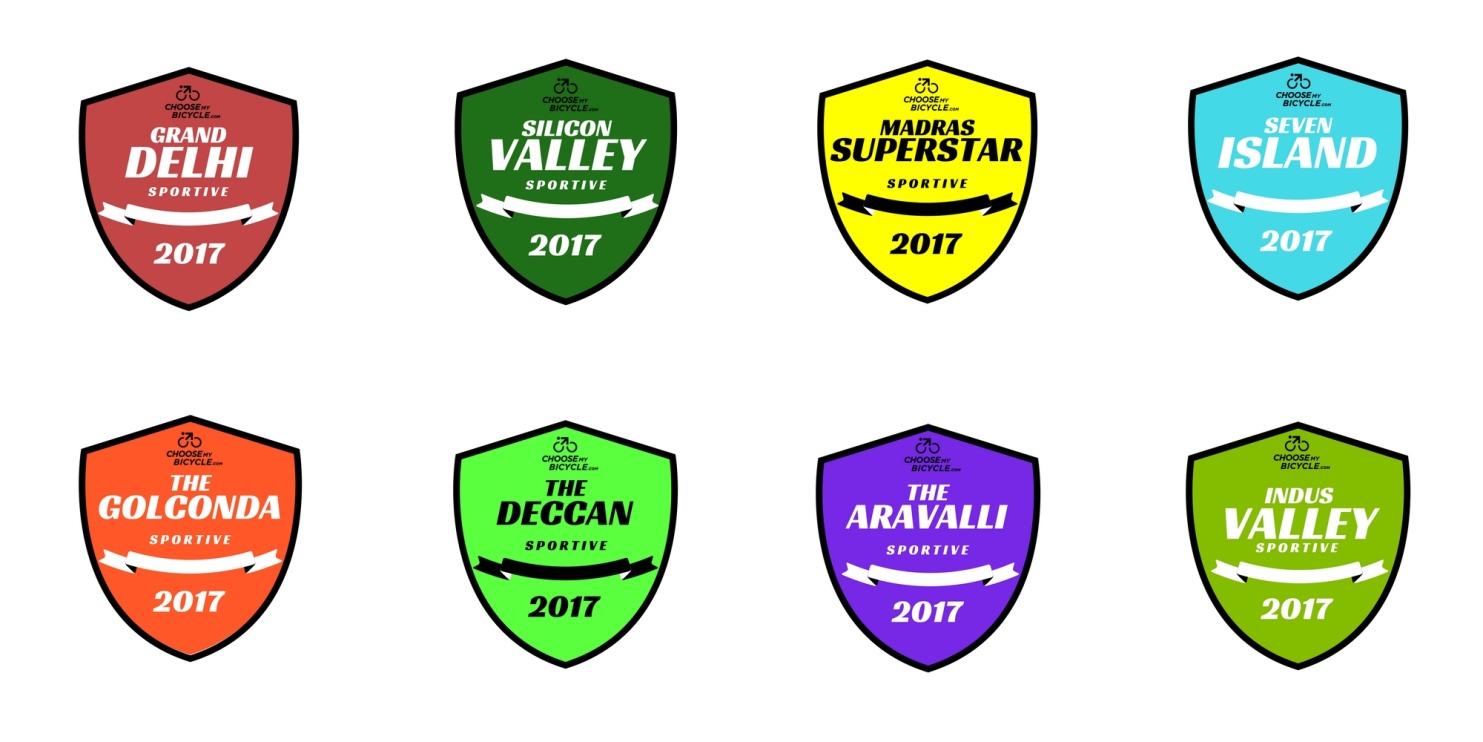 About Indian Terrain
Indian Terrain Fashions Ltd.[BSE:533329|NSE:INDTERRAIN]is one of India's leading menswear brandsoffering complete range of premium smart casual wear for men & boys. Having opened its first store in September 2000, the company was listed in 2011, following a demerger from its parent company. The range of men's apparel includes Shirts, Trousers, T-Shirts, Shorts, Mufflers, Knitwear, Jackets, and Denim & Accessories. With a turnover of over Rs.600 crore, the company today retails across the country throughmore than 800 Multi Brand Outlets, 210 doors of Large Format Stores, over 140 Exclusive Brand Outlets, and is available through online stores as well. Today, Indian Terrain is construed as a lifestyle brand and keeping in line with this imagery, we have always been associating ourselves with a cycling as a sport. To initiate this association, we were title sponsors of the tour of Nilgiris, India's most loved bicycling tour for two consecutive years 2015 & 2016.
About T.I Cycles
Brand 'Montra' was launched by TI Cycles of India in 2009. Today, Montra is the largest performance bicycling brand in India. Montra has played a pivotal role in making performance cycling accessible to the Indian consumer. The brand is committed to build a vibrant cycling community in India. The brand has Jonty Rhodes, South African cricket legend, as its ambassador. Montra has been the pioneer in introducing many product categories to India. Montra was the first indigenous brand to have launched Hybrid bikes, Road bikes and Fat bikes in India. Techno was India's first domestically manufactured carbon bike. Today, Montra is the largest selling home grown performance cycling brand having sold more than 50,000 cycles in the last 6 years. Montra continues to dominate the Indian performance cycling market with more than 45% share in the segment. The current Montra range has an offering of 29 bikes in Hybrid, Road, MTB, Urbansport, Recreational and Kids segments. This range is fully designed in England and comes with a lifetime warranty on all its bikes. TI Cycles of India, a Unit of Tube Investments of India Ltd., (TI) is one of the leading bicycle manufacturers in India, is a part of INR 295 Billion Murugappa group. TI Cycles has been at the forefront of innovations and is a pioneer in the market of bicycles.
TI Cycles has 4 brands- BSA, Hercules, Mach City and Montra, which cater to a wide variety of distinct consumer segments.  Apart from a strong 1400 direct dealer network, TI Cycles has established retail formats for marketing its brand of cycles, fitness equipment and accessories. TRACK & TRAIL, TRACK & TRAIL SPORT and BSA HERCULES EXCLUSIVE are the 3 retail formats which provide customers a satisfying and value for money experience. The company has recently ventured into the lifestyle recreation space with the opening of India's first bicycling theme café in Chennai, Hyderabad and Gurgaon – "Ciclo Café". The company organizes over 1000 activities promoting cycling every year.
The Company has 3 plants and 11 warehouses through which it serves its dealers & retail network.
ChooseMyBicycle.com
ChooseMyBicycle.com is a 360 degree bicycle e-commerce portal. It operates 5 verticals that cover the entire eco-system of bicycles and bicycling in India. The 5 verticals are as follows: (1) E-commerce portal for bicycles, (2) E-commerce for bicycle accessories and apparel (3) Experiential bicycling events division for amateurs and professionals (4) Content division with bicycle reviews, news, tips and more (5) Bicycle service at home. ChooseMyBicycle.com is headquartered in Chennai but operates across key cities in India. The company is headed by the two wheeler industry veteran and legend, Mr. R L Ravichandran who is famed for turning around the iconic Royal Enfield brand amongst others. This unique start-up is focused on leveragingtheir online portal, along with their experiential events arm, to create the best ecosystem for cyclists in India, with the tagline 'KEEPCYCLING'.
About Ciclo Cafe
Absolute Specialty partnered with TI Cycles to set up Ciclo Café with a vision to bring together members of the cycling community, increase awareness about cycling and foster cycling excellence in the community.
Ciclo Café; currently present in Chennai, Hyderabad & Gurgaon and coming soon to Bangalore & Coimbatore, has grown to be a hub for cycling and sports enthusiasts with top-class facilities for sales & service of premium bicycles, cycling merchandise and accessories, in-store expert advice on cycling, regular rides and tours – all accompanied with world-class hospitality in the form of premium F&B services with international cuisines.
About Isuzu
Isuzu Motors, a renowned Japanese manufacturer of commercial vehicles, utility vehicles and diesel engines, established its operations in India in the year 2012. Globally renowned for its reliable, durable and long-lasting vehicles, ISUZU makes the popular D-MAX range of pick-ups and the mu-X Sports Utility Vehicle in India. ISUZU launched the V-Cross – India's First Adventure Utility Vehicle – a premium lifestyle pickup with a capable 4WD that makes it a strong combination of an SUV + off-roader. With its premium SUV styling, features and practicality of the utility deck, the V-Cross is the ideal fit for people who have a distinct passion for adventure and embrace their individuality.
The V-Cross – India's First Adventure Utility Vehicle has won the 'Lifestyle Vehicle of the Year 2017' awards from Overdrive and BBC TopGear India magazines.