The platform offers real-time location, maintenance planning and theft monitoring to OEMs for connected cars
The Aeris IoT Automotive Services platform enables original equipment manufacturers (OEMs) to customize connected vehicle solutions in order to create a better driving and ownership experience.
Aeris offers complete automotive services—as well as a delivery platform—that allows secure, embedded telematics to easily integrate and connect with a vehicle. To further ease the process, notifications and updates can be delivered remotely via an smartphone.

The Aeris IoT Automotive Services platform includes a control client in a vehicle that obtains location, manages communications, and handles services delivery; a services catalog, with an extensive set of micro-services; an over-the-air (OTA) manager that updates software in the vehicle remotely, adding new services, patching security bugs, and more; application programming interface (API) gateways that easily connect to OEM systems or municipal systems and easy integration with third-party systems.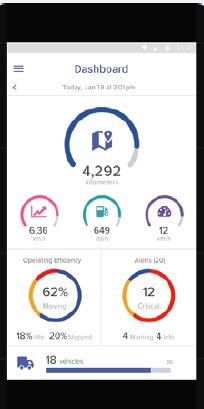 The Aeris IoT Automotive Services platform offers three features.
Monitoring and Tracking
Asset Tracking and Status to view real-time location, utilization and status of leased assets.
Places and Geofences that allow vehicle owners to create favorite locations, monitor when asset leaves or enters locations and discover those new places where assets are stopping the most.
Route History to review asset history from previous routes and trips.
Efficiency and Productivity
Maximize utilization to reduce downtime and monitor preventive maintenance intervals.
Usage and Efficiency to compare asset performance ranking for uptime, usage and distance driven.
Time utilization to monitor historic trips and time utilization, including moving, stopped and idle times.
Maintenance planning to monitor distance traveled and driving time for next service intervals.
Safety and Compliance 
Monitor and enforce to manage location and usage compliance requirements for leased assets.
Operator behavior and scoring to use driver scores to coach operators on speeding issues, hard braking, hard acceleration, long idle times, and unnecessary stops.
Geographic compliance to plan and monitor asset operations within geographic designations and to generate and share non-compliance reports.
Theft Monitoring to create alerts to detect when assets are moved from authorized locations; immobilize assets if stolen or bills not paid; and prevent fuel theft by monitoring fuel levels.
Real-time alerts to configure and manage alerts for speeding, dwell time, stop time, idle time, geofencing, off-routes, battery / fuel levels, tampering, or accidents via a mobile or web application.
Integration and Insights
Actionable insights to discover insights to speed leasing decision support.
Mobile solutions to manage assets on-the-go with the Aeris mobile app, view asset location, distance, fuel, time utilization and alerts, and contact operators for on-the-job changes or alerts.
Asset reporting and analytics to discover and manage most visited places, most driven routes, excessive stop times, risky operation patterns and trends, and best and worst performers. Visualize monthly, weekly, or daily trips data relating to distance, time utilization and fuel consumption.
Access fleet APIs and view enterprise information, including asset location, performance, status, distance, trips history and more, with Aeris' external APIs, Restful APIs, Message Queue Telemetry Transport (MQTT), Constrained Application Protocol (CoAP) and custom APIs.
The Aeris IoT Automotive Services platform offers OEMs four benefits
Asset assurance to provide managers with the confidence in knowing an asset is being used in accordance with a lease contract. Securely monitor asset location, the ability to disable the asset if needed, and ensure that the asset stays within specified geographic areas (geofencing).
Asset maintenance to monitor health of assets to ensure working order status, maximize uptime to create more value and keep up-to-date with real-time asset maintenance.
Usage monitoring to track asset usage based on time, asset behavior, partly responsible for usage and all billing phases.
Value prediction to view asset parameters, such as usage behavior, usage type, history and to determine the value of the asset and whether to maintain or discard it.