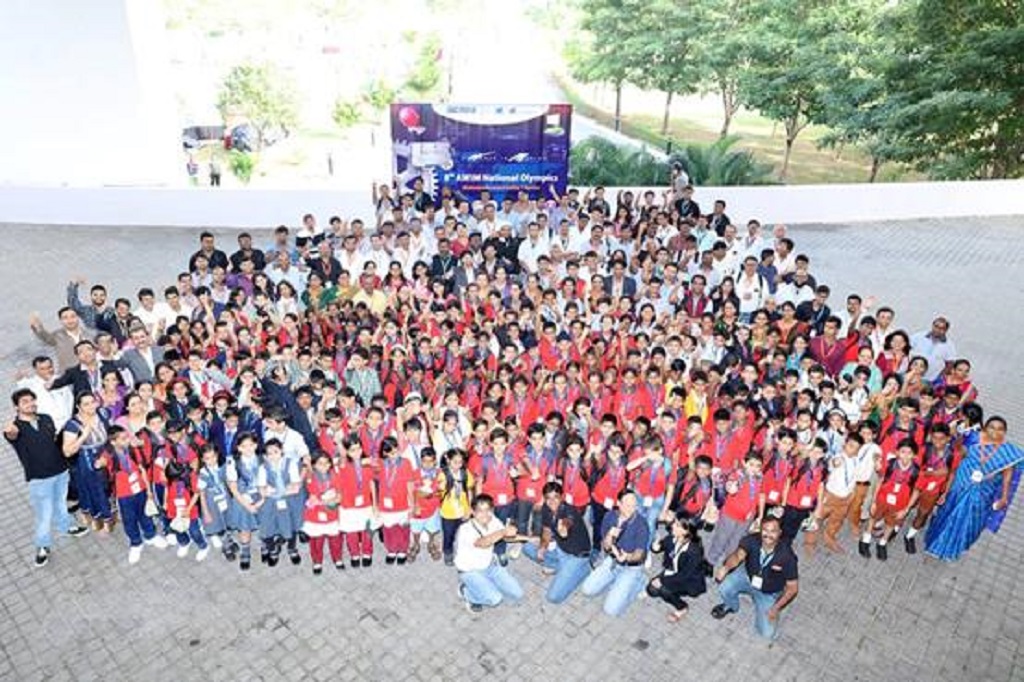 Mumbai, February 1st, 2016: AWIM India recently concluded its 8th edition of AWIM India Olympics, which witnessed a participation of over 20,000 students from 22 different cities at AWIM regionals with 184 students making it to the national Olympics. This year the national Olympics was organized at the lush green campus of Mahindra Research Valley, Chennai.
Dr. Pawan Goenka, Executive Director & Group President, Automotive & Farm Equipment Sectors, Mahindra & Mahindra Ltd. and past President, SAEINDIA said, "Mahindra is delighted to be associated with the 8th  AWIM National Olympics which has received such an enthusiastic response from students across India. We have always focused on education as one of our core corporate social responsibility areas as we believe that it ultimately leads to a better quality of life. Competitions such as AWIM which convey the principles of physics and motion in such an innovative manner will go a long way in developing the engineering potential of the youth. My best wishes to all the participating teams."
The event was inaugurated by Mr. Arvind Balaji, Joint Managing Director TVS-Lucas whose interest in engineering started right from the moment when he made his first engine model using LEGO in 5th standard.
The inauguration was also witnessed by Dr. Aravind Bharadwaj, President, SAEINDIA, who interacted with the participants. His questions like "Who all want to be an Engineer?" received a good response where unlike other regionals a good percentage of students raised their hands. He spoke about the advent of AWIM which began in the US with an aim to develop interest in mechanical engineering from the early age of 11. He also set the target for the participating students of winning not just the nationals but bringing the AWIM International Trophy to India.
Dr Aravind Bharadwaj – President SAEINDIA & Sr. VP, Advanced Technology & Services, Mahindra & Mahindra Ltd., said, "SAEINDIA brought AWIM to India with an aim to encourage more school students to pursue a career in Science and Engineering. This year's AWIM National Olympics was held at one of the best Automotive Research and Development Centres in India- Mahindra Research Valley, Chennai.  I envision a scenario in the years to come where this budding talent will design and develop products in India that will measure up to global standards."
Mr. Vishwanath S (Director TE India) was the Special Guest at the event. He was very delighted to witness this platform which enabled students to express their talent at this young age and wished them a bright future ahead.
The event would not have been possible without the efforts of Convener Mr. Rajiv Modi and Co- Convener Mr. Parag Sonwane. Mr. Rajiv Modi welcomed all the guests and the young engineers and commenced the event with his quote "Blow the balloon and move the cart, blow the wind and move the Skimmer". He also felicitated the Specially Abled students for showing enthusiasm towards the event and was delighted to see their dance performance later in the event.
The second day of the event began with the competitions. The SAE International board of Directors along with the SAE International President visited the MRV campus where they interacted with the participating students and were thrilled to see the enthusiasm among the students and the way the event was organized.
The Olympics concluded with the gracious presence of the Director of IIT Madras Dr. Bhaskar Ramamurthi.
The event is organized under the umbrella of SAEINDIA and would not have been possible without the support of Mahindra and Mahindra Ltd. (Title Sponsor), Eaton (Co-Sponsor) and many other automotive companies who supported as associate sponsors.
The event concluded on January 23rd 2016 at Mahindra Research Valley, Chennai with the National Champions of JETTOY event being selected to represent AWIM India at AWIM Internationals in Detroit.
Saupins School Chandigarh and The Milenium School, Mohali were declared winners for JetToy & Skimmer Competition respectively.
8th AWIM INDIA Challenges:
AWIM India currently has two sets of challenges for its participants of 5th and 6th standard.
THE SKIMMER CHALLENGE (Year of Start: 2012)
Students of 5th standard construct sailboats of paper and test the effects of different sail shapes, sizes and construction methods to meet the specific performance criteria. Friction, forces (?) the effect of surface area and design are some physical phenomenoa students encounter in this challenge.
The JET TOY CHALLENGE (Year of Start: 2007)
Students of 6th standard make  balloon powered toy cars- Jet Toy that meet the specific Performance criteria like travels far, carries weight, or goes fast. Jet Propulsion, friction, air resistance and design are the core scientific concepts students explore in this challenge.
About AWIM:
A World in Motion (AWIM) is a teacher administered, volunteer-assisted program that brings science, technology, engineering and mathematics (STEM) education to life for students in grades 5th to 9th. benchmarked to National standards, AWIM incorporates the laws of physics, motion, flight and electronics into age-appropriate hands-on activities that reinforce classroom STEM curriculum.
AWIM was first started in United States by Society of Automotive Engineers (SAE) International in 1990. AWIM India was adopted as an initiative in 2007, when Dr. Pawan Goenka was President – SAEINDIA. His vision and leadership helped in setting up the launchpad for the AWIM movement all over India.
Program Highlights and Benefits
AWIM is interdisciplinary in nature, which helps students learn to make meaningful connections among disciplines
Under this program over 70000 students have participated across 22 cities in India till date.
Over 1200 teachers have benefited and trained by 1400 AWIM Industrial / Student Volunteers across Auto OEM's till date.
More than 14,500 activity kits have been provided to teachers and volunteers.
Winners of AWIM India Olympics Challenge get to participate in AWIM International conducted at Cobo Centre Detroit USA. (May want to highlight the prize won by the Indian team in 2012)
The winning team of the National Olympics will get a chance to visit Detroit, USA along with one Volunteer and One Teacher to participate in the Jet Toy Olympics in US.
For more details on AWIM, please visit www.awim.org and www.awimindia.org
 About SAEINDIA:
SAEINDIA is a professional engineering society of automotive engineers whose vision is to continuously enrich the knowledge base of practitioners in the mobility industry and institutions in the service of humanity. It is an affiliate of the 105 year old SAE International based in U.S.A. SAE India has 5000 regular members and 40,000 student members.
The Society of Automobile Engineers (SAE) International provides the curriculum, while SAEINDIA has been implementing this program in schools across the country. As part of the program, students are identified from schools in a given region and presented with special AWIM kits which will enable them to build 'JetToys & Skimmers'.
For more details on SAEINDIA, please visit www.sae.org and www.saeindia.org
About Mahindra
The Mahindra Group focuses on enabling people to rise through solutions that power mobility, drive rural prosperity, enhance urban lifestyles and increase business efficiency.
A USD 16.9 billion multinational group based in Mumbai, India, Mahindra provides employment opportunities to over 200,000 people in over 100 countries. Mahindra operates in the key industries that drive economic growth, enjoying a leadership position in tractors, utility vehicles, information technology, financial services  and vacation ownership. In addition, Mahindra enjoys a strong presence in the agribusiness, aerospace, components, consulting services, defence, energy, industrial equipment, logistics, real estate, retail, steel, commercial vehicles and two wheeler industries.
In 2015, Mahindra & Mahindra was recognized as the Best Company for CSR in India in a study by the Economic Times. In 2014, Mahindra featured on the Forbes Global 2000, a comprehensive listing of the world's largest, most powerful public companies, as measured by revenue, profit, assets and market value. The Mahindra Group also received the Financial Times 'Boldness in Business' Award in the 'Emerging Markets' category in 2013.