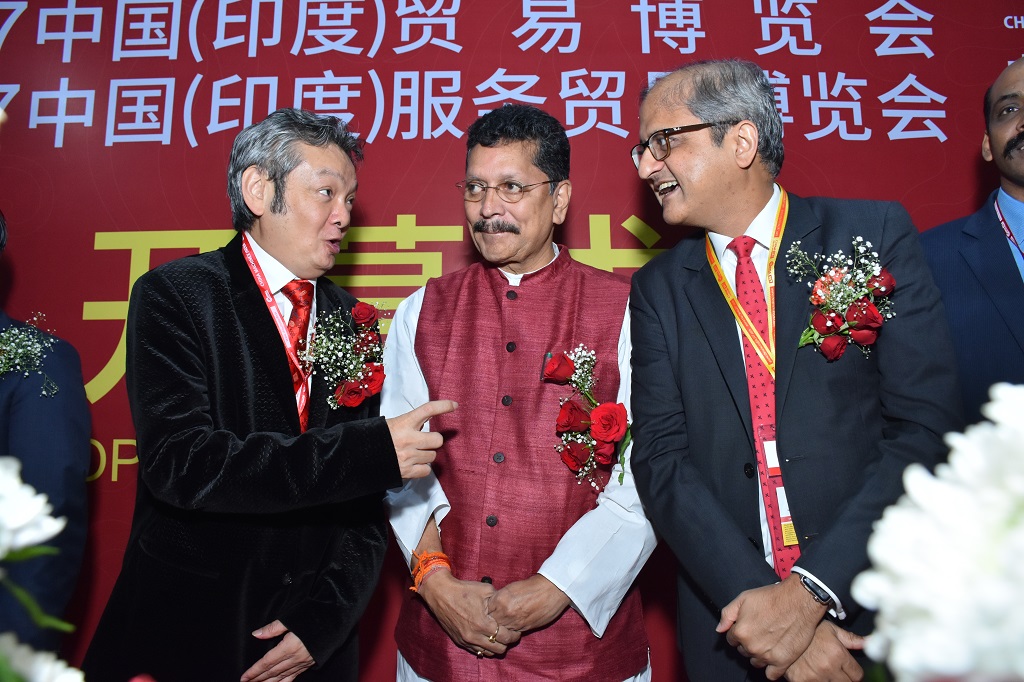 Mumbai, 5th December, 2017: Fifth edition of the China Homelife/ Machinex in India was launched today in Mumbai at the Bombay Convention & Exhibition Centre. This event is a global series of B2B exhibitions held in Dubai, Brazil, Egypt, Jordan, Kazakhstan, Iran Mexico, Italy, Turkey, South Africa and Poland. The expo was inaugurated by Hon'ble Minister for Finance, Rural Development for Maharashtra State Government Shri Deepak Vasant Kesarkar and Wang Shicai, Commercial Counselor, Consulate General of The People's Republic of China. Also present were Mr. Ninad Karpe, Chairman – CII Western Region & Director, Aptech Ltd; Mr. Kumar Rajagopalan – CEO, Retailers Association of India; Dr. Lalit Kanodia – President, Indian Merchants Chamber, Mumbai. The expo will continue till 7th December and over 1200 exhibitors are showcasing over 25,000 quality products manufactured in China at the most competitive prices.
Wang Shicai, Commercial Counselor, Consulate General of The People's Republic of China in his address said, "I extend my warmest congratulations to the smooth opening of the fair and express my heart-felt gratitude to all of you for your long-time contribution to the economic and trade cooperation between China and India. In recent years, the economic and trade relations between China and India has made great strides. According to Chinese customs statistics, bilateral trade between China and India grew from less than 3 billion US dollars to 71.1 billion US dollars between 2000 and 2016, more than 20 times in 16 years. In 2016, China's direct investment in India and Africa reached over 1.06 billion US dollars, an increase of more than six times over the same period of last year. From January to October 2017, the bilateral trade between China and India was 68.81 billion US dollars, up 19.8% on a y-o-y basis. India invested in 226 projects in China up by 45.81% with a total actual investment of 157 million US dollars, up 243.9% over the same period of last year. In the next five years, China will import more than 10 trillion US dollars of goods and services."
Hon'ble Minister of State for Home (Rural), Finance and Planning, Shri Deepak Vasant Kesarkar, welcoming Chinese and Indian dignitaries said "Foreign investment is a key driver of economic growth of a state and a country, to achieve this we welcome all the Chinese industries with open arms. Maharashtra has gone on to become the financial capital of this country and this has been possible because of Maharashtra Government's encouraging policies of foreign investment in India. We have been the pioneer in getting all the top MNC to invest in India which has been possible due to factors such as infrastructure, inter-state connectivity, cargo airports and ports. GST has been a key element that has capitulated India into the big league in global supply chain with uniform taxation, cost efficiency, reduced time & cost in transportation. One obvious effect is made in India products are most cost competitive in the global market. We have strong faith in government's Make in India project and has strived to make it possible as a part of the same, we welcome Chinese investment in India. As a proof of this, Maharashtra Industries' minister has offered state cooperation for Indo-China trade, he also went ahead stating that there will be full cooperation from Maharashtra government when it comes to permission, land and infrastructure. Thank you Meorient from Shanghai, the organizers for arranging this largest International product show in India and bringing the who's who of Chinese industries under one roof to elevate the business relations between the two countries."
Chen Jian, Director, Wenzhou Bureau of Commerce, said, "Wenzhou is the birthplace of China's private economy and also a gathering place for manufacturing of light industry products. In 2016, Wenzhou exported 3.25 billion Yuan to India and 166 million yuan in imports. The bilateral trade volume between Wenzhou and India and sustained economic cooperation have become the shining highlights of both places."
The exhibition will provide an authoritative representation from leading exporters from China dealing in Furniture, Home Appliances, Textiles and Garments, Kitchen and Bathroom, Garden and Leisure, Gifts as well as Lights and Lamps under the Homelife Trade Fair. The Machinex Trade fair will cater to buyers looking at top quality and a wide variety of products from Machinery, New Energy, Hardware & Power Tools, Automobiles & Motorcycles, Printing Machinery, Chemicals, Cables & Accessories, Food Processing, Plastic Machinery, Packaging Machinery, Machine Parts & Accessories and High & Low Voltage Electricals.
About CHINA HOMELIFE & MACHINEX INDIA
China Homelife & China Machinex is a Global Series of Exhibition which happens annually in 11 Countries, such as- Poland, Brazil, UAE (Dubai), South Africa, India, Kazakhstan, Turkey, Jordan, Egypt, Mexico and Iran.. The India edition of the Exhibition started in the year 2013. In only 5 years, the China Homelife & Machinex India has become the largest B2B China Sourcing Exhibition of the Country. The Exhibitors who participate in this Global Series Exhibition are selected through a strict quality control process which ensures you are able to meet some of the top quality manufacturers from China. The China Homelife Show India brings you superior Chinese suppliers from the home products category, presenting a lucrative opportunity for importers, traders and buyers to source high quality products directly from manufacturers at competitive prices. While, China Machinex connects over 6,000 high quality Chinese manufacturers with over 80,000 of the most important buyers in emerging markets.