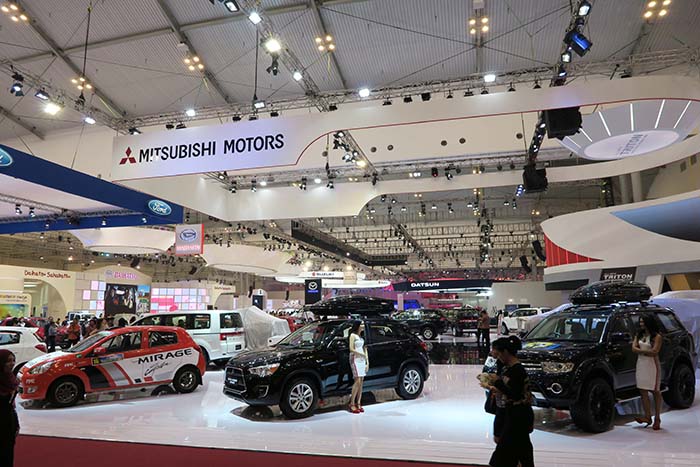 The GAIKINDO Indonesia International AUTO SHOW (GIIAS) 2016 kicked-off last week at the Indonesia Convention Exhibition (ICE) in BSD City, encouraging the nation's automotive industry and visitors alike to embrace an eco-friendly driving style and green technology, aligning with this year's theme "Green Technology for a Better Future". The AUTO SHOW, which runs from August 11 through 21, is proudly sponsored by PERTAMINA and Mandiri.
GIIAS 2016 features 361 exhibitor stands from the Indonesian automotive industry, including 31 vehicles brands from authorized brand holders (APMs), consisting of 25 passenger car brands such as Audi, BMW, Chevrolet, Datsun, Daihatsu, Dodge, Ford, Honda, Hyundai, Isuzu, Jaguar, Jeep, KIA, Land Rover, Lexus Mazda, Mercedes-Benz, Mini, Mitsubishi Motors, Nissan, Suzuki, Tata Motors, Toyota, Volkswagen, Wuling and 6 commercial vehicle brands including FAW, Hino, Isuzu, Mitsubishi Fuso, Tata Motors and UD Trucks.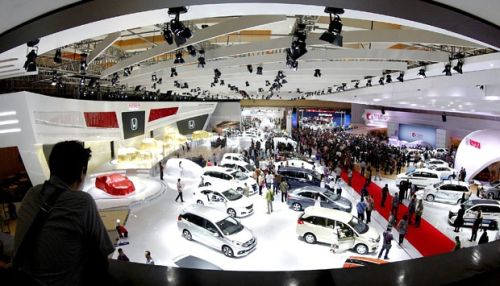 At the opening ceremony, Vice President Jusuf Kalla expressed his and the country's hopes for the advancement of the Indonesian automotive industry. "By presenting an internationally scaled automotive event like the GAIKINDO Indonesia International AUTO SHOW, we are showing the world that Indonesia indeed has a strong automotive industry, and the potential to keep growing."
Further, he stated, through a world-class event such as GIIAS, supporting industries that utilize vehicles in their daily operations, and the society at large, would also benefit. "There are so many new technologies being launched at this exhibition, and we hope that these will all contribute to advancing supporting industries," he continued.
"Certainly the advancement of an industry will have positive impact for adjacent industries, and with support from the Ministry of Industry and the Ministry of Trade we hope that this exhibition will contribute to strengthening and developing Indonesia's automotive industry, and can also have an even larger multiplier effect in stimulating our national economy in a positive way."
Kalla suggested that the strength of the auto industry reflected the progress of a society's trade policies and aggregate income. "The increase of automobile sales signifies a society's welfare. We're encouraging everyone, including industry, to take advantage of the tax amnesty that the government is offering. We hope that GIIAS can improve our technologies and economic patterns to be healthier for all of us," concluded the Vice President.
Yohanes Nangoi, Chairman of GAIKINDO, followed by saying "The GIIAS 2016 is a very important event, as the automotive industry is with the foremost in the Indonesian economy. The automotive industry has contributed substantially to the Indonesian economy in general, with increased sales of domestic vehicles of 1.2% or 531,929 units sold during the first semester of 2016. 601,461 units were manufactured during the first semester of 2016, up 3.8% compared to the same period in 2015.
"The vehicle production capacity in Indonesia is 1,928,131 units, following investment by several GAIKINDO member companies. In order to increase growth and to strengthen the automotive industry, and to increase investment to achieve the goals of the Indonesian automotive industry roadmap, we need promotional activity to introduce the potential of our national industry and our domestic market as well as showcase to the world that Indonesia is a worthy investment destination. And that is why GAIKINDO presents GIIAS again this year."
GAIKINDO also organized the 11th Indonesia International Automotive Conference on August 12, with the theme of "Auto Industry Globalization". This conference was attended by prominent speakers from many countries who discussed their experiences in developing their automotive industries by using energy-saving technology, such as hybrid cars, electric cars, as well as government regulations that supported their programs.
About GAIKINDO
Established in 1969, The Association of Indonesia Automotive Industries (GAIKINDO) is a non-profit organisation. All GAIKINDO members are companies of brand-holder agents (APM) that comprise producers, distributors, and manufacturers. Domestically, GAIKINDO facilitates its members' interests in relation to the Government's policies regarding the automotive industry. This includes policies on industry and trade, energy, tax, safety standards, the use of technology, and environment.
In its global role, GAIKINDO is a partner of the automotive industry associations in various countries, mainly where the automotive industry has become a backbone of the economy, and in particular, with the principal countries whose products enter the Indonesian automotive market. For more information, please visit www.gaikindo.or.id.
About GAIKINDO Indonesia International AUTO SHOW (GIIAS)
GAIKINDO hosted the very first Indonesian Autoshow in 1986. In 2006 the exhibition reached a new level, becoming an international-scale exhibition endorsed by OICA (Organisation Internationale des Constructeurs d'Automobiles), and changing its name to Indonesia International Motor Show (IIMS), and in 2009 moved to a larger venue in Jakarta International Expo – Kemayoran.
In 2015 a new chapter began, as the GAIKINDO Indonesia International AUTO SHOW (GIIAS), now the largest in Southeast Asia, held at the spacious Indonesia Convention Exhibition – Bumi Serpong Damai (ICE – BSD), a new destination of the MICE industry in Indonesia. GIIAS 2016 will occupy 96,557 sqm, providing maximum convenience for visitors, transportation systems for easy access, and a series of shows that are both entertaining and educational. For more information, please visit www.indonesiaautoshow.com.